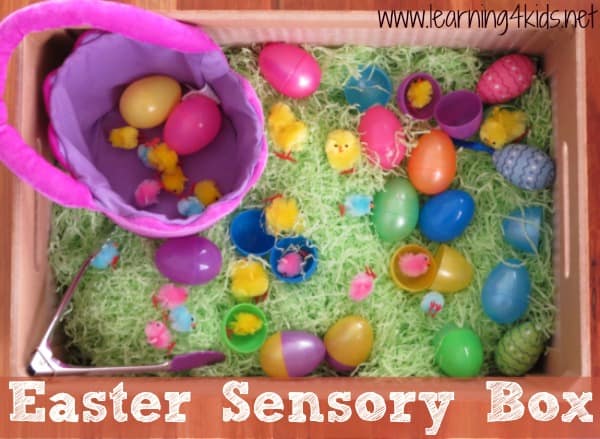 It is amazing how giving kids the most simplest of props can inspire and encourage their imagination and creativity. There are no rules, no right or wrong……just fun, with a whole lot of learning happening.
The Easter Sensory Box is filled with lots of Easter themed items to be explored and discovered creatively.
We have previously shared an Easter Sensory Play Table a while back and thought it would be fun to create another one using lots of different items.
What you will need?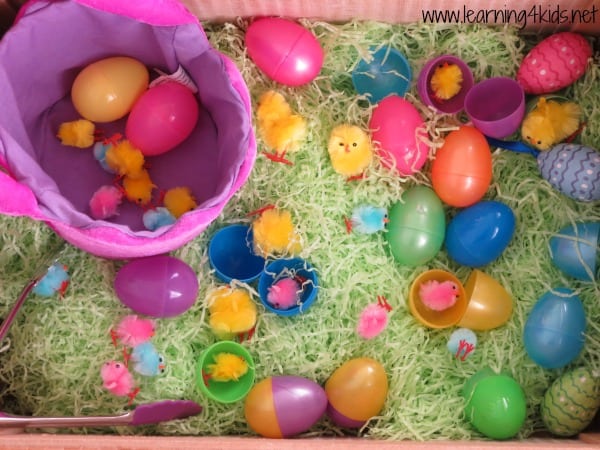 To set up this invitation to play you will need a box, shredded paper, plastic eggs, craft chicks, mini tongs and Easter basket. The shredded paper, plastic eggs and chicks can be found in most craft and discount shops.
You can add just about any Easter theme items to this Easter Sensory Box such as pompoms, empty egg cartons or foil to imitate the foil wrap around chocolate Easter eggs.
Let's Play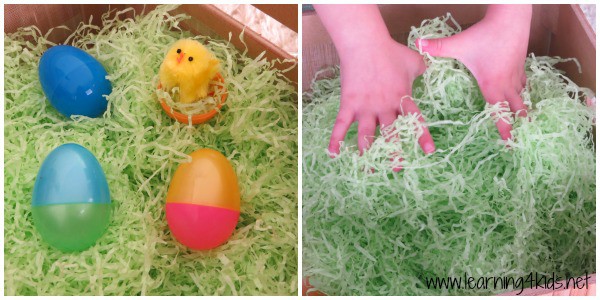 Some ideas: 
Sort the coloured chicks to match coloured plastic eggs.
Hide the chicks in the shredded paper and search for them.
Make a nest with the shredded paper and role play stories of hatching eggs.
Using the tongs, pick up each chick and count them as they are placed into the basket.
Mix up the coloured ends on the plastic eggs and un-jumble them to match the correct colours.
Let's Learn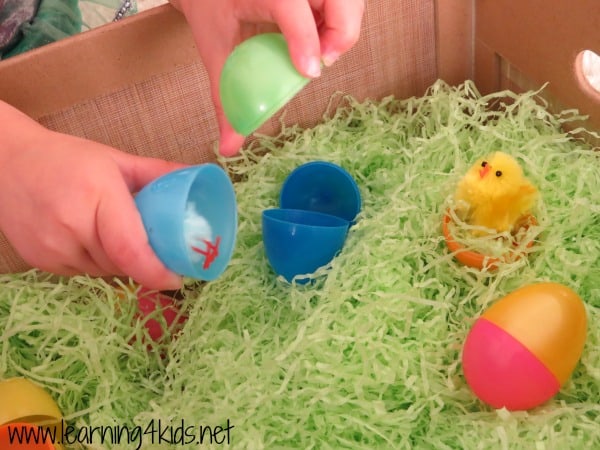 Learning Opportunities
Promotes imaginative play – provides opportunities for children to identify with the adult world. Practice and role play their understanding and interpretation.
Strengthening fine motor – exercising fine motor muscles through manipulation of props.
Hand and eye coordination – trial and error, repeating actions to achieve an outcome.
Spatial perception and exploration
Problem solving – provides an opportunity to practice working out problems and strategies to overcome challenges.
Self Esteem – Overcoming the challenges promotes a sense of pride and achievement.
Language development
Maths – Counting, matching and sorting.
To view our previous Easter Sensory Play Table
<CLICK HERE>