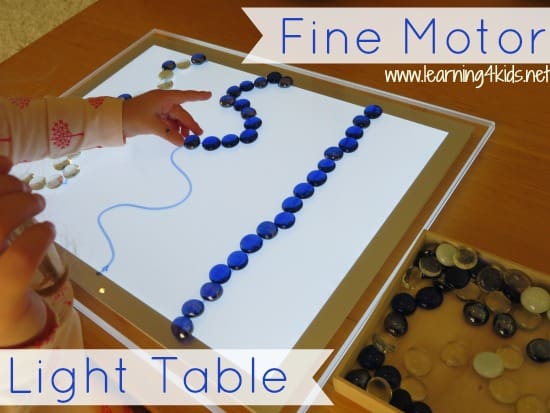 Light Tables or Light Panels are a fabulous learning tool that enhance sensory play opportunities. The activities and learning experiences are endless and encourage a range of skills and development such as, fine motor development, pre-writing skills, hand and eye coordination, colour recognition and so much more!
We started our light table activity off with a fine motor and coordination play opportunity which then developed into learning and writing your name activity. It was during this play opportunity that my youngest daughter wrote her name for the first time unassisted.
Let's Play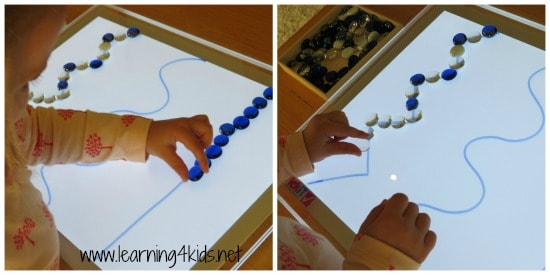 Some Ideas:
Place matching coloured gem stones onto the lines.
Make patterns with the different coloured gem stones along the lines.
Sort the colours and use one colour on each line.
What you will need? 
You will need a light table, transparent gem stones, white board marker and cloth to wipe.
We used a white board marker on our light table and tested it first to see if it would rub off easily and not damage the glass. Our white board marker rubbed off easily but other white board markers may not. I strongly recommend testing before using.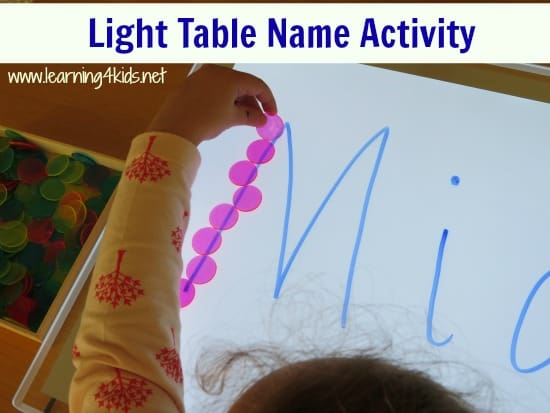 My daughter has been learning to read and recognise the letters in her name and this felt like a natural progression to continue the learning. Placing gem stones onto the lines was so motivating and fun that we then wrote her name with the white board marker. We changed the gem stones to transparent tokens and she found every pink token in the box and placed it over the lines/letters in her name. It had to be pink!
Let's Play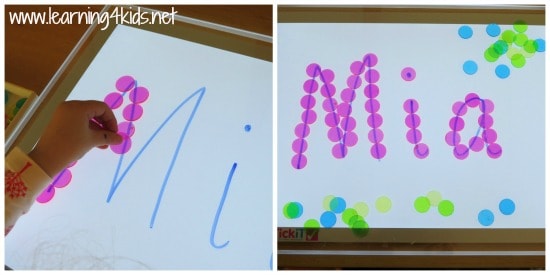 Some ideas: 
This activity can be repeated with shapes, numbers, letters, words and pictures.
Draw lines with the white board marker and divide the light table into four sections. Sort the coloured tokens according to
What you will need? 
You will need a light table, transparent tokens, white board marker and a cloth to wipe.
Let's Learn 
This was the very first time my daughter wrote her name and it was so much fun! We recorded it on video too which encouraged her to write it again and again. I replayed the video to her and she just loved watching herself.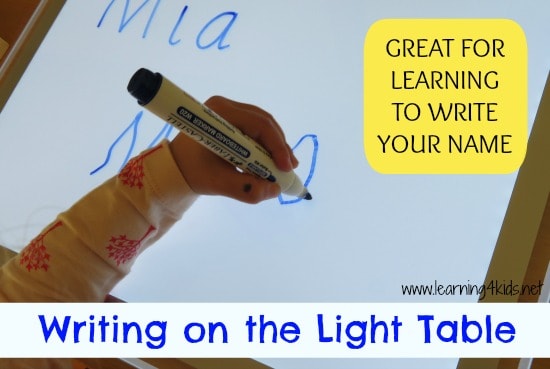 Learning Opportunities
Creativity
Fine Motor Development and pre-writing skills
Hand-Eye Coordination and Control
Concentration
Problem solving
Spatial awareness – experimenting with shape and space
Language development
Recognising patterns and colours.
Writing skills – names, words, letters, numbers and shapes.
More Play Ideas – Take a look at <Exploring Colours on a Mirror>