How to make Cloud Dough Recipe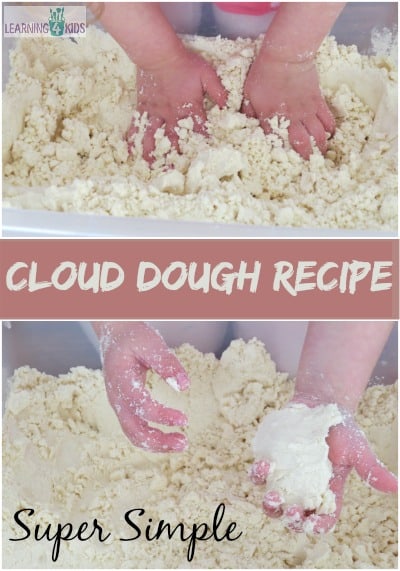 Cloud Dough which can sometimes be called Moon Sand is a homemade mixture used for sensory play experiences.
The consistency of Cloud Dough can be powdery like flour and also mouldable, a bit like damp sand.  It is perfect for moulding, shaping, squeezing, pressing and sculpting into different shapes.
Cloud dough has a silky smooth texture and scented by the baby oil.  It provides a great hands-on sensory learning experience for children.
What you will need?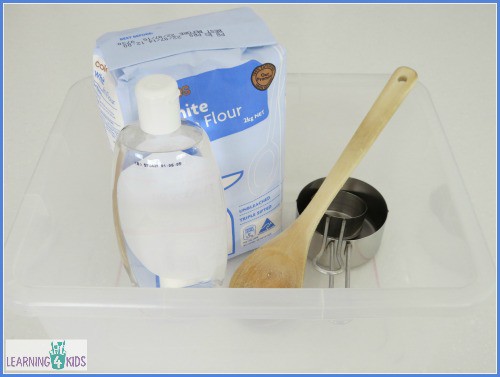 4 Cups of Plain Flour
½ Cup Baby Oil
Large tub and wooden spoon for mixing
To download and print this recipe, click here: How to make Cloud Dough Recipe
This recipe provides a descent amount of cloud dough for one or two children to play with. I double this recipe when using it in the classroom for 3 or more children at one time.
How to make it?
Measure and pour the flour into the large tub.
Add baby oil.
Mix with a wooden spoon.
Using your fingers, squeeze and press the cloud dough to blend the oil throughout the flour.
Store in an air tight container.
Please Note: 
Please always supervise young children around things that they may place into their mouths. Baby oil should not be ingested.
Learning Opportunities:
Creativity
Fine Motor Development
Hand-Eye Coordination and Control
Cause and Effect
Concentration
Spatial awareness – experimenting with shape and space
Language development – shape names
Mathematics – capacity, measurement
Scientific concepts and skills
Imaginative Play
For more Sensory Play Ideas and Activities <click here>
LIKE THIS POST
Come join the many playtimes here on Learning4kids, please enter your email address in the subscription box to receive updates right to your inbox!
4 Responses to "How to make Cloud Dough Recipe"