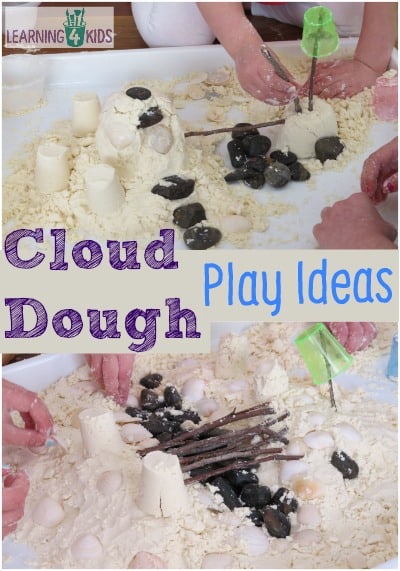 There are numerous sensory play ideas and activities for playing with cloud dough and I look forward to sharing more here on Learning 4 Kids!
We set up an open-ended invitation to play with Cloud Dough using simple items found around the house that will entertain your child for hours. Your child could make sand castles, buildings or play scenes by adding some toy characters. Using these simple props the imagination and ideas are endless.
Cloud Dough is has a silky smooth texture, it can be powdery or firm when pressed or moulded. It is perfect for moulding, shaping, squeezing, pressing and sculpting into different shapes. Cloud dough provides a great hands-on sensory learning experience for children.
If you are not sure what Cloud Dough is or would like to know how to make it <click here>
What you will need?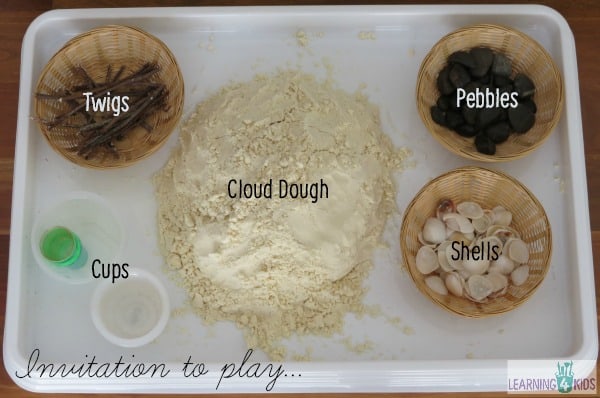 You will need Cloud Dough, large tray, shells, twigs, pebbles and assorted sizes plastic cups.
Let's Play: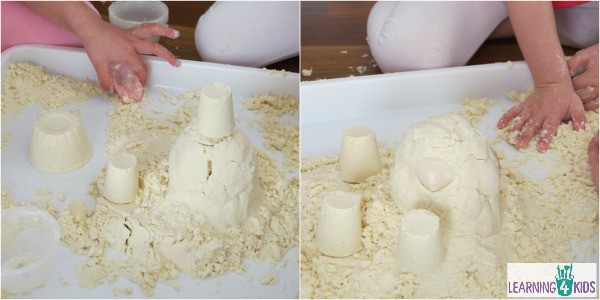 Some Ideas:
Use a variety of plastic cups as moulds to create buildings and shapes.
Press the Cloud Dough between the hands to form hills, balls of cloud dough and flat surfaces.
Let's Play Some More: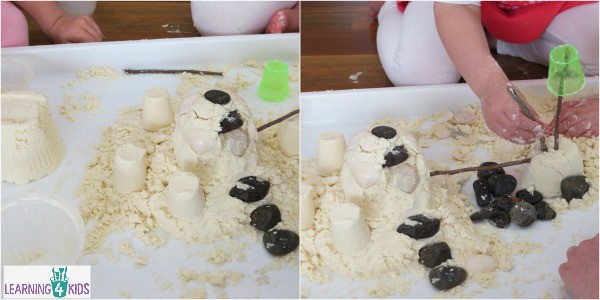 More Ideas:
Add twigs for flags and bridges.
Add pebbles for decorations, windows or steps.
Add shells for windows or decorations.
Let's Learn: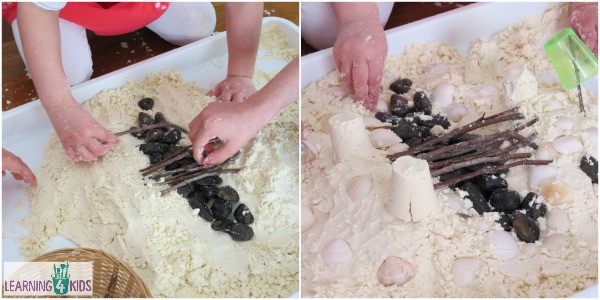 Learning Opportunities:
Creativity
Fine Motor Development
Hand-Eye Coordination and Control
Cause and Effect
Concentration
Spatial awareness – experimenting with shape and space
Language development
Mathematics – capacity, measurement
Scientific concepts and skills
Imaginative Play
To find more Sensory Play Ideas and Activities <click here>