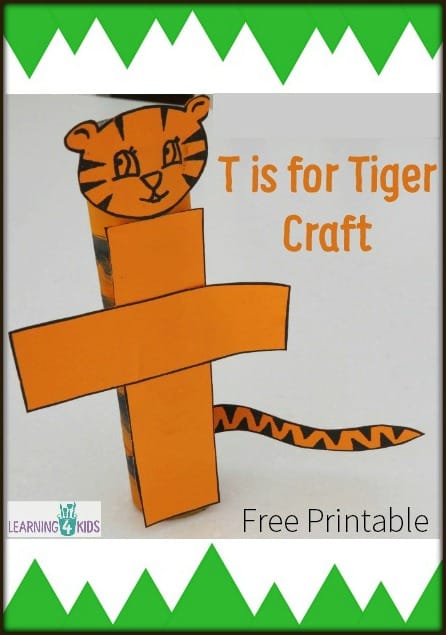 T is for Tiger Craft is a super simple and fun craft activity to expose children to the letter Tt, identify what the letter Tt looks like and what sound it makes. It is to provide an opportunity to talk about the letter, make connections with spoken language and real life experiences.
The Tiger Craft is made using a cardboard roll painted with orange and black strips. It then involves gluing on the parts of the tiger's body (free printable) such as the tail and head. The arms and long tube body of the tiger imitate the shape of the letter 't' which is great for letter recognition.
What you will need?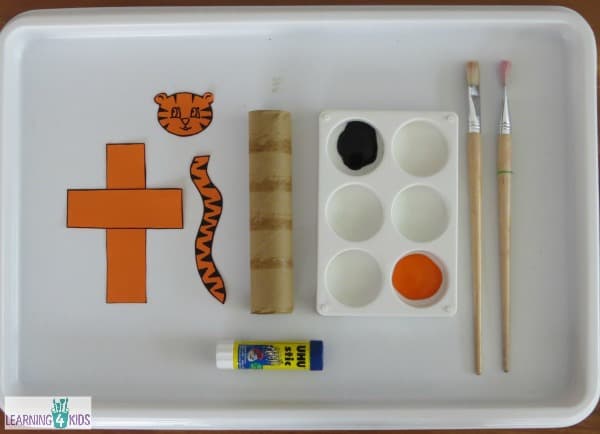 You will need a cardboard tube, glue, paint brushes, black and orange paint, sticky tape and printable tiger body parts.
You can download and print the printable here: T is for Tiger Craft Printable
Let's Play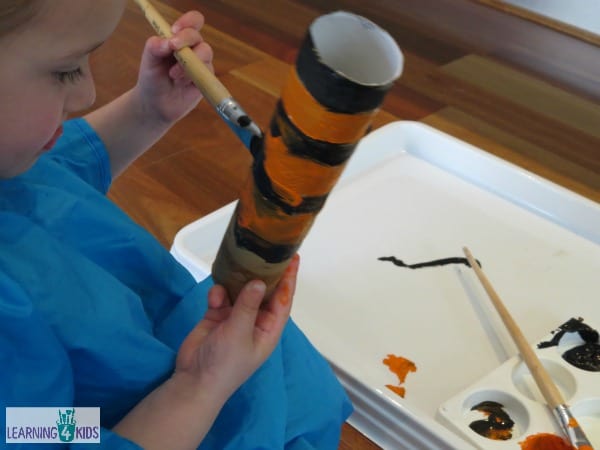 Paint orange and black stripes onto the cardboard tube.
While the paint dries, cut out the Tiger Printable.
Once the paint is dry, glue the long strip of paper onto the tube, followed by the shorter strip of paper creating a 't' shape. Leave a small space at the top of the tube for the tiger's head.
Glue the tiger's head at the top of the cardboard tube.
Using a small piece of sticky tape, stick the tail onto the back of the cardboard tube.
Some Ideas
Role play, make up stories and play imaginatively using the Tiger as a character.
Sing songs including the Tiger as part of the song.
For example sing these words to the song Skip to my Lou:
Tigers on tiptoes, t, t, t.
Tigers on tiptoes, t, t, t.
Tigers on tiptoes, t, t, t.
Skip to my Lou my darling.
Let's Learn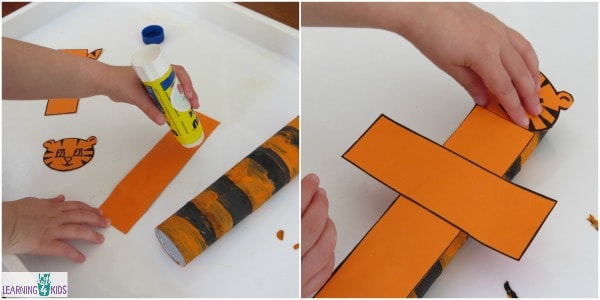 Learning Opportunities
Encourages and promotes imaginative play and creativity.
Fine Motor Development
Hand-Eye Coordination and Control
Cause and Effect
Concentration
Rhythm- helps children to remember words and develop auditory memory skills.
Phonemic awareness – hearing and understanding that words are made up of individual sounds and other word patterns.
Problem Solving
For More Alphabet Activities and Ideas <click here>