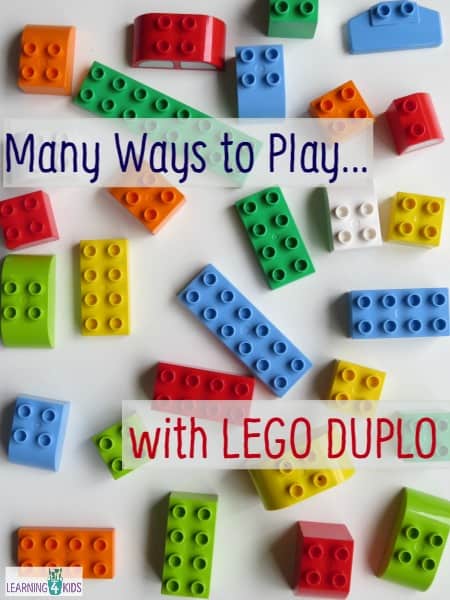 LEGO® DUPLO® is one of these toys that will grow with your child/ren, be utilised in a number of play opportunities, it is durable, and comes in bright and fun colours which grab the attention of curious toddlers and kids. The size of the LEGO® DUPLO® bricks is perfect for little fingers to grasp, hold and manipulate.
When planning activities for my children, I get excited about the endless opportunities LEGO® DUPLO® offers. LEGO® DUPLO® is fabulous for building and constructing but can also be utilised for children's learning and play times. I have included 4 play ideas today using LEGO® DUPLO® that will engage your child, creatively and imaginatively and promote learning and development. The ideas and play opportunities are endless!
Build Stories: Driving in the Snow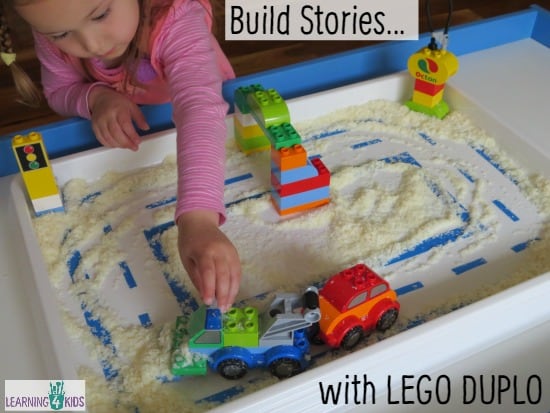 Imaginative or pretend play is essentially when children are building their own stories and acting out various experiences they may have had or something that is of some interest to them. They are experimenting with decision making on how to behave and are also practising their social skills. To absorb those experiences and make sense of the world, they need to be engaged in imaginary play.
Using our LEGO® DUPLO® bricks we created our very own imaginary Snowy Road Scene for Miss 4 to engage in pretend play. We created a Snow Plough Truck, tunnel, traffic lights and fuel tank using the Duplo bricks. The road tracks were made using coloured electrical tape and for the snow, we sprinkled on soap flakes. The Snow Plough Truck was great for pretending to clear the soap flakes snow.
Miss 4 spent hours playing and pretending that cars were getting stuck in the snow, snow storms, clearing snow from the roads with the plough truck and so much more.
Make Adventures: Painting with Lego Duplo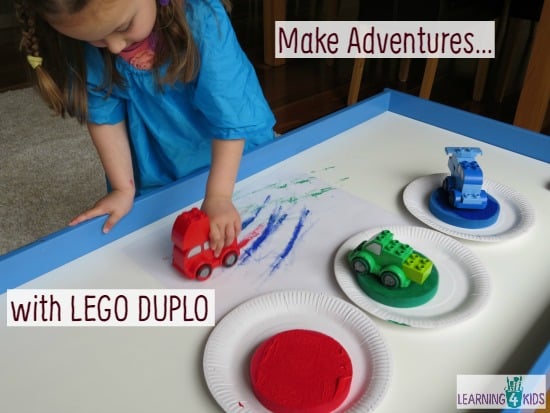 A more creative type of play provides children with the opportunity to make their own adventures and discover new worlds in an unstructured and self-directed way. It allows children opportunity to free their imaginations, invent new ideas and build their self-esteem as they feel a sense of pride and achievement in completing the activity.
It also encourages self-expression, emotional and language development, fine motor, coordination and concentration skills.
Setting up opportunities to learn is a great way to encourage this creative play. Providing the tools such as the LEGO® DUPLO® cars and paint soaked sponges encourages an opportunity to play creatively, self-directing what will happen next. We also utilised the opportunity to learn about colours as Miss 4 made 3 coloured cars and matched them to the coloured paint.
There was lots of printing, swishing, dragging and twirling of the Duplo cars. Later Miss 4 moved onto painting with the individual Lego Duplo bricks and then her fingers and hands.
Play and Discover: Match the LEGO DUPLO Brick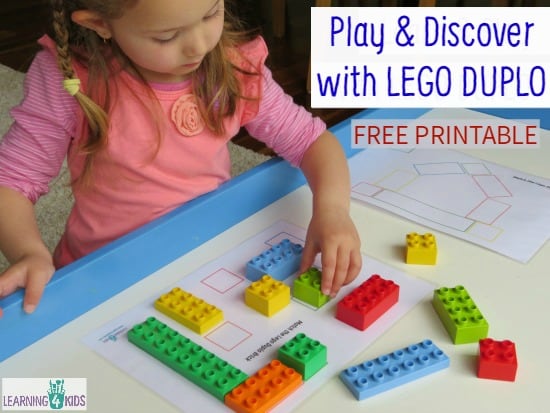 LEGO® DUPLO® comes in bright, fun and vibrant colours which grab the attention of curious toddlers and kids. The size of the LEGO® DUPLO® bricks is perfect for little fingers to grasp, hold and manipulate. It is also great for challenging children and their abilities. I could not resist making a few printable cards to create a puzzle-like "Match the LEGO® DUPLO® Brick" to promote learning for Miss 4. She absolutely loves games that challenge her. It is balanced for her ability but yet still challenging enough for her to feel the sense of achievement and pride once she has completed it. Learning is fun when the activity is pitch at the right level of development and is not too challenging.
The "Match the LEGO® DUPLO® Duplo Brick" Printable Cards is a learning opportunity that encourages and challenges children to think and develop strategies on how to achieve the goal of completing the matching game. Children need to think about the colour, size and shape of the LEGO® DUPLO® Bricks. This process involves problem solving, reasoning skills and developing solutions which can later be transferred into their personal life.
You can print and download the Match the LEGO DUPLO Brick Cards here: Match the Lego Duplo Brick Printable