Letter N Activity – Noodle Necklace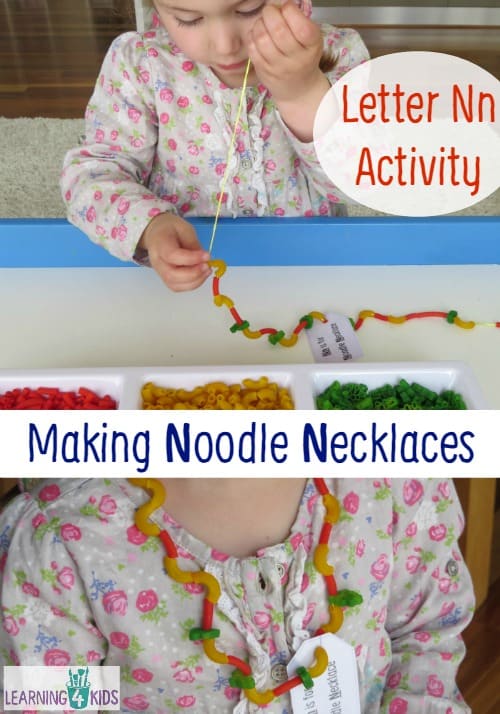 N is for necklace and noodles – Noodle Necklace!
Making Noodle Necklaces is a fun activity to introduce young children to learn about the letter N. It is a super simple and fun craft activity to identify what the letter N looks like and what sound it makes.  Making Noodle Necklaces also provides an opportunity to talk about the letter, make connections with spoken language and real life experiences.
Threading pasta into Noodle Necklaces is also a great activity for fine motor development and eye-hand coordination.
What you will need?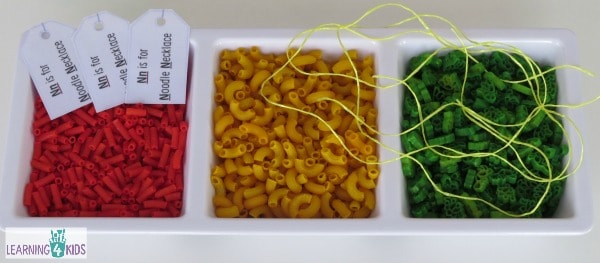 You will need different types of pasta which have holes to be threaded, food colouring, string and Printable Necklace Tags.
The Printable Necklace Tag is a tag that can be cut out, hold punched to be threaded also onto the Noodle Necklace. The tag has written on it "N is for Noodle Necklace".
To colour the pasta:
Firstly we coloured 10mls of water with 5 drops of colouring and place this into a sealable container.
Add 1 cup of pasta into the sealable container
Placing the lid on tightly shake the container until all pasta coloured well.
Place the wet pasta out onto paper towel to dry. Be sure to spread the wet pasta out well to avoid pasta drying stuck together.
Click here to download and print: Printable Noodle Necklace Tag
Let's Play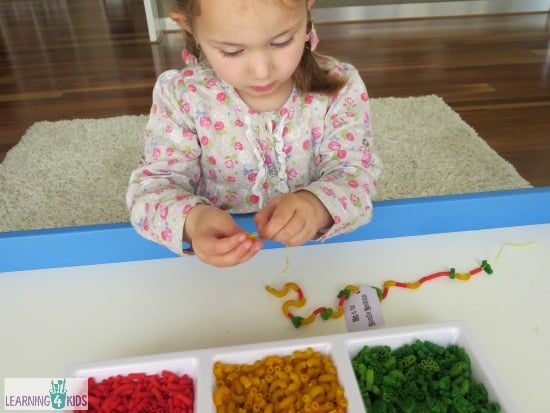 Some Ideas:
Make patterns along the string with colours and different pasta.
Count out loud the number as each piece of pasta is threaded onto the Noodle Necklace.
Talk about the different colours and their names.
Talk about the letter N, what sound it makes and other words that begin with this sound.
Sing songs about the letter n.
Let's Learn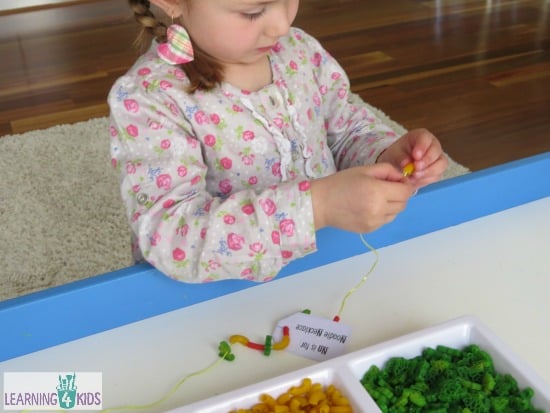 Learning Opportunities
Fine Motor Development
Hand-Eye Coordination and Control
Cause and Effect
Concentration
Language development – shape names
Encourages and promotes imaginative play and creativity.
Letter recognition
Oral language development – hearing the sound and saying it out loud.
Identify and recognise Colours
Find more ALPHABET play activities & ideas <CLICK HERE>
LIKE THIS POST
Come join the many playtimes here on Learning4kids, please enter your email address in the subscription box to receive updates right to your inbox!