Simple Aeroplane Craft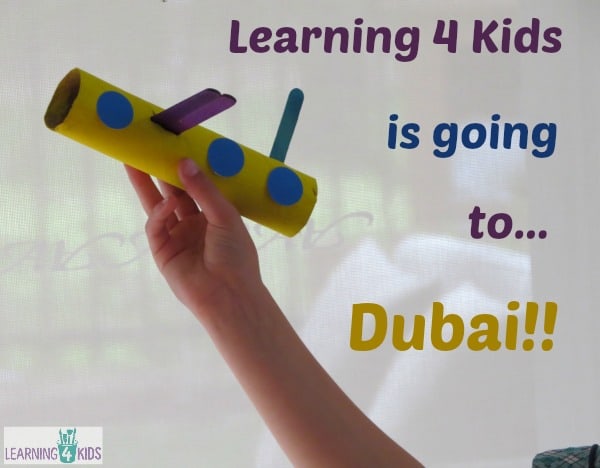 I have some very exciting news, Learning 4 Kids is going to Dubai!!
I am still seriously pinching myself! When I first read about this news from the lovely people at Nuffnang, the talent agency I work with, I could hardly believe my eyes!  I feel very grateful for this amazing opportunity and hope that you will follow along with me as I explore Dubai and share my experiences here on Learning 4 Kids.  I plan to continue to share activities and play ideas but will also be including a few posts that have been inspired by my Dubai experience.
In December, our team of 21 of Australia's top talent bloggers will be making the journey to Dubai to celebrate the everyday lives of the people and communities of the Emirate and showcase some of Dubai's hidden gems and less known highlights to the Australian market.
….but wait!!   There is MORE exciting news, we are also running a competition for a chance to WIN A TRIP TO DUBAI for you and a friend to share the Dubai experience with us.  Please read on for more information about this AMAZING competition.
I think it's time to celebrate! Well, we all know that Learning 4 kids is about 'learning activities for kids' and what better way to celebrate in "Learning 4 Kids style" than to make an Aeroplane Craft!  After all, this will be the beginning of our trip.
Simple Aeroplane Craft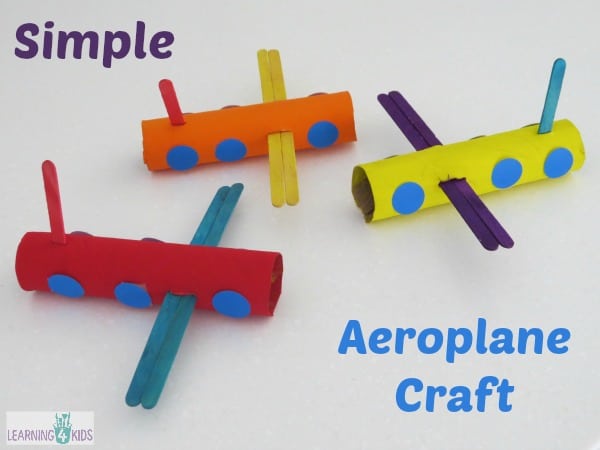 Making these craft aeroplanes with my kids provided a great opportunity to involve them in my experience of going to Dubai and talk about this amazing trip. I sat with my kids as we made these aeroplanes and spent time with them allowing them the opportunity to ask any questions they had about the trip, talk about concerns and what will be happening while I am away for 9 days.
These cardboard roll aeroplanes are so simple to make and the kids will continue to play with long after the creating part. This activity promotes creativity and imaginative play where kids will create pretend stories and games including the aeroplane.  My girls later drew little smiling faces on the blue sticker dots for passengers looking out the window.
What you will need?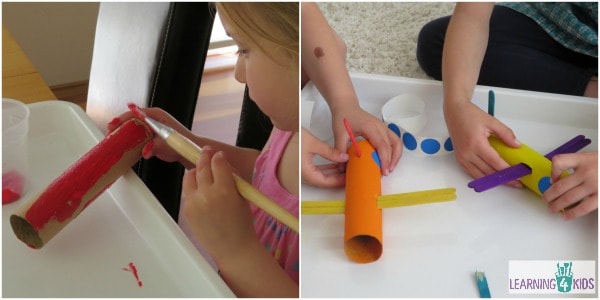 You will need cardboard rolls, paint, sticky tape, large and small popsicle sticks and sticker dots. The sticker dots are great for creating windows on the cardboard roll aeroplane.  For this activity we used cardboard rolls from finished gift wrap rolls and cut them to approximately 16cms.
Prior to creating our craft aeroplanes, I pre-cut a few slits into the cardboard tube for inserting the aeroplane tail and wings (Popsicle sticks).
A Dream Trip to Dubai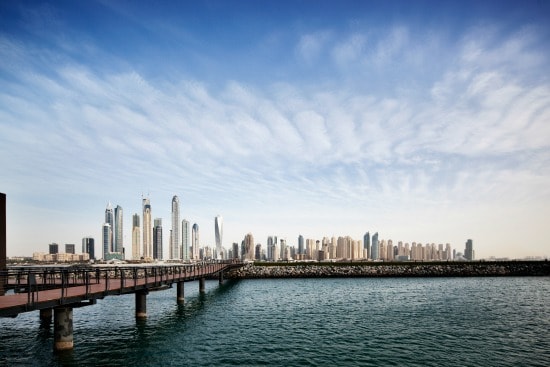 What I hope to gain from this experience is to share with you this incredible place. I am constantly in awe of the diversity that Dubai exhibits from city life to barren desert.  I aim to be inspired by the landscape, culture, places we visit, everyday life and reflect this creatively through learning experiences here on Learning 4 Kids.  I can already envisage a Sandy Desert Sensory Play Activity coming soon and some science questions to be tested and explored!!  J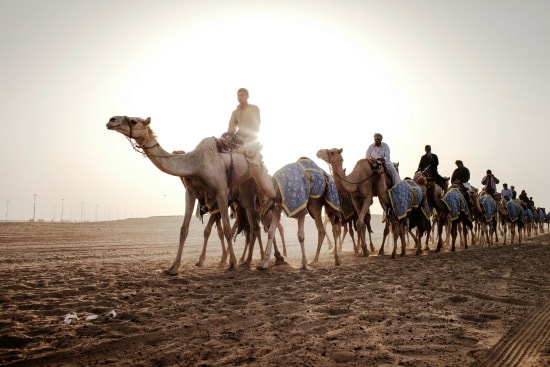 The opportunities to play and explore in Dubai are incredible. The more I research Dubai the more I am amazed by this part of the world. There is just SO MUCH to do!  When looking at the pictures, nothing seems to be done in halves in Dubai, everything I have looked at is spectacular and mind blowing.  There are camel rides, desert dining, theme parks, shopping, festivals, art and culture, beaches, water sports and so much more.  There is something for everyone!
As a mum, I am instantly drawn to looking at what options are available for the family and kids. Visiting places with names like Kidszania sound like perfect places for families to play.  There is a giant octopus at the Underwater Zoo to be mesmerised by and the Dubai Ice Rink to fall down and get up again at, just to fall down again (I can't ice skate, lol).  There is the Dubai Fountains, Dubai Mall Aquarium and there are numerous extravagant parks to explore.
Competition – Win a Dream Trip to Dubai!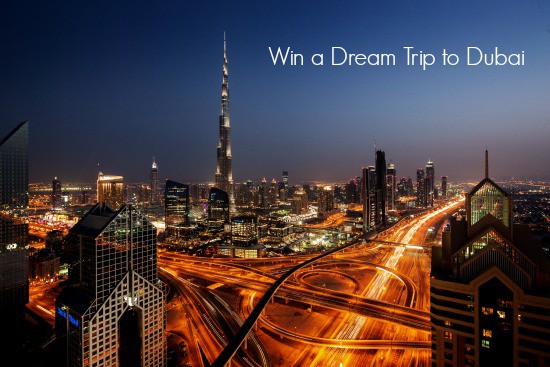 One lucky reader and a friend have the chance to share the Dubai experience by entering to win a trip to Dubai.
The competition will be to "share what you're dreaming of in Dubai" on social media with the hashtag #NNDubaiDreams and #mydubai.
The competition prize:
The winner and a friend receive flights from their nearest capital city, accommodation, and activities in Dubai. They'll be traveling in part with our group, but not included in all activities. Includes flights, accommodation and activities.
How to enter?
The Competition Question:
'What do you dream of in Dubai?'
In order for you to enter the competition:
Use the two hashtags #NNDubaiDreams and #mydubai
Upload an image, text or video to Facebook, Twitter or Instagram
Entries can be any format as long as they're publicly visible and include those hashtags.
Australian residents only.
For more information about the competition please click <HERE>
For Terms and Conditions, please click <HERE>
This competition has now closed. Thank you to everyone who has entered!
LIKE THIS POST
Come join the many playtimes here on Learning4kids, please enter your email address in the subscription box to receive updates right to your inbox!
3 Responses to "Simple Aeroplane Craft"