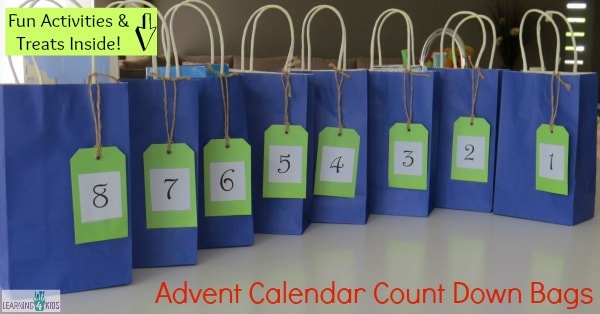 As the weeks and days draw closer until our trip to Dubai, my stomach churns with excitement and I also have the anticipation of leaving the family for 8 days. In preparation for the trip and to involve my children in the experience, I have created 8 Advent Calendar Count Down Bags, one bag for each day I am away.
The idea of the Advent Calendar Count Down Bags is to provide my kids with a visual count down until I return, involve them in this amazing trip and also remind them that I love and miss them so much, even when I am not there.
As I was preparing and putting these Count Down Bags together I did a lot of research into all the wonderful things you can do in Dubai and have learnt so much about this amazing city. There are so many mind blowing places to visit such as the Dubai Mall which has its very own Ski Resort and Underwater Zoo and Aquarium. I could spend a year in the mall and still not explore every part of the complex. I am intrigued that Dubai is built in the Arabian Desert and can't wait to take part in a Desert Safari.
Take a Look Inside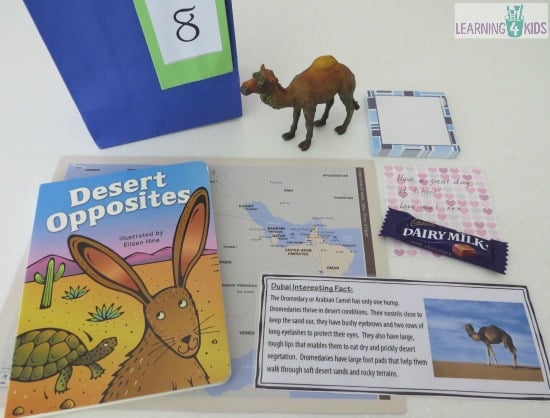 I had so much fun putting these Advent Calendar Count Down Bags together! I wanted them to be fun for my kids, include a personal message and have an educational element to generate interest. I have also created a few small Busy Bag Activities that fit inside the Count Down Bags. You can read more about these activities below.
Each Advent Calendar Bag has something different inside as I really want my girls to feel part of the experience and enjoy something new and exciting each day I am away. I have included photos and information about some of the things I will be doing while I am away and made up some interesting fact cards about Dubai.
Things you will find in our Advent Calendar Count Down Bags:
Personal hand-written notes

: a personal note to each child every day reminding them that I am thinking about them and also missing them so much. My eldest daughter will be in a small class show at their assembly while I am away and I have made a note wishing her good luck and that I can't wait to see the photos when I get back!

Interesting Fact Cards

: There are just SO many interesting and amazing things I have read and discovered about Dubai! From man-made islands shaped like a palm tree, to indoor man-made ski resorts. I made several interesting fact cards about Dubai which included photos. There is an Interesting Fact Card in each paper bag and here are a few examples: 'Sand storms occur in Dubai because there is very little rainfall'. 'Dubai has the tallest building in the world called Burj Khalifa which is 164 stories high'.
Small Toy/Gift: In some of the Advent Calendar Count Down Bags I have included a small toy, which can be used later in learning activities. For example, one of the bags has a packet of stickers and I have written a small note saying "decorate your paper bag with these stickers". Other small gift ideas include, map of Dubai, desert and ocean animal figurines, small note pads, pencils, stamps and books. I plan to use the desert animals and sea creatures in activities when I return which have been inspired by the places I will be visiting in Dubai.
Small Treat: It wouldn't be an advent calendar without a small sweet treat. I have included Freddo Frogs, lolly pops and small mixed lolly bags. My kids love Kinder Surprises at the moment and I have also placed one in a paper bag.
Photos and information about what Mum is doing today: Each Advent Calendar Bag has a picture and information about the place I will be visiting on that day. I have more information on these bags below.
Underwater Zoo and Aquarium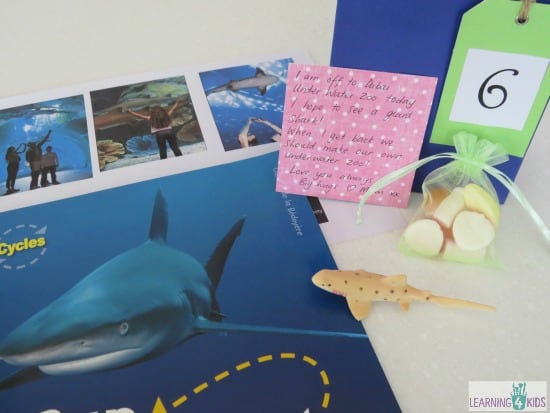 Our Advent Calendar Count Down Bag number 6 has been collated with information about visiting the Underwater Zoo and Aquarium. The personal note reads, "Today I am off to the Dubai Underwater Zoo and Aquarium. I hope to see a shark! When I get back home, we should make our very own underwater zoo." The bag includes a shark figurine, photos of the aquarium and a book about sharks.
The Underwater Zoo and Aquarium are located in the Dubai Mall and from the photos, this place looks AMAZING! I am really keen to walk through the Aquarium Tunnel which is 48metres long and has 270 degree views. I can just imagine how amazing it will be surrounded by sea creatures and the sheer size of the sharks and rays.
I am really looking forward to visiting the Underwater Zoo and Aquarium and I have read it includes three ecological zones; a rainforest, rocky shore and living ocean. I can't wait to bring back some photos to share with my girls and use these as inspiration to make our very own underwater zoo. Some of the animals that can be seen at the Underwater Zoo and Aquarium include otters, piranhas, Humboldt penguins, African dwarf crocodiles, lionfish, giant spider crabs, seahorses, garden eels, archerfish, and paddlefish. Can't wait!!
Sun downer Desert Safari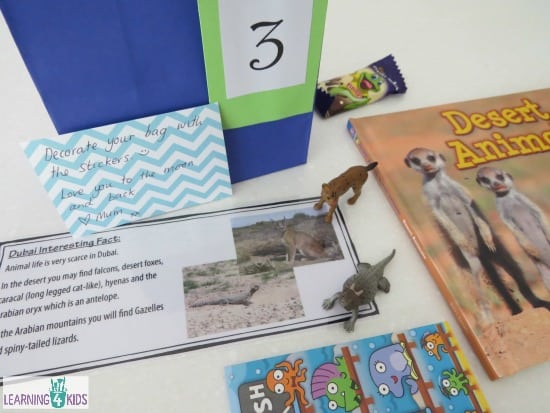 Dubai is located in the Arabian Desert, the inconceivable size and harshness of the Arabian Desert is just so intriguing and I can't wait to explore this part of the world. I have read that the sands in the Arabian Desert are made mostly of crushed shell which is very fine and clean. There is also white sand in the northern parts of Dubai. I am really looking forward to capturing some photos of this magnificent landscape of unique sands and using this as inspiration to create our own 'small world' desert landscape when we return home.
There is just so much to learn and discover about deserts, the climate, plant life, animal life and much more. I love a bit of science exploration! I have put together a couple of Advent Calendar Count Down Bags that are focused around the theme of deserts. Bag number three is looking at animal life in the desert. The bag includes a non-fiction book about Desert Animals, a couple of desert animal figurines and a Dubai Interesting Fact Card. The card says "Animal life is very scarce in Dubai. In the desert you may find falcons, desert foxes, caracal (long legged cat-like), hyenas and the Arabian Oryx which is an antelope." The bag also comes with a small packet of stickers and instructions asking to decorate the bag with stickers.
Adding an activity busy bag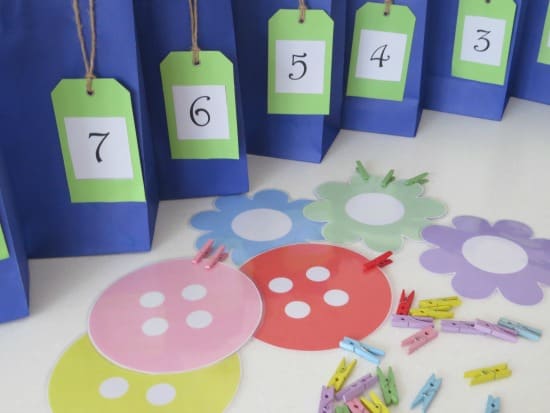 Learning 4 Kids, being Learning 4 Kids, I couldn't go past making a few Busy Bag Activities to put into the Advent Calendar Count Down Bags. The activities are simple to make, compact in size, are hands-on based and will entertain the kids.
I have placed the Busy Bag Activities into the paper bags on the days that I know my kids will be home together to share the activity. I have also placed one Busy Bag Activity into the bag on the day when my youngest daughter has an appointment, that way she can take it with her and play with it while sitting in the waiting room.
I really enjoyed the challenge of creating something small and entertaining to fit into the Advent Calendar Count Down Bags. To view the full post of the activity, click on the title below:
Matching Colours Busy Bag (pictured above)
Pegs and Sponges (Will publish this post soon)