Make your own Underwater Zoo Aquarium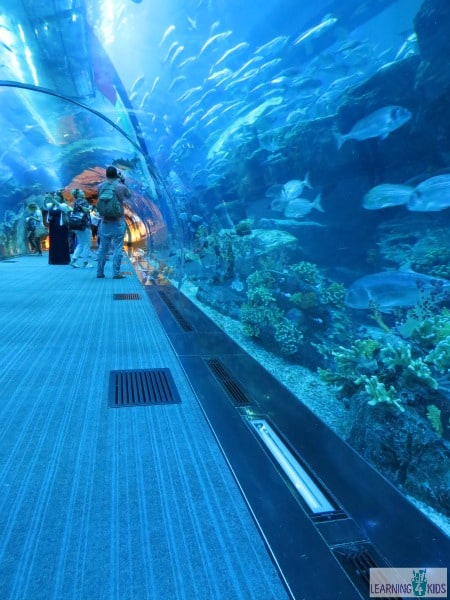 Learning 4 kids is in Dubai!!  We touched down yesterday and our adventures here are in full swing.  One of the places I was really keen to visit while we were Dubai is the Dubai Aquarium and Underwater Zoo.  This place exceeded my expectations as I was blown away by the number of sea creatures here and the size of the aquarium and underwater zoo.  This is a photo of the Aquarium Tunnel which is 48metres long and has 270 degree views.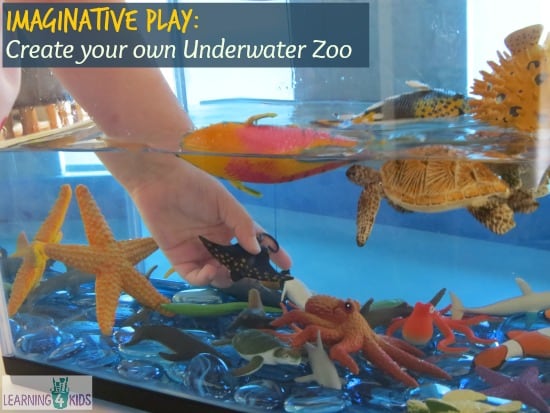 Prior to leaving for Dubai, we made our very own Underwater Zoo Aquarium which was inspired by Dubai's magnificent Underwater Zoo and Aquarium.
Creating your own Underwater Zoo provides an opportunity to play and learn imaginatively.  It is also a sensory activity that encourages creativity, oral language development and early classifying skills.
What you will need?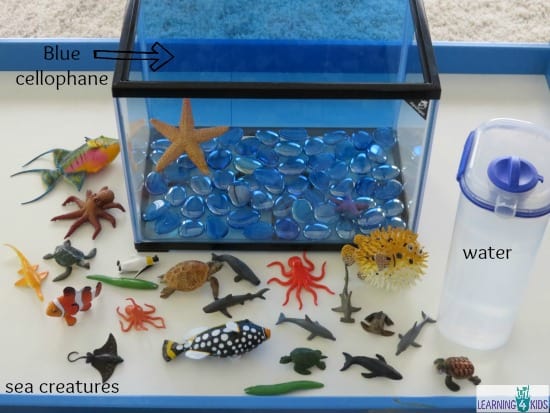 You will need an aquarium tank or large container, blue pebbles, water, blue cellophane and mixed sea creature figurines.
We tried to re-create the 'blueness' of the Dubai Aquarium and Underwater Zoo by placing blue cellophane on the back of the tank.  The blue stones also help create this 'blueness'.
Tip: Use warm water.  Kids will play much longer without getting cold.
Let's Play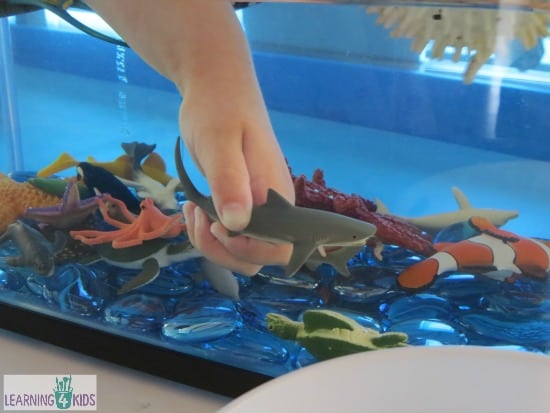 Some ideas:
Use a small toy net to catch the sea creatures and name them as you catch them.
Sort the sea creatures into dangerous and non-dangerous or water animals and water/land animals.
Play imaginatively and make up pretend stories with the sea creatures.
Talk about the different animals, their names and what they look like.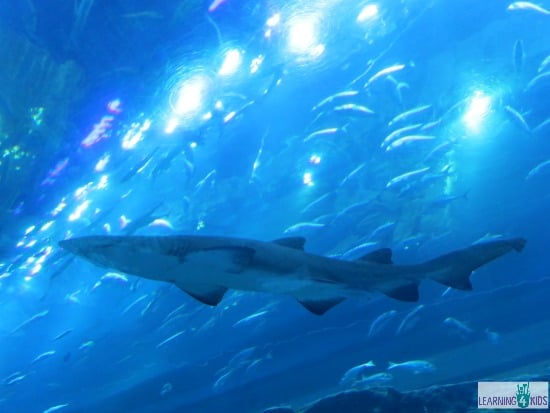 Dubai Aquarium and Underwater Zoo has the largest viewing panel on earth.  Here is a photo of a shark that I took as we walked through the aquarium tunnel.  There are over 33,000 aquatic animals including sand tiger sharks and sting rays.  The Dubai Aquarium and Underwater Zoo offer glass-bottom boat rides and shark dives.
Let's Learn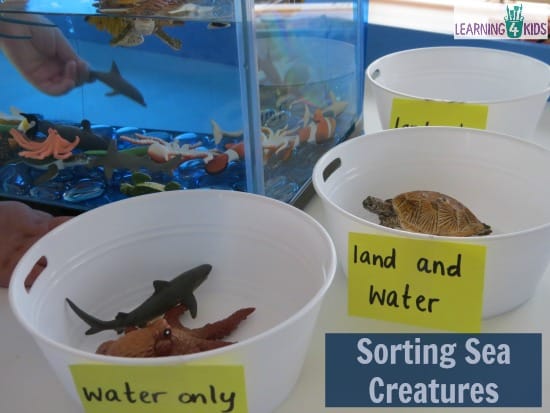 Part of our imaginative play experience we added three tubs labelled with 'water only', 'land and water' and 'land only' to sort and classify the different sea creature figurines.   This provided an opportunity to name and talk about the different animals and where they live and move.
Learning Opportunities
Creativity
Fine Motor Development
Hand-Eye Coordination and Control
Problem solving
Language development – naming sea creatures
Imagination and pretend play
Classifying and sorting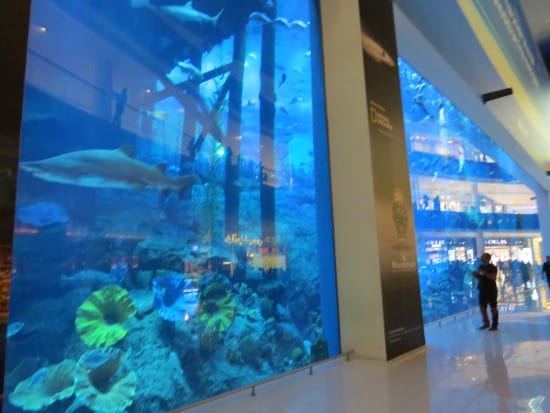 This is photo I took as we were walking through The Dubai Mall.  One minute you are walking along looking at all the amazing shops and architecture of the mall and the next minute you have this extraordinary view of the aquarium.  Sting rays, sharks, fish and other sea creatures are in full view for everyone to enjoy.
Special mention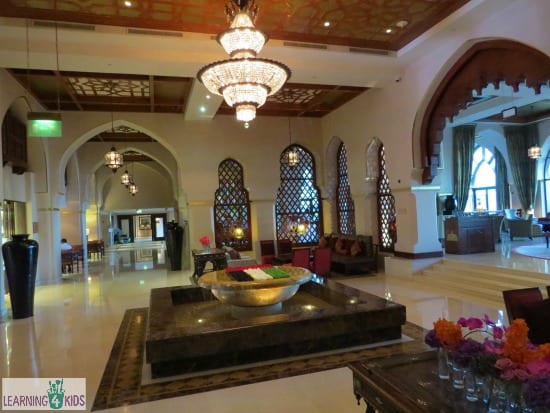 During my visit in Dubai, I am staying at the Palace Downtown Dubai which is part of the Address Hotels.  I am totally overwhelmed by the beauty and architectural detail of this hotel.  The photos I have been taking just don't give it the credit is deserves.  Everyone here is always so friendly and helpful and the rooms are a real treat with all the beautiful finishings and furniture.   This photo is taken in the lobby as you enter the hotel.  The water fountain in the center of the photo has the Dubai flag which has been made out of flowers.  It is truly amazing!!
LIKE THIS POST
Come join the many playtimes here on Learning4kids, please enter your email address in the subscription box to receive updates right to your inbox!
One Response to "Make your own Underwater Zoo Aquarium"