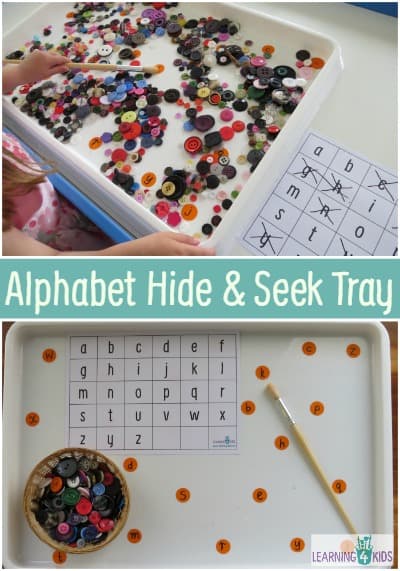 Looking for Alphabet letters hiding amongst the scattered buttons is a great way for kids to play and learn with alphabet letters. Children will love to sift through buttons with paint brush and 'spot' the hiding letter stickers. Learning the letter sounds followed by the letter name are important for reading and writing development.
What you will need?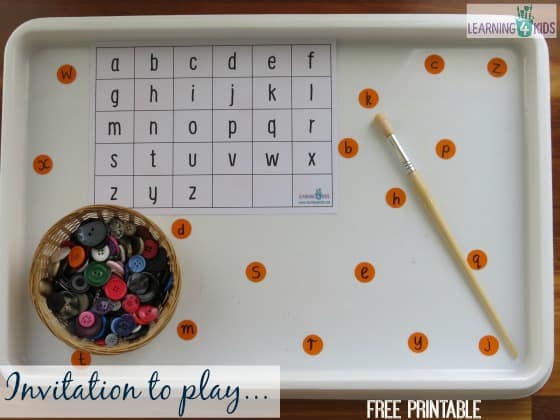 You will need a tray, 26 dot stickers, and a black marker pen, paint brush, buttons and the Printable Alphabet Grid sheet. An alternative to buttons, you could use pompoms, sand, salt, gemstones and so much more.
Write the alphabet letters from a-z on each sticker dot and randomly place them onto the tray.
Scatter the buttons over the letters until all are covered.
Click here to download and print:
Free Printable ABC Check off Grid
Free Printable ABC Check off Grid – Cursive
Let's Play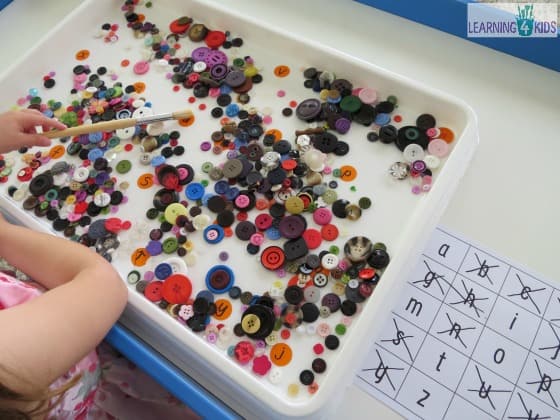 Some Ideas:
Sift and move the buttons with the paint brush to find the hiding alphabet letters on the dot stickers. When you have found a letter, match and locate it on the Alphabet Grid Sheet. Cross it out.
Find the letters in your child's name.
Point at each letter on the Printable Alphabet Grid sheet and sing the alphabet song.
Talk about each letter that you find and say words that begin with that sounds such as: jelly start with 'j'.
Let's Learn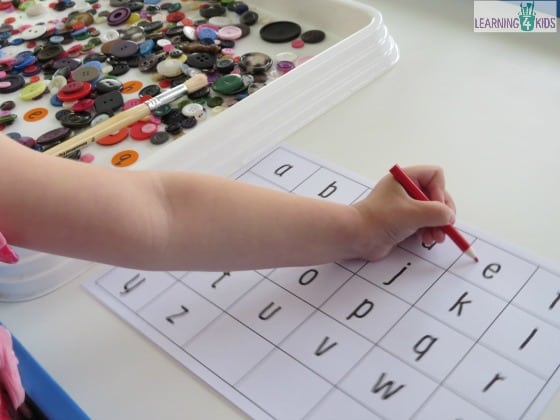 Learning Opportunities
Concentration
Letter recognition
Oral language development – hearing the sound and saying it out loud.
Development of fine motor skills
Eye & hand coordination – watching and doing and coordinating these actions.
Sensory- Development of the sense of touch. Feeling and manipulating objects.
Learning alphabet letter name and letter sounds.
Find more ALPHABET play activities & ideas <CLICK HERE>