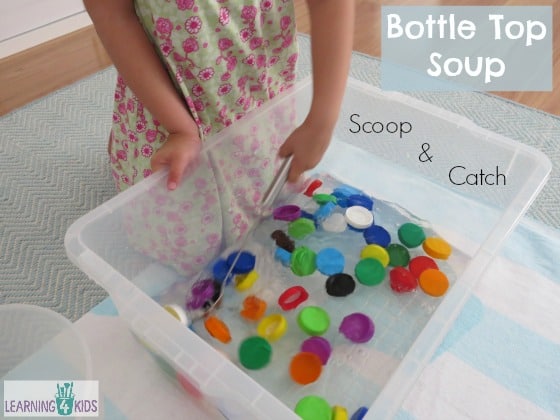 Scoop and catch fun! Bottle Top Soup Game is a fun sensory activity using simple items found around the home.
Kids love to play games and games are great for teaching so many important social skills and communication. It teaches children to take turns, that it is okay not to win all the time and to be happy for others who have succeeded.
What you will need?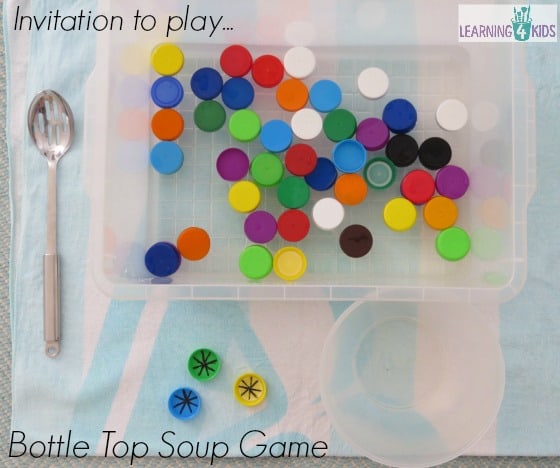 You will need a large tub ¼ filled with water, approx. 40 bottle tops (start collecting :)), a ladle, plastic container, towel and permanent marker pen. You will also need to mark 3 bottle tops under the lid with a star shape as pictured.
Let's Play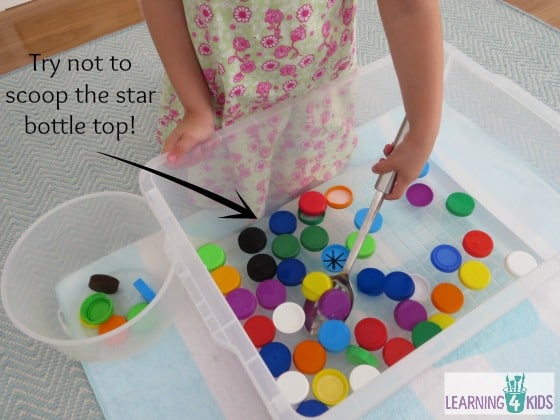 The Bottle Top Soup Game is so much and has very basic rules for children to follow. The aim of the game is to not scoop up the 3 bottle tops with the stars drawn on them. If you scoop a bottle top with a star, you have to tip all the bottle tops back into the water tub.
Place all the bottle tops, including the 3 stars bottle tops into the water tub.
Mix the bottle top soup around and around with the large ladle/spoon.
Scoop up all the bottle tops and place them into the plastic container.
If you scoop up a bottle top with a star drawn on it, tip all the bottle tops back into the tub.
Some more ideas: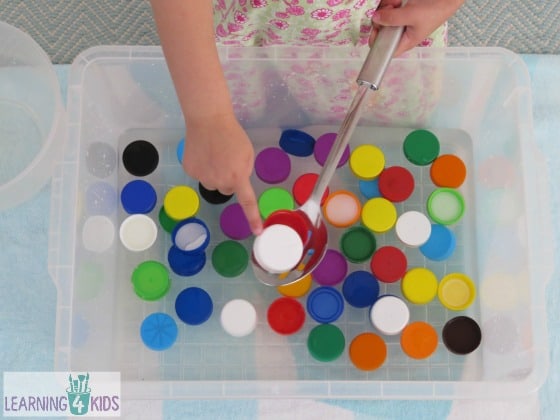 Instead of writing a star under the lid, you could alternatively write the letters of your child's name and as each letter is found, place them out to create your child's name. Other alternatives could follow a theme you are teaching or numbers, shapes and colours.
Scoop out only one colour at a time. This is great for coordination and colour recognition!
How many bottle tops can you get on the spoon at one time? Count them out loud.
Find only the bottle tops with the stars drawn on them. Do you remember what colour they were? (memory game)
Let's Play Some More: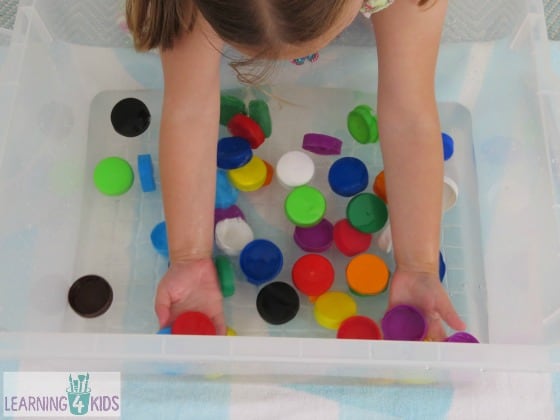 Nothing beats getting your hands in the water and scooping up the bottle tops.
Learning Opportunities
Building up their fine motor skills and coordination
Problem solving – finding strategies to overcome challenges.
Encourages imagination and creativity
Developing an understanding and awareness of floating and sinking
Developing and creating patterns
Language development- experimenting with language and trying new words.
Self-esteem: sensory play offers kids the opportunity for self-expression because there is no right answer and children feel safe to change or experiment with what they are doing.
Social skills: taking turns, communication and following directions.
Where to get bottle tops from?
I have not thrown away a bottle top in about 11 years since starting teaching because bottle tops are great for kids to play, learn and craft with. They are cheap and great for re-using/recycling.
I mostly collect the larger bottle tops from empty milk and juice bottles but sometimes will collect smaller lids from soft drink bottles which we don't buy very often.
Ask family members to help collect bottle tops for you and before you know it, you will have bottle tops spread from one end of the house to other as children play with them. 🙂
For more BOTTLE TOP activities & play ideas <CLICK HERE>
For more SENSORY activities & play ideas <CLICK HERE>