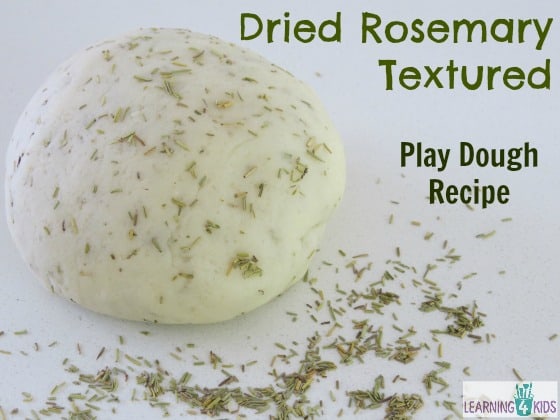 Dried herbs are a great way for adding texture and scent to homemade play dough. We have taken our basic play dough recipe and mixed through some dried herbs without adding any food colouring. The dried rosemary leaves add texture and a hint of rosemary scent, heightening the sensory play experience.
Children will have hours of fun moulding, printing and shaping the play dough into creative and imaginative sculptures.
What you will need?
1 cup plain flour
1 tbsp. oil
1 cup warm water
½ cup salt
2 tsp. cream of tartar
2 tbsp. Dried Rosemary
Method:
Pour all dry ingredients, flour, dried rosemary, salt and cream of tartar together in a saucepan.
Add water and oil to dry ingredients.
I use a whisk before heating as I find this helps remove lumps and blends the ingredients well.
Cook over medium heat constantly stirring until it becomes a thick blob.
Then turn out onto a clean surface and knead into a smooth ball. Be careful the play dough will be very hot! Use a little bit of flour if the play dough is sticky.
If you would like to add more rosemary to your play dough, sprinkle the dried rosemary leaves onto the bench and knead it through.
Store in a plastic zip lock bag or air tight container.
For more PLAY DOUGH RECIPES <CLICK HERE>
For some PLAY DOUGH activities and play ideas <CLICK HERE>
Click here to download and print the full recipe: Dried Rosemary Textured Play Dough Recipe