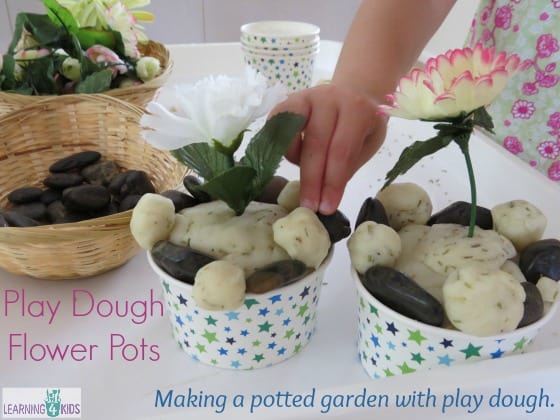 Play Dough Flower Pots and making a potted garden with play dough is a fun way for children to play creatively and imaginatively. Children can pretend to be gardeners, horticulturalists, they can make patterns, press, squish, roll and manipulate the play dough to create whatever comes to mind.
What you will need?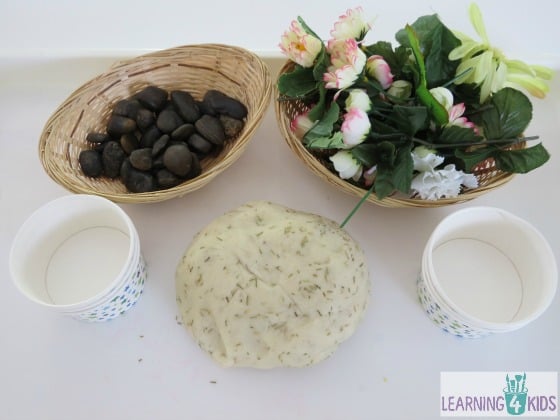 You will need fake flowers (or real ones), pebbles and small garden pots. We did not have any flower pots so alternatively we used ice cream cups which worked perfectly for this activity. The ice cream cup were a great alternative to imitate a flower pot.
We used our Rosemary Textured Play Dough Recipe for this activity but you may like to use your favourite play dough recipe. We also doubled the recipe to make more play dough.
Let's Play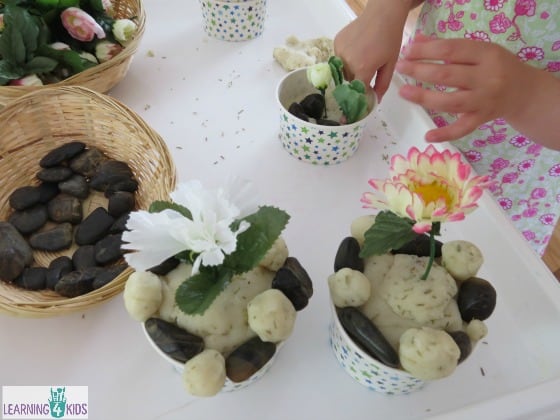 The ideas are endless to make and create imaginatively using the play dough and other props. Miss Four created a pattern (we have been learning about patterns recently) using play dough balls and the stones, as shown in the photo.
Some Ideas:
Learn to count – place a small amount of play dough into the pots and arrange flowers with only one flower in one pot, two flowers in another, and three flowers in the next pot and so on. A great opportunity to practise counting out loud and one-to-one correspondence.
Sorting and classifying – Arrange each pot with one type of flower or one colour flower only.
Let's Learn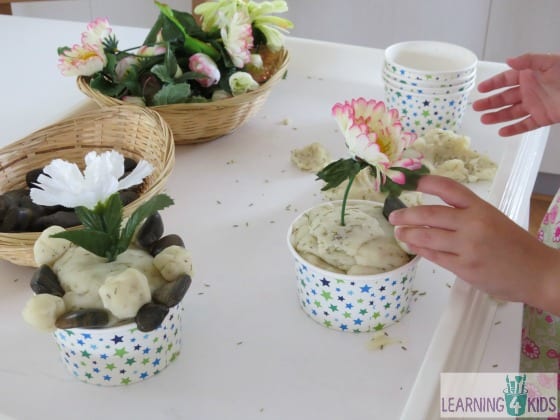 Learning Opportunities
Fine Motor Development
Hand-Eye Coordination and Control
Cause and Effect
Concentration
Language development
Imaginative play
Creativity
More Play Ideas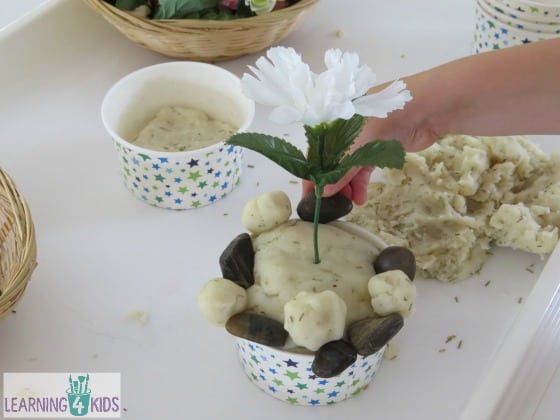 Click here for more PLAY DOUGH activities & ideas
Click here for more PLAY DOUGH RECIPES