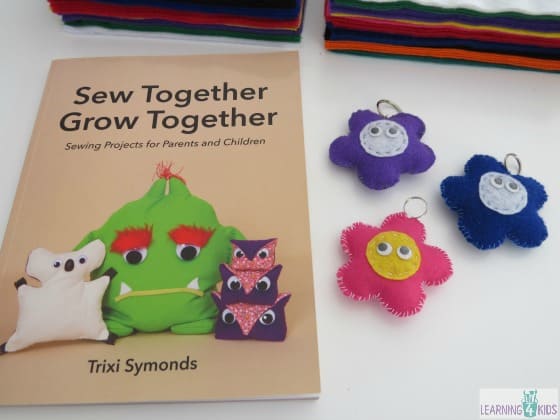 Simple and Fun Sewing Activities for Kids
I am not sure who had more fun completing our recent sewing project, me or my girls! I have some very basic sewing skills such as sewing on a button or mending holes in clothes or stuffed toys but I never thought that I would be able to create gorgeous hand-sewn toys with the kids. You see, I always thought that to be able to create these gorgeous items, that you needed to have a 'fancy' sewing machine or completed a sewing course. Sew Together Grow Together by Trixi Symonds has proven that even if you have never picked up a sewing needle in your life, you can still make and create these adorable hand-sewn projects with the kids.
Our little project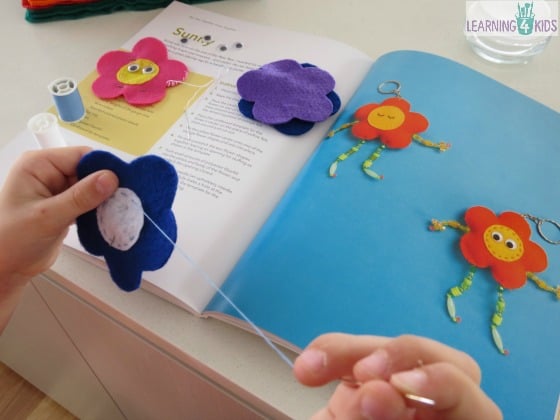 My 7 and 9 year old absolutely LOVE to sew, it is something that their grandmother loves to do with them when they go to visit.
Trixi's book Sew Together, Grow Together has 20 adorbale hand-sewing projects with step by step, easy to follow instructions and templates. Plus tips and tricks to help you along the way. I love the way that Trixi encourages you to personalise the sewing projects and the creative process behind this, that each product does not need to reproduced to every detail as shown in the book.
We flicked through our book and admired all the gorgeous photos of each project (by Nicola Bailey) and descided to make Sunny the key ring. My girls chose their favourite colours to personalise the project.
We are hooked! You could not wipe the smiles off Miss 7 and Miss 9's faces. We had so much fun making Sunny and the excitment and sense of pride in their achievement is so rewarding to watch. Not to mention the quality time we spent together making something, talking and problems solving as we progresses through our little project.
Mother's Day Gift Idea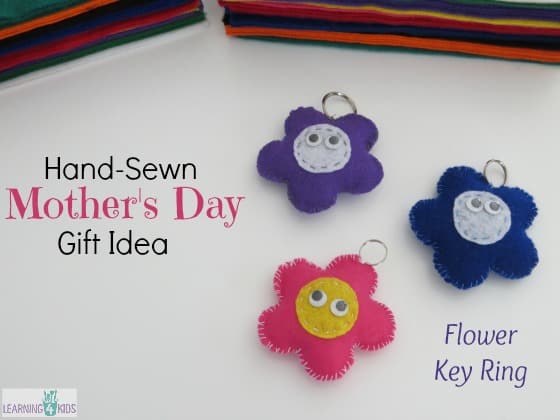 Mother's Day is not too far away and Trixi's book Sew Together Grow Together would make the perfect gift for Mum's and Grandmother's, even better, making one of the hand-sewn projects in the book would also make a perfect gift. As a Mum, a special homemade gift always makes me smile, they are a lovely little reminder of the precious people in your world. These hand-sewn flower key rings made by my girls always make me smile every time I pick up the car keys. There are so many easy-to-make hand-sewing projects in Sew Together Grow Together that would make as the perfect homemade Mother's Day gift idea.
Next Sewing Project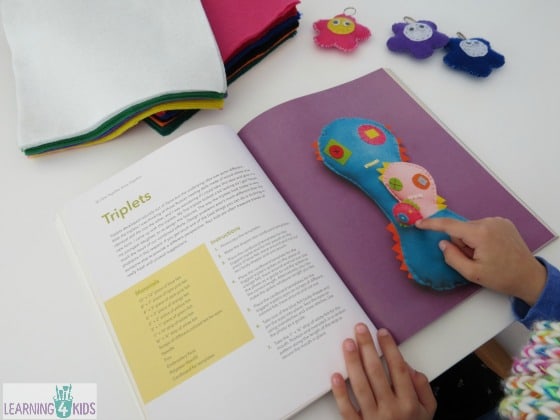 How cute are these little monsters, Triplets in a pouch? Having three daughters, my girls thought it would be the perfect next sewing project as each monster resembles each of themselves in size. We have decided to make the monsters look more like girls, keeping the body shape the same but personalising each character by adding buttons for eyes, wool for the hair and clothing (material) that fits each of my girls personality.
Sew Together Grow Together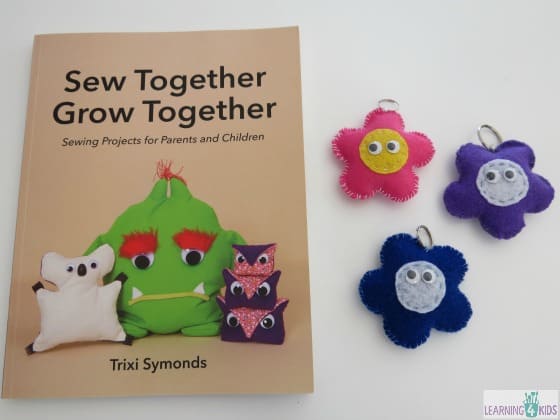 Sew Together Grow Together by Trixi Symonds allows parents and children to learn the techniques of hand-sewing and experience the enjoyment of creating something special together.
You will find the eBook version of Sew Together Grow Together on Amazon and for 1 week only is available at the introductory price of US $5 (usually $9.95)
The print edition is available from Trixi's Etsy shop for AU $24.95
Also make sure you drop by Trixi's blog Coloured Buttons for more wonderful sewing tutorials and where you can also find out about the amazing sewing workshops for kids that Trixi runs.