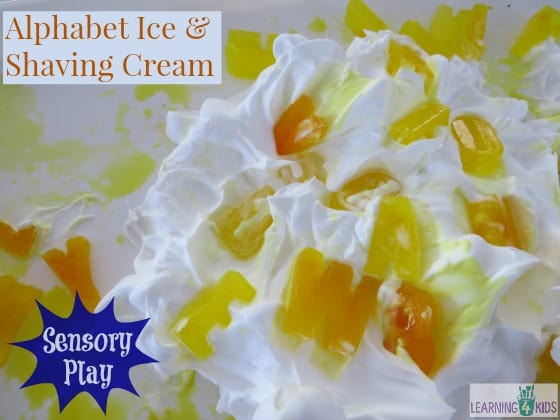 Alphabet Ice and Shaving Cream is a fun-filled, messy sensory play activity that children can explore their senses and learn about alphabet letters in an open-ended, unstructured way. It provides an opportunity for children to explore creatively and imaginatively using the simple props in an open-ended and unstructured way.
Alphabet Ice and Shaving Cream is a great activity to arouse interest and curiosity not only in the beginning but also as the activity progresses and develops. As the ice begins to melt, the shaving cream changes colour and consistency creating another element to the sensory experience.
What you will need?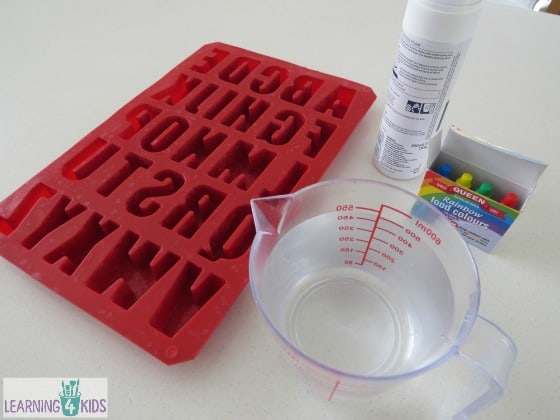 You will need an alphabet ice mould tray, water, food colouring (we used yellow) and shaving cream. We used low fragment and sensitive skin saving cream. You will also need a large tray or tub to set up the invitation to play.
We filled a small jug with water and added food colouring. Stirring until combined and add more colouring until desired colour depth made.
Pour the coloured water into an alphabet mould and place in the freezer.
Invitation to play: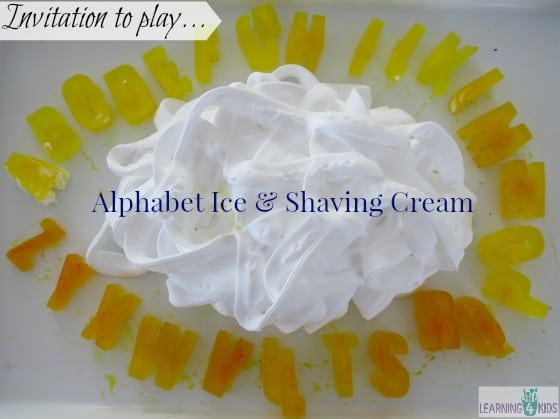 We set up our invitation to play on a large tray with the ice alphabet letters displayed in an oval shape with shaving cream in the middle. The invitation to play provides an opportunity for children to explore creatively and imaginatively using the simple props in an open-ended and unstructured way.
Let's Play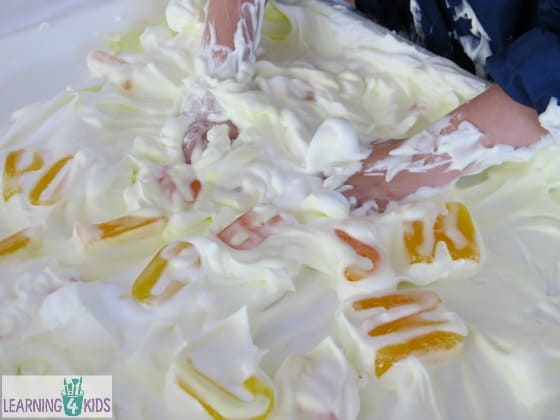 Some Ideas:
Squish, squeeze, mush and explore the textures of the alphabet ice and shaving cream. Use describing words such as cold, soft and slippery and talk about how does it feel and does it have a smell?
Hide all the alphabet ice letters in the shaving cream and try to find them. When your child finds a letter, talk about the shape of the letter, name the letter and talk about the letter sound. Give examples of words that begin with this letter.
Make your child's name with the alphabet letters. You can also make sight words or CVC words such as cat and dog.
Place all the alphabet letters in a line from a to z. Sing the alphabet as you point at each letter.
Draw the letters with your finger in the shaving cream.
More Play Ideas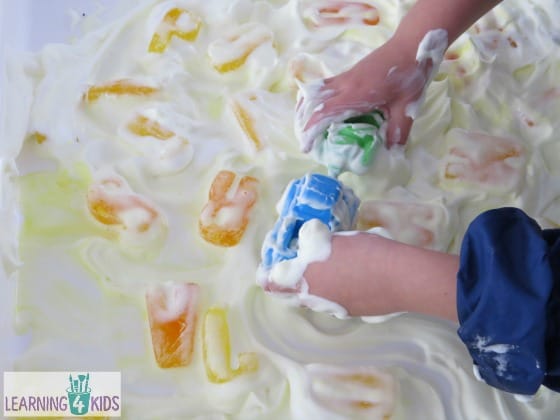 Add other props to sensory play experience such as toy cars and make roads with the wheels as your child pushes the cars between each alphabet letter. The ideas are endless to play imaginatively.
Let's Learn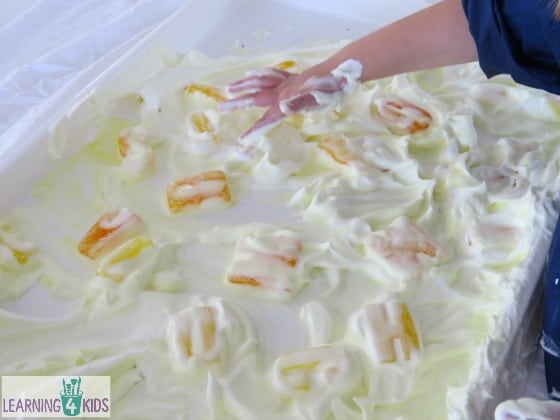 I really loved the way that this activity encourages children to use their fingers to draw over the top of the alphabet letters to remove the shaving cream to see what letter they have found. It is a great step towards learning correct letter formation.
Learning Opportunities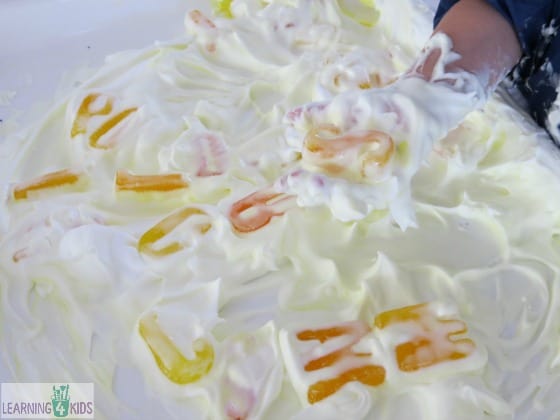 Building up their fine motor skills and coordination
Self-esteem: sensory play offers kids the opportunity for self-expression because there is no right answer and children feel safe to change or experiment with what they are doing.
Problem solving – finding strategies to overcome challenges.
Encourages imagination and creativity
Developing an understanding and awareness of cause and effect
Language development- experimenting with language and trying new words.
Recognising letter names and letter sounds.
Social skills: taking turns, communication and following directions.
***To clean, simply take the messy tray out onto the back lawn and hose it off.***
Click here for more SENSORY activities & play ideas
Click here for more ALPHABET activities & play ideas