Sorting Shapes in our Sensory Bin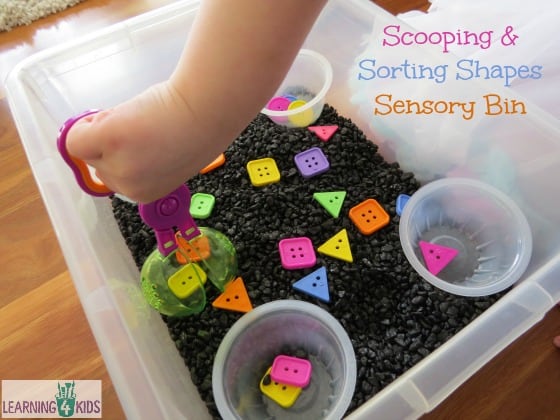 Sorting Shapes in our Sensory Bin is a fun activity for children to learn about shapes, colours while developing their fine motor skills.
This activity is great for sensory exploration and involves catching and scooping up coloured shape buttons and sorting them into the matching containers. The catch, scooping and releasing action mimics that of a child using scissors and provides a safe and fun opportunity to develop scissor skills.
What you will need?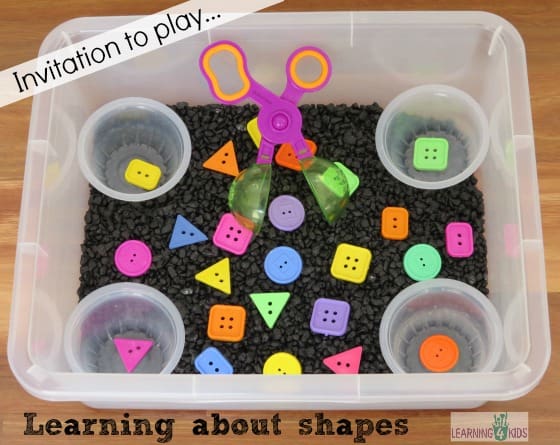 You will need a small tub, 4 small containers, handy scoopers,  shape buttons,  and black aquarium rocks.
I love how the black aquarium rocks really bring out the colours in the shape buttons. We plan to use the black rocks in a space theme activity later.
Let's Play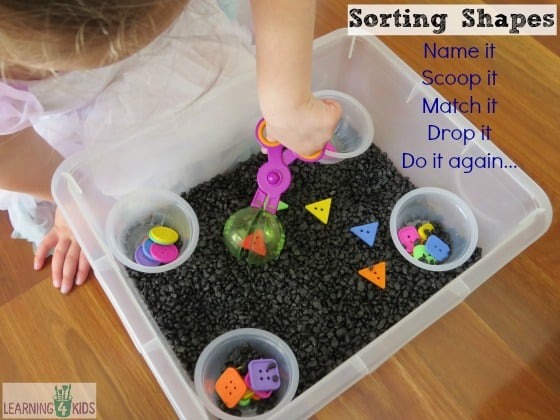 Some Ideas:
A simple game: name the shape, scoop it with the scooper scissors, match it to the correct container, release the button into the container and have another go.
Hide all the shape buttons underneath rocks. Using your hands, sift and feel through the rocks to find them.
Sort by colour.
Make a track (like stepping stones) with the buttons on top of the black rocks.
Add other props and toys to the sensory bin to encourage imaginative play.
Let's Learn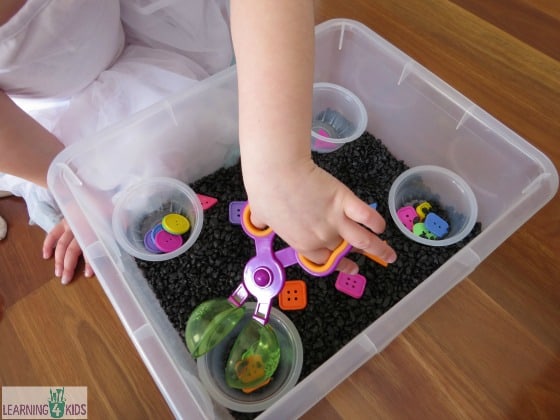 Learning Opportunities
Fine motor, control and coordination
Scissor skills and practice using one
Mathematics: recognising shapes and their characteristics
Concentration
Imagination and creativity
Problem solving and trial and error – over coming challenges
Other activities using the handy scoopers
Catch and Scooper Fine Motor Activity
Old Mac Donald Had a Farm Sensory Box
Click here for more SENSORY activities & play ideas
Click here for more SHAPES activities & play ideas
Available in our online shop:
Please click on the links to view products.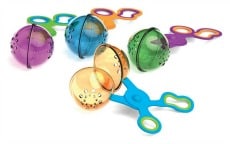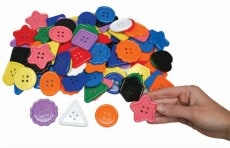 LIKE THIS POST
Come join the many playtimes here on Learning4kids, please enter your email address in the subscription box to receive updates right to your inbox!
5 Responses to "Sorting Shapes in our Sensory Bin"