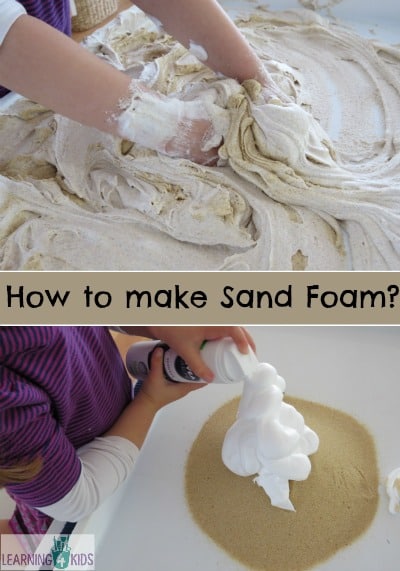 How to make Sand Foam?
Sand Foam is perfect for sensory exploration. It is made up using only two ingredients, sand and shaving cream.
Kids will love running their hands and fingers through the fluffy, textured mixture.
What you will need?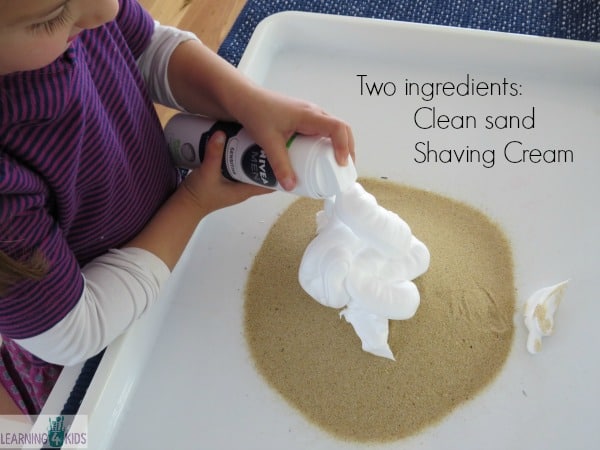 You will need clean sand, shaving cream and a large tray or tub.
There is no real defined amounts for the ingredients, the sand and shaving cream amounts can be adjusted until you are happy with the consistency. We started off with 3 cups of sand and 200ml of shaving cream, however, we added another 3 cups of sand to our mixture to explore what would happen.
Instructions:
Add 3 cups of sand to the tray.
Gradually add the shaving cream and combine using hands. Add more shaving cream until desired consistency is made.
Let's Play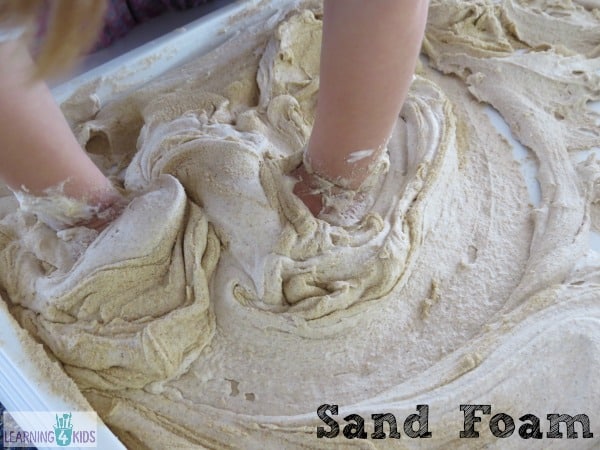 Some Ideas:
Add dinosaurs, shells and toy cars to extend the play and encourage imaginative play stories. The shells would make a great beach theme activity, the dinosaurs to create a sandy dinosaur world and the toy cars creating roads or moving sand construction site.
Hide plastic alphabet letters, numbers or other items to create a hide and seek game.
Use descriptive language to describe the experience, how does the sand foam feel? It feels soft, fluffy and gritty.
Draw and write in the sand foam tray. You can write your name, letters, numbers, draw shapes and pictures.
Let's Learn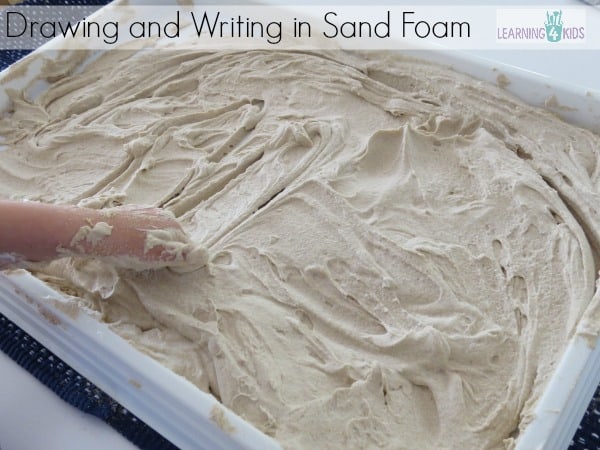 Learning Opportunities
Creativity
Fine Motor Development – Pre-writing skills
Hand-Eye Coordination
Sensory- Development of the sense of touch. Feeling and manipulating objects.
Oral language development- using descriptive language.
We plan to repeat this activity but next time using coloured sand and maybe a touch of glitter too!
Click here for more SENSORY activities & play ideas