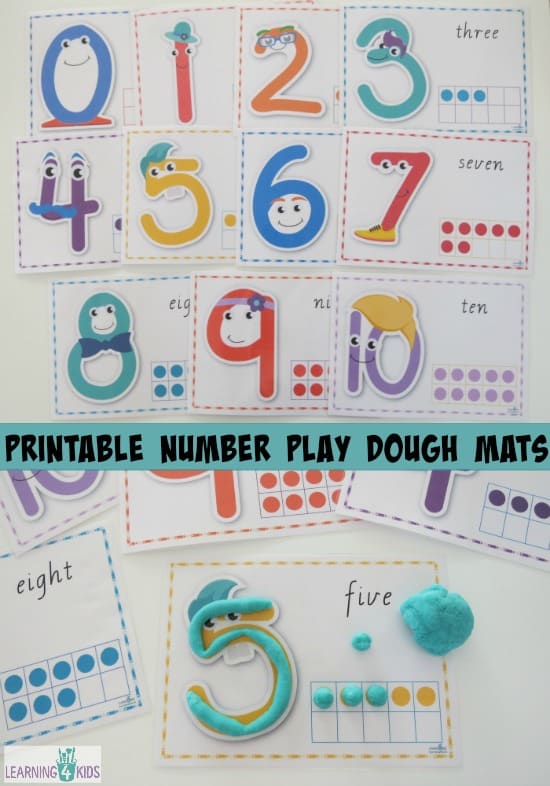 Printable Number Play Dough Mats with tens frames are playful, bright, and colourful with happy friendly number characters. They are so inviting, children will love to get creative with numbers and play dough.
Play dough is tactile, fun and great for all multi-sensory early developmental play. Play dough mats are a great tool to use with your children to work on various learning skills as well as help develop their fine motor skills. Together they can be used in creative, playful ways to promote early literacy and numeracy skills in a hands on way.
This activity involves using play dough to create numbers, using the Printable Number Play Dough Mats as a guide. This set comes with numbers 0 – 10 and is available in either cursive or standard print. Just print, laminate to create a re-usable learning resource for the classroom, home or educational centre.
Check out our Alphabet Play Dough Mats.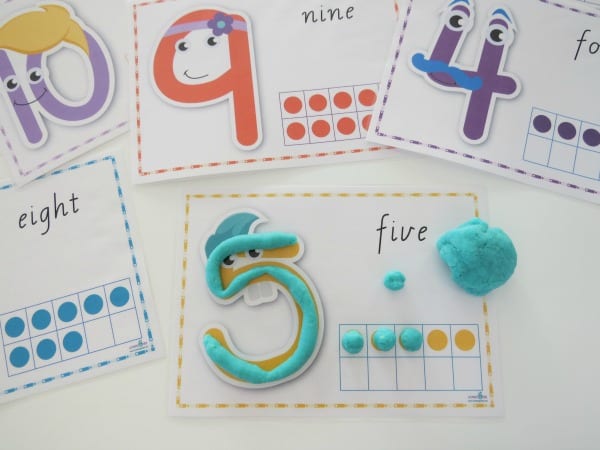 Play Dough Mats turn ordinary play dough activities into a creative and educational experience!
This set of Number Play Dough Mats comes with tens frame for counting 1:1 correspondence. Your child or class can also form mini balls to place on each of the dots to count along with 1:1 correspondence.
Available in cursive print or standard print.

At this stage, our Number Play Dough Mats are available in two fonts, standard print or cursive print.
Learning Opportunities
Literacy: recognising, naming and sounding out letters. Letter/Sound correspondence.
Physical: fine motor and co-ordination while rolling, squeezing and balling up the dough.
Maths: comparing and sorting by length and size. Counting out objects up to 10. Counting 1:1 correspondence on the Tens Frame.
Number Play Dough Mats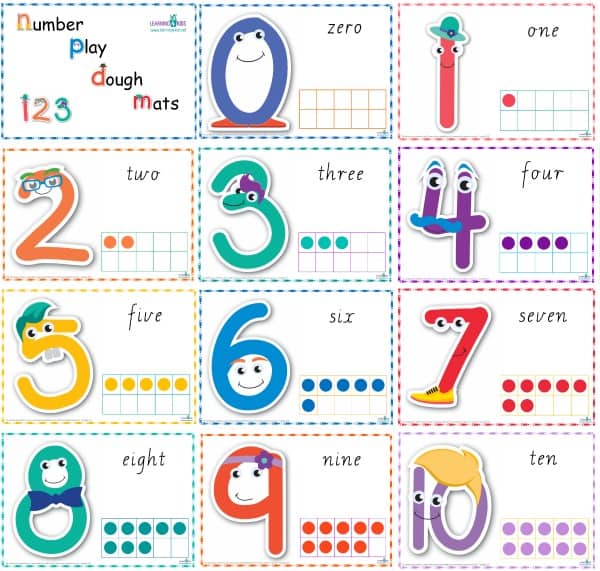 You can download our Printable Number Play Dough Mats through our Learning 4 Kids online shop.
The images above are shown in Cursive Print, Number Play Dough Mats in Standard Print is available here.
Alphabet Play Dough Mats
Cursive Print Alphabet Play Dough Mats
Standard Print Alphabet Play Doug Mats
Purchase both together
Purchase the Alphabet and Number Play Dough Mats as a set together.
Number & Alphabet Play Dough Mats – Cursive Print