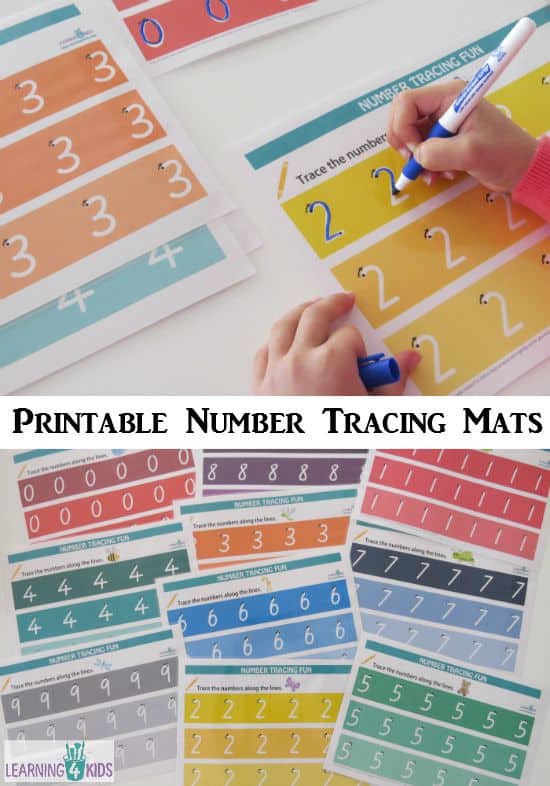 Printable Number Tracing Mats are a great way to assist children with, fine motor coordination and control, number formation, pre-writing and handwriting development.
The Number Tracing Mats come in a colourful rainbow theme with numbers 0 to 9. Children trace over the white lines, starting at the dot and following the arrows for guidance. Each number mat has a cute animal picture making them fun and bright.
The laminated Number Tracing Mats become a dry erase mat that you can write on them with a whiteboard marker and wipe off. Children can practice writing their numbers using a whiteboard marker as it simply wipes off with a tissue, cloth or magic erasers.
We also have Printable Alphabet Letters Tracing Mats – click here!
What you will need?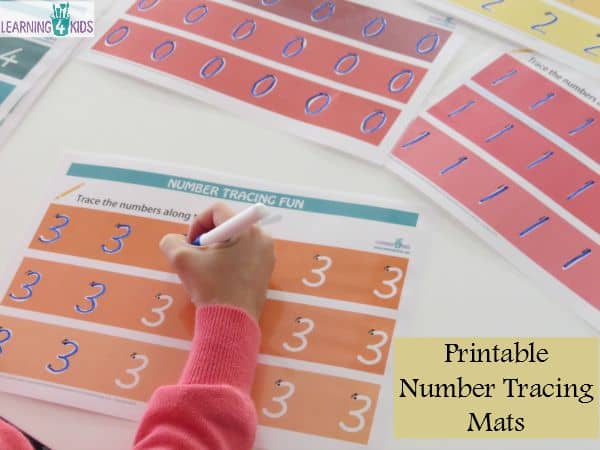 You will need Printable Number Tracing Mats, a white board marker and a cloth, tissue or eraser to for wiping the board clean.
When laminated these A4 landscape posters are reusable as a write on and wipe off using whiteboard markers. The dots and arrows are provided as a guide for starting position and direction to move the writing implement.
Let's Play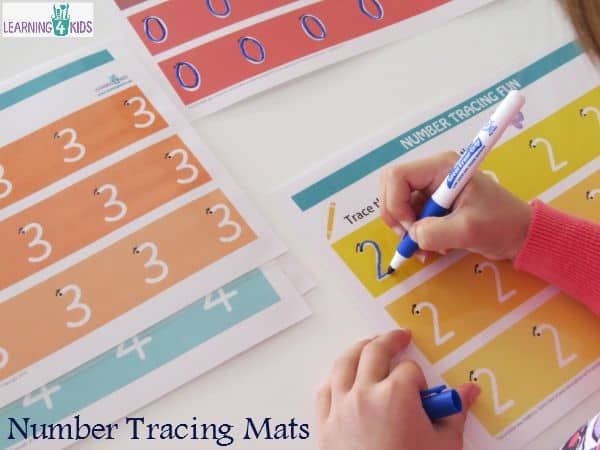 Some Ideas:
The Printable Number Tracing Mats allow children to trace the numbers to assist with pre-writing development and number formation. Here are some ideas and tips on how you can use the Number Tracing Mats with children.
Learn the new number pattern as a big body movement.
Using the point finger, draw the number into the air with oral prompting cues. Such as make a pointing finger, start at the top, and draw a line up and around, then down and across.
Now on the tracing mats, using your pointing finger trace over the lines to form the number shape, again using repetitive oral prompting cues to guide.
Start with the child's favourite numbers, numbers that they know or the number of their age.
Only introduce a couple of number tracing mats at a time to avoid overwhelming the child.
Point to which numbers has straight lines, rounded lines or windows (holes).
Count how many numbers are on the page and write the number beside it.
Try writing a few numbers without tracing.
Let's Learn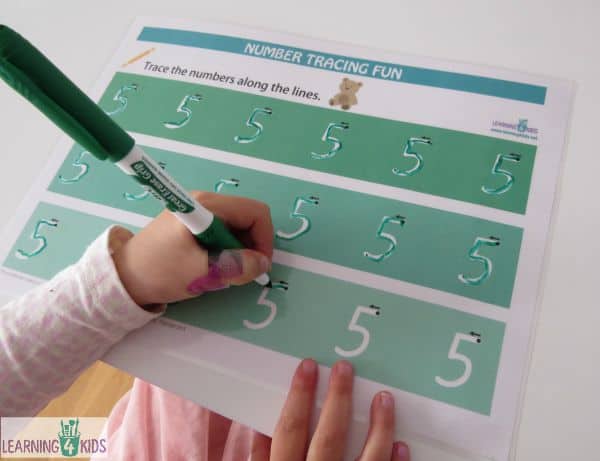 Learning Opportunities
Hand-eye coordination and fine motor control.
Tracing letter and number shapes over guided lines.
Commencing the letter formation in the correct location.
Guidance with correct letter and number patterns. How to form the letter or number?
Guidance with pencil grip.
Printable Number Tracing Mats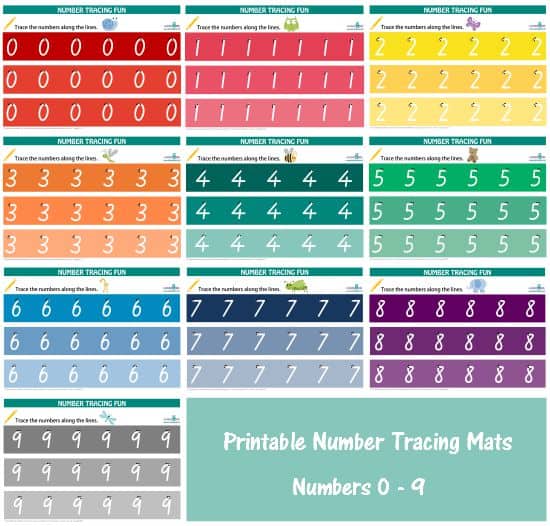 You can download our Printable Number Tracing Mats through our Learning 4 Kids online shop.
With every purchase you will also receive a FREE Printable Follow the Tracing Mats
Printable Alphabet Letter Tracing Mats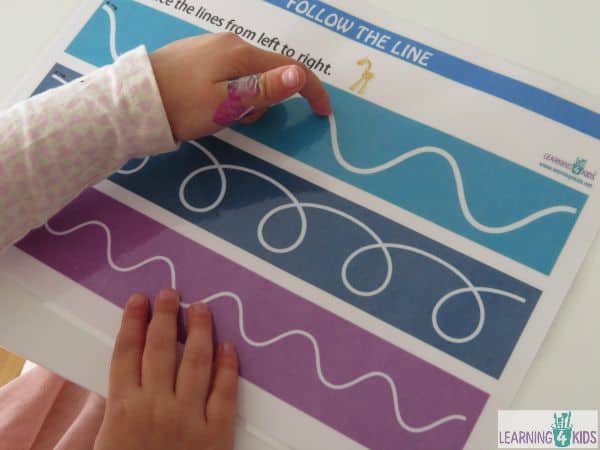 You can also download our Printable Alphabet Letter Tracing Mats in our Learning 4 Kids online shop.
Printable Alphabet Letter Tracing Mats CURSIVE PRINT
Printable Alphabet Letter Tracing Mats STANDARD PRINT
Also available in our Learning 4 Kids Online Shop