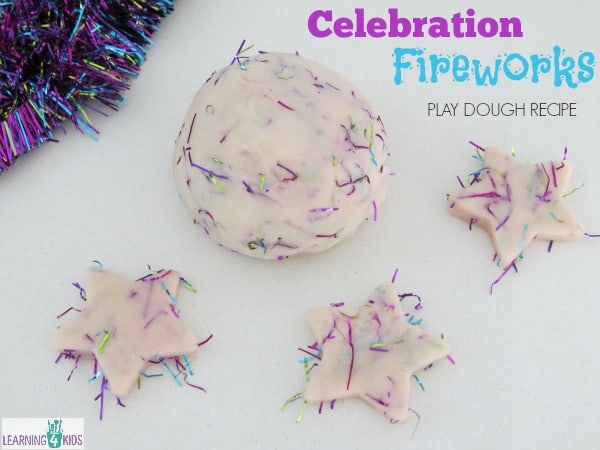 Homemade Celebration Fireworks Play Dough Recipe is a super fun, colourful, sparkly and textured play dough. The addition of tinsel to the recipe was to create a colourful fireworks effect which we often associate celebrations with.
This play dough is a great opportunity for children around New Year's Day, birthdays or other important celebrations.
I did not add any food colour to our Celebration Fireworks Play Dough because I wanted the brightness of the tinsel to really come through and contrast against the white play dough. I love how some of the colours in the tinsel has 'bled or run' a little and gave the play dough a gentle colour.
What you will need?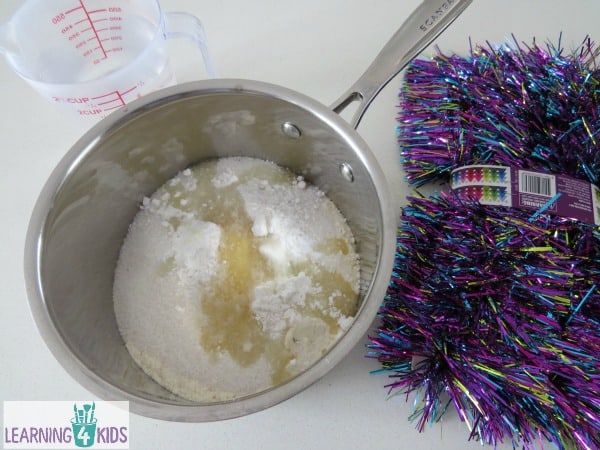 1 cup plain flour
1 Tbsp. oil
1 cup water
½ cup salt
2 tsp cream of tartar
Tinsel (approx. 1/3 cup cut into pieces)
Please Note:
Double the recipe for larger groups (4 or more children).
I added the tinsel to the play dough mixture prior to cooking the play dough. You may also like to knead the tinsel in after the play has cooled.
Method
Pour all dry ingredients, flour, salt, and cream of tartar, and tinsel together in a saucepan.
Add water and oil to dry ingredients.
I use a whisk before heating as I find this helps remove the lumps and blends the ingredients well.
Cook over medium heat constantly stirring until it becomes a thick blob.
Then turn out onto a clean surface and knead into a smooth ball. Be careful the play dough will be very hot!
Use a little bit of flour if the play dough is sticky.
Store in a plastic zip lock bag or air tight container.
Click here to see how we played with the Celebration Fireworks Play Dough
Click here for more PLAY DOUGH RECIPES
Available in our online shop:
Please click on the product names to view full product details.
Dot-to-Dot Alphabet Letter Charts
Dot-to-Dot Number Rhyme Charts