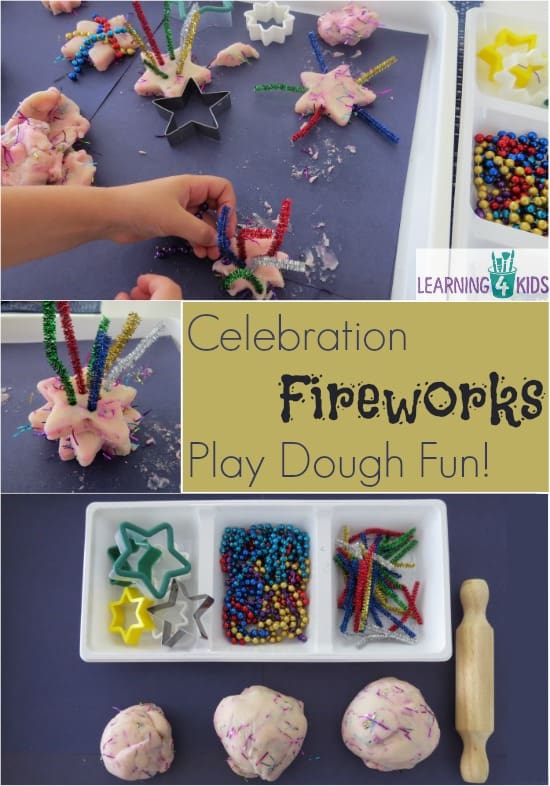 Fireworks Celebration Play Dough Activity is a super fun, colourful, sparkly and textured play dough. The addition of tinsel to the recipe was to create a colourful fireworks effect which we often associate with celebrations.
This play dough is a great opportunity for children around New Year's Day, birthdays or other important celebrations. Children are provided with an opportunity to play creatively and imaginatively in an unstructured way using the tools provided.
What you will need?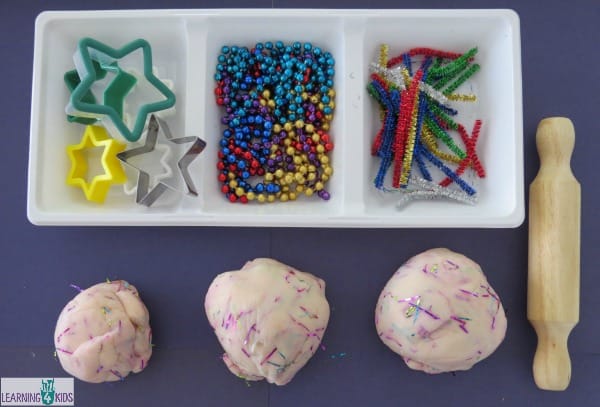 You will need, star shaped cookie cutters, sparkly pipe cleaners cut into different lengths and bead necklaces cut into different lengths. The beaded necklaces can be purchased for a low cost from most variety shops or the supermarket in the party supplies isle.
You will also need tinsel and Celebration Play Dough. Click here to view the Celebration Play Dough Recipe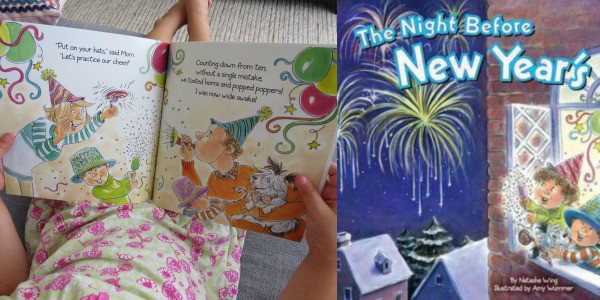 The Fireworks Celebration Play Dough activity was inspired by reading the story The Night Before New Year's written by Natasha Wing and illustrated by Amy Wummer. This is a fun story that you can read to children as an introduction to the theme activity.
Let's Play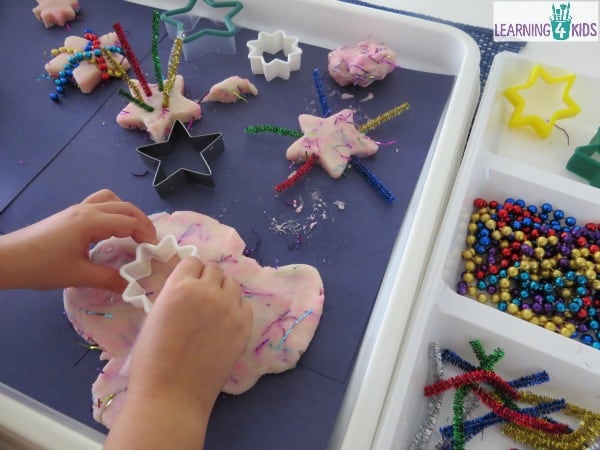 Some Ideas:
Create fireworks using the stars, pipe cleaners and beads.
Create a fireworks stack by placing the play dough stars on top of each other. See how high you can make the fireworks stars stack?
Place the pipe cleaners pointing out of the play dough stars to imitate bursting fireworks.
Place all the play dough fireworks into a row and count them out loud.
Set a challenge: how many beads or pipe cleaners can you fit on your play dough fireworks. Count them! Count all the red pipe cleaners, now count all the blue?
Let's Learn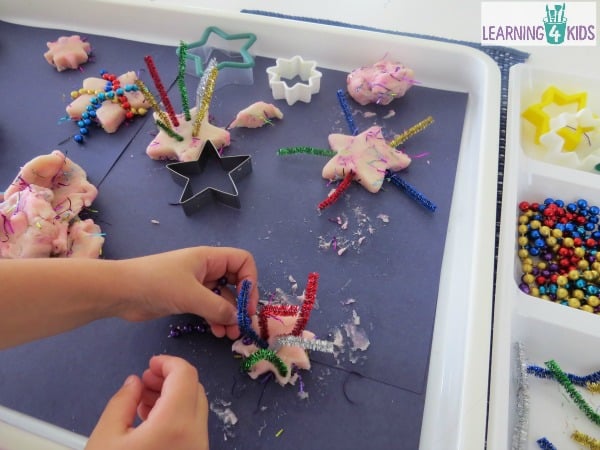 Learning Opportunities
Creativity & Imagination
Fine Motor Development
Hand-Eye Coordination and Control
Cause and Effect
Concentration
Measurement and maths concepts: experimenting with size, space and area.
Language development
Problem Solving – overcoming challenges
Click here for more PLAY DOUGH activities & play ideas
Click here for more FIRE WORKS activities & play ideas
Available in our online shop:
Please click on the product names to view full product details.
Printable Alphabet Play Dough Mats
Printable Number Play Dough Mats