When you purchase the downloadable document for this printable, you will receive BOTH Numbers & Letters Tracing Mats in CURSIVE print. Just print and laminate these Tracing Mats for a re-usable resource children can learn and play with.
The Alphabet Letters and Number Tracing Mats come in a colourful rainbow theme. The letters have both uppercase and lowercase letters and join the dots along the line. Children trace over the white lines, starting at the dot and following the arrows for guidance. Each letter mat has a matching picture to that letter sound such as letter A is pictured with an apple and the number mats come with cute animals pictures.
The laminated Number and Letter Tracing Mats become a dry erase sheet that you can write on them with a whiteboard marker and wipe off. Children can practice writing their letters using a whiteboard marker as it simply wipes off with a tissue, cloth or magic erasers.
These pages allow children to trace the letters and numbers to help with the learning process and correct letter and number formation.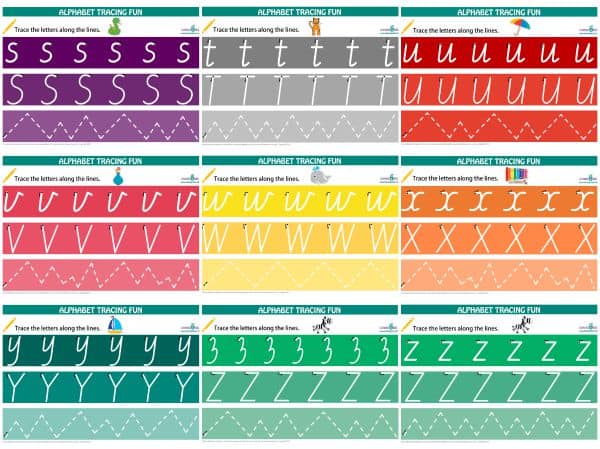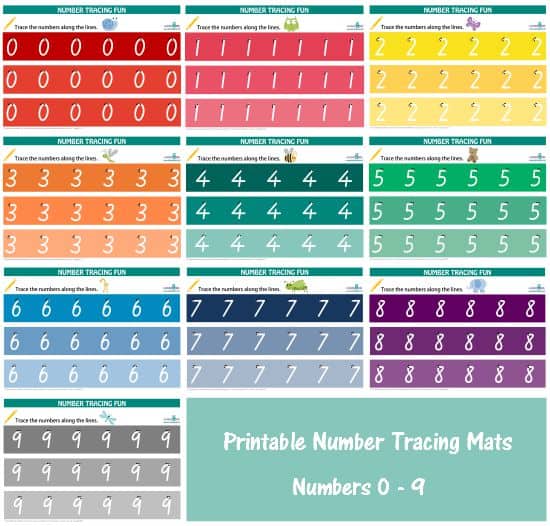 On completion of payment, you will receive a receipt with the link to download the printable document.
The download includes:
27 pages, Letters A to Z, Alphabet Tracing Mats Cursive Print – Rainbow Theme
11 pages, Number 0 to 9, Number Tracing Mats
Free Follow the Line Tracing Mats ( 3pages)
Includes 3 Re-downloads within 7 days.
Free Printable Follow the Line Tracing Mats

With the purchase of this product you will also receive or Follow the Line Tracing Mats for FREE.
Also available:
Our Number and Alphabet Letters Tracing Mats Bundle is also available to purchase in Standard Print
Click here to view all our Downloadable Products
All downloads are Copyright protected to Learning4Kids 2015. Not to be distributed, transferred, or shared in any form. For personal use only.