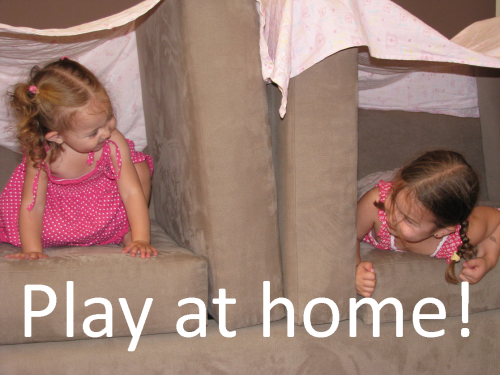 There are so many wonderful places in the home where children can play imaginatively and creatively.
Kids will create imaginary worlds to explore and play using the most inexpensive and simple things you can find right at home. Here are a few ideas for you to try!
COUCH CUSHIONS OBSTACLE COURSE
Play at home using the pillows from your couch, you can make some fabulous obstacle courses for the kids to navigate. It encourages gross motor development through crawling, climbing, jumping and rolling. You could try island hopping with some small cushions laid out in a line or make a track with the larger ones connecting up to a tunnel. We have made tunnels to crawl and navigate through, a pile of pillows which the kids called rocks to climb over. The ideas and endless!
COUCH CUBBY HOUSE
There are different ways of creating a couch cubby; we have used our base cushions as walls with a blanket thrown over the top for a roof. So simple and the kids will play in it for hours. Miss 20 months at the time enjoying a book in her couch cubby!
CARDBOARD BOX BUS
I love cardboard boxes because the imagination and the things you can do with them are endless. Here is Miss 21 months' pretending to drive a bus with her box and a lid for a steering wheel. We were singing 'The Wheels on the Bus go round and round'. Boxes do not require setting up, just leave them out and the kids will make magic happen in them!
TABLE CUBBY HOUSE
I am sure we all have memories of doing this when we were kids. Remove all the dining chair and throw a blanket over the top of your dining table to make an indoor cubby house for the kids to play underneath.
WARDROBES
My kids have made some wonderful imaginative play stories happen in our wardrobes. One that I remember is a 'Lift Off' which is what they called it at the time but it really was an elevator. Set up a little tea party invitation to play in a wardrobe!
PILLOW STACK
This is Miss 6 back when she was not even 2 years olds, playing in a stack of pillows.
We just piled pillows up around her leaving an opening in the middle, a bit like a donut. She would climb in and out giggling and laughing while building up her gross motor skills.
Collect up all the pillows around the house and pile them up and see the fun of play, imagination and learning happen. With older children you can turn this into a bit of a maths lesson by counting how many pillows are in the house. Pillows are so much fun to play with!
BALL PIT
Make your own ball pit at home with a small blown up swimming pool or fill a kids play tent with them.
BEHIND THE COUCH
Behind the couch is another fun place to play at home. Lay blankets on the floor and somehow create a roof with pillows or blankets. Make a door with more pillows or a tunnel to enter the behind the couch cubby.
Here is Miss 22months with a bowl of popcorn and her little chair playing behind the couch.
BLANKET SWING OR RIDE
Play at home by making your own blanket swing and ride. Using a strong blanket or towel, have your child lie in the centre and carefully pull them along the ground for a blanket ride. A blanket swing is similar but you need two adults to hold one end each of the blanket or towel to carefully swing your child, a bit like the game 'A Milk Shake'. Sometime my kids have placed a pillow underneath their heads for the added protection.
All my kids have loved this and still do even though my two older girls are getting too heavy to pull around on a blanket or a swing.
PLASTIC CUPBOARD OR DRAWER
We have so many plastics ware at our house and the kids love to play with them. I have a separate box for the plastic containers and lids that I just pull out for them to explore and play with as they like.
DINING CHAIRS
Play at home using your dining chairs and make a car wash tunnel using scarves and stockings for your child to crawl through. You can read more about this activity here: Car Wash Tunnel
WASHING BASKETS
Washing baskets are fabulous much like cardboard boxes, where kids love to climb in and out of them. They are great for creating games and imaginative stories such as a boat by placing blue towels or blankets around the washing basket and a small broom or stick for a sail.
Bring a washing basket out into the lounge room with pillows and blankets and see what fun can be made with them!