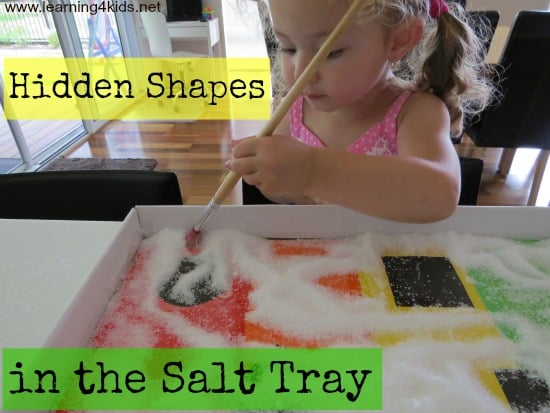 What shapes can you find in the salt tray? They are hidden under the salt; use your paint brush to sift through the salt to see if you can find them….
Hiding black paper shapes in our homemade Rainbow Salt Tray and searching for them is a fun, engaging and motivating activity for kids to learn about their shapes.
What you will need?
For this activity we have re-used our Rainbow Salt Tray from a previous activity and added black paper cut out shapes.
Firstly I removed all the salt from the tray and sticky taped 6 main shapes we have been learning onto the rainbow paper. Then I added the salt back into the tray again. You will also need a paint brush for this activity.
Let's Read
Before starting this activity Miss 2 and I read the book Play Shapes by Begin Smart Books, which is a board/foam book that has removable shapes much like puzzle pieces that are used to match the shapes on different pages. You can see the black circle in the middle picture is matched to the circles to the ladybug, it inserts into place.
Let's Play
This was such an exciting play opportunity to learn about shapes for Miss 2 as she sifted with the paint brush through the salt to find the hidden shapes. The concentration on her face was priceless as she tried to control the strokes with the paint brush. Miss 2 also tried different techniques for moving the salt around the tray, some were more fast circular sifting strokes and others were long and slow strokes but she had every success in finding the shapes.
Miss 2 loves to copy and repeat words that I say at the moment so this was a great opportunity to continue to encourage this and say the names of the shapes she found. It is also a great opportunity to count how many sides and corners some of the shapes have.
Let's Learn
Learning Opportunities
Creativity
Fine Motor Development – Pre-writing skills
Hand-Eye Coordination and Control
Cause and Effect
Concentration
Spatial awareness – experimenting with shape and space
Language development – shape names
More Activity Ideas: