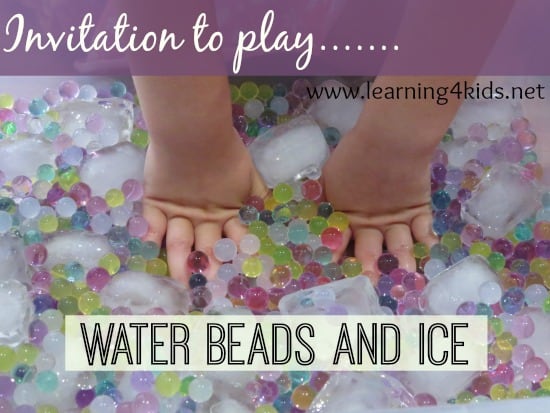 Water Beads and Ice is an open-ended and hands-on sensory play opportunity. They are so much fun as they are about the size of a small marble and have a small bounce to them if they are dropped on the floor. They are soft, squishy and smooth to touch, not slimy at all.
Water beads promote learning and development in areas such as fine motor, coordination, exploration, colours, sensory, and creativity. Water beads also introduce children to scientific and mathematical concepts such as absorption. It also promotes scientific thinking skills such as predicting, observations, reasoning and so much more!
What you will need?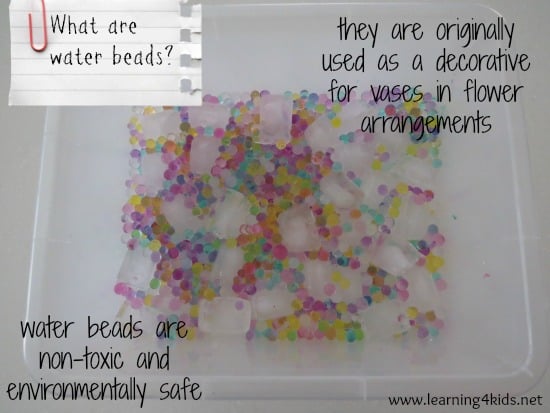 For this play opportunity I set up a small tub filled with ice cubes and water beads. I was lucky enough to purchase our water beads cheaply at our local craft store but I have also seen them sold on E-bay and in florists. When purchasing water beads they come in very tiny ball shapes and are hard. Once you add them to water they become soft, squishy and increase in size.
I later added scoops (measuring cups) to the tub. I originally did not introduce the scoops until a little later as I wanted to my kids to explore first with their hands without any props. When they were commenting that it was so cold and were starting to rub their hands together, that's when I introduced the scoops. This took the play journey to another level and also relief for their hands from the cold ice.
Let's Play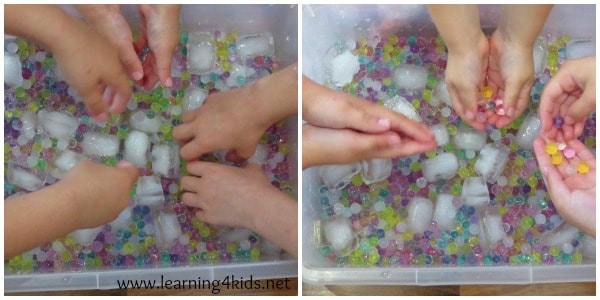 My children spent long periods of time using their hands to search for the beads in the water and ice. They would gather them up with the ice and tried to melt the ice by rubbing it in their hands. As the ice melted, there was more water to play with and different size and shape ice cubes. They loved to collect them up and sort them into colours, scoop them, pour them, feel them, and gather them in cups.
Let's Learn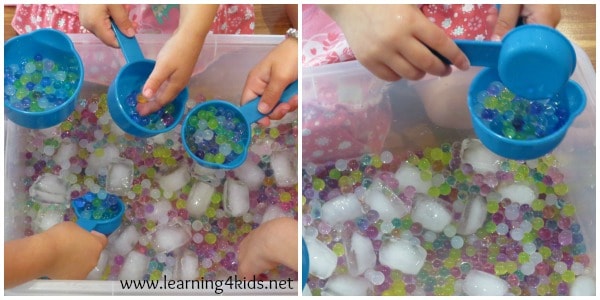 Learning Opportunities
Creativity
Fine Motor Development
Hand-Eye Coordination and Control
Cause and Effect
Concentration
Spatial awareness – experimenting with shape and space
Language development – shape names
Mathematics – capacity, measurement
Scientific concepts and skills
Find more activities & other ideas : 
*Please note that even though water beads are non-toxic, they should not be consumed. As with all activities, children must be supervised at all times. Read more*