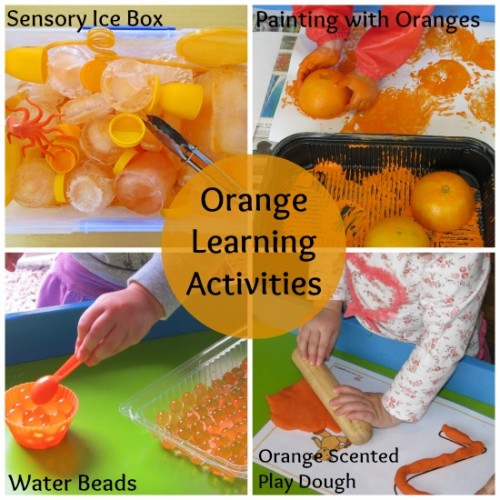 Come play and learn with the colour ORANGE, we have lots of activities and play ideas!
As part of our Learning Colours Series here on learning4kids, today I am sharing with you some of the activities we have been doing as we explore and play with the colour ORANGE. Our 'orange activities' involved reading The Big Orange Splot followed by some 'splot' painting, also playing with orange water beads, orange play dough and making a orange sensory ice box.
By completing all these activities we are not only learning about the colour orange but we are also promoting other learning, development and skills building.
If you have only just joined our Learning Colours Series here on learning4kids and would like to find out more, click here
ORANGE SPLOT PAINTING
A fun and simple activity which involves reading the story The Big Orange Splot by Daniel Manus Pinkwater followed by making orange paint 'splots' with oranges cut in half pressed into paint. Books are a great way to introduce new ideas and concepts and this story is perfect for introducing the colour orange.
I set up our activity table with newspaper and placed 2 orange cut in half faced down onto an orange paint tray. Kids will love to create their own 'splots' with paint and cut oranges on paper!
ORANGE SCENTED PLAY DOUGH
Making Orange Scented Play Dough is a great way to create a fun sensory learning experience that promotes fine motor development, creativity and learning the colour orange. We have used this play dough before in a previous activity with Number Play Dough Mats.
Click here to view and print Orange Scented Play Dough Recipe
Click here to view the full activity Number Play Dough Mats and print your FREE Number Play Dough Mats.
ORANGE ICE CUBE SENSORY BOX
Another orange activity Miss 2 had fun playing with was an Orange Ice Sensory Box. I filled a jug of water and added a few drops of orange food colouring and then filled a range of different shape containers, some small and some larger ones. I placed the containers onto a tray and into the freezer. When frozen the colour appears to be a more pale orange.
To make the ice sensory box a little more fun we added a small amount of bright orange water (food colouring) to the box, a pair of tongs and different orange objects to create an invitation to play in an unstructured and creative way. I added the tongs to encourage Miss 2 to pick up the ice blocks.
We also have a Blue Artic Ice World here on Learning4kids.
ORANGE WATER BEADS
I absolutely love water beads, so when I found these orange ones I thought it would be perfect for our learning the colour orange activities. On our activity table I laid out a bowl of orange water beads, an orange spoon and orange cupcake pans. Miss 2 spent hours picking up the water beads with the orange spoon and placing them into the cupcake holders.
OTHER ORANGE ACTIVITY IDEAS
Threading Beads:

Threading ORANGE beads onto ORANGE pipe cleaners.

Wear ORANGE for a day

: Dress your child and/or yourself wearing the colour orange for the day. Where your favourite green scarf or socks.

ORANGE Discovery Box

: Go on a 'orange treasure hunt' around the house with a box and fill it with as many orange things as you can find. You can involve your child or make the discovery box for your child to explore. A box filled with so many 'orange' treasures to pull out to touch and feel, smell, listen to, look at and explore.

Make an ORANGE morning tea:

Cut up a range of orange foods such as carrots, melon and oranges for morning tea.

Sing Songs about the colour ORANGE:

You can basically take any song and replace some words with the colour green. Why not make up your own song or chant with the word orange?

ORANGE Bath:

Fill the bath with water and add a few drops of orange food colouring and orange balloons filled with water. Adding bubbles makes it even more fun!
Click on the links to see our other Colour Activities from our Learning Colours Series