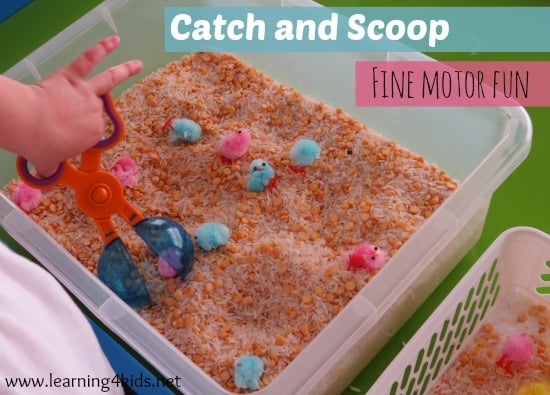 Catch and Scoop is a fun and engaging activity that encourages fine motor development and scissor skills.
This activity is great for sensory exploration and involves catching and scooping up small chicks in the rice and split peas mixture and releasing them into another container. The catch, scooping and releasing action mimics that of a child using scissors and provides a safe and fun opportunity to develop scissor skills.
What you will need?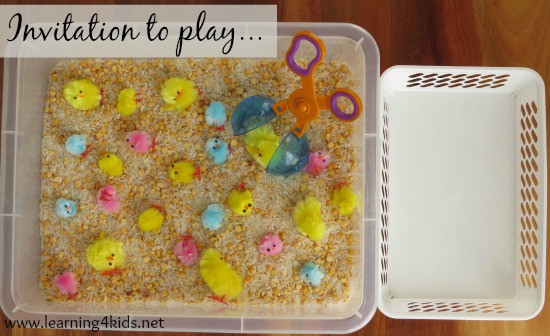 You will need a large tub, rice, yellow split peas, scoopers, small chicks (from craft stores) and another container.
We have re-used our rice and split peas sensory tub on a previous activity.
You can take a look here: Old Mac Donald had a Farm Sensory Box
These scoops can be used by both left and right handed children.
Tips: Place a large blanket or towel underneath the rice tub to collect all the rice. When you child has finished playing scoop up all the rice and store it in the tub with a lid to re-use for other activities.
Let's Play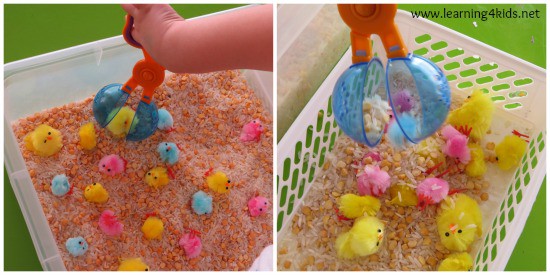 Some Ideas:
Scoop and catch by size. Sort the different size chicks according to size.
Count out loud how many chicks have been caught.
Scoop by colour and sort them into different containers.
Hide the chicks in the rice and use the scoop to find and catch them. Use your hands too!
Shake the rice in the scoops to create music. Explore all the senses!
Let's Learn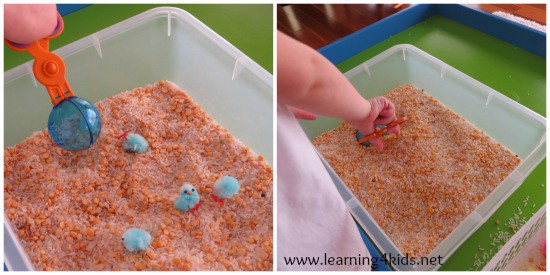 Learning Opportunities:
Fine motor, control and coordination
Scissor skills and practice using one
Concentration
Imagination and creativity
Problem solving and trial and error – over coming challenges
For More Fine Motor Activities <CLICK HERE>