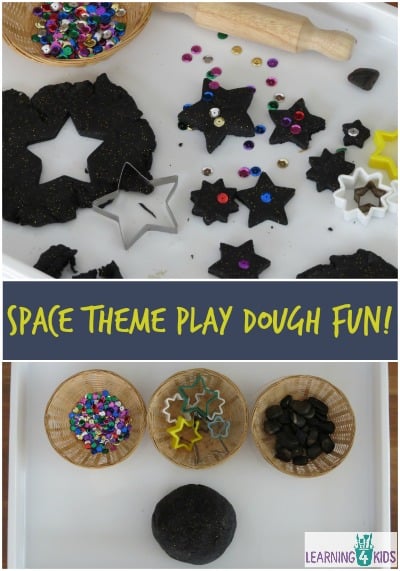 This Space Theme Play Dough Activity opens the window of opportunity for learning and play in so many ways. It provides an invitation for children to explore their senses, creativity, imagination, mathematical concepts such as size and area and also develop their fine motor skills.
We recently shared a new play dough recipe here in Learning 4 Kids, Space Play Dough and we used this recipe for our Space Theme Play Dough Activity.
What you will need?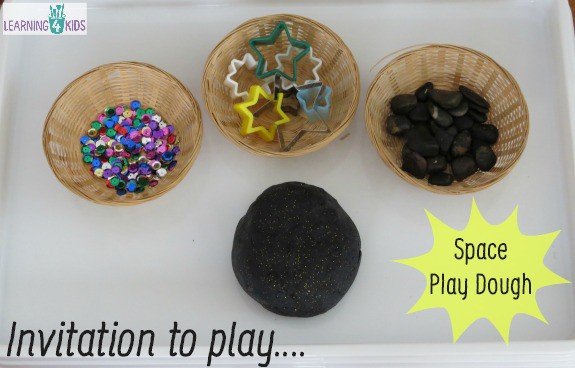 You will need our space play dough recipe <here>,star shape cookie cutters (different sizes), pebbles and sequins. I love the sequins, it makes this play opportunity so much more colourful and fun!
Let's Play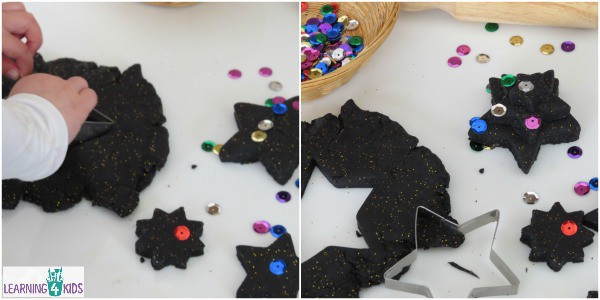 Some ideas:
Create a space play dough star stack. Begin with the larger stars at the bottom and build them up as tall as you can before they fall.
Order the space play dough stars from the smallest to the biggest, or shortest to the tallest.
Play imaginatively and create the night sky.
Create patterns of colour on the play dough stars using sequins. For example, place all the blue sequins on one stars and all the pink ones on another
Challenge your child or children to estimate (guess) how many sequins it would take to cover the largest star and then the smallest star. Count out loud!
Let's Learn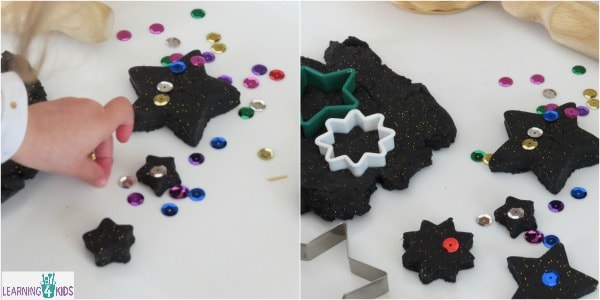 Learning Opportunities
Creativity
Fine Motor Development
Hand-Eye Coordination and Control
Cause and Effect
Concentration
Spatial awareness
Measurement and maths concepts: experimenting with size, space and area.
Language development
Imaginative play
Looking for more play dough activities and ideas <click here>
Space Play Dough Recipe <click here>