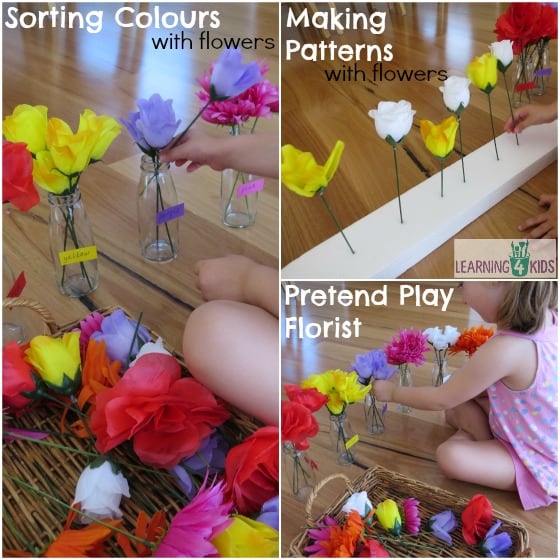 A basket filled with a range of different coloured fake flowers can open the opportunity to learn in so many ways. Children can explore ideas, theories using imagination and dramatic play, make patterns, learn colours and so much more.
Start with a basket filled with a range of coloured flowers and see where the fun and learning takes you.
What you will need?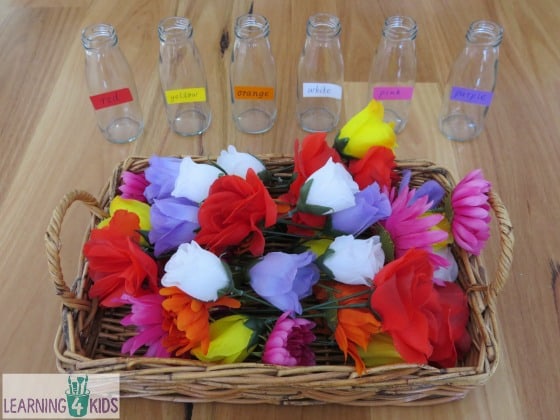 You will need a range of coloured fake flowers, coloured paper, and jars. I purchased our fake flowers cheaply from a locate craft store and cut them to create one stem for each flowers. I plan to use these flowers for other activities.
For the Making Patterns Activity you will also need a block of Styrofoam which can be found in craft stores or packing boxes.
Let's Play – Pretend Play Florist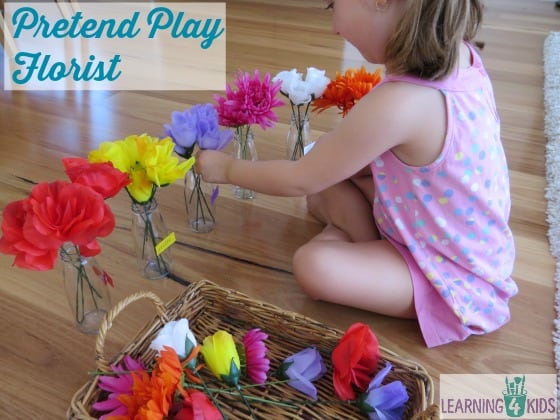 Create an opportunity for your child to take on the role as a florist and play creatively as they pretend make bouquets of flowers using fake flowers and other props.
This activity could be extended and other pops could be added to create a pretend play Florist.
Some ideas:
Add tubs of dirt or an array of different size vases/flower pots.
Watering can, gardening gloves,
Tissue paper to make bouquets of flowers.
Office equipment such as telephone for taking orders, paper or clipboard and pencils,
Different types of cards, such as Get Well, Congratulations, or Happy Birthday.
Take a look at our Pretend Play Garden <HERE>
Let's Learn – Sorting Colours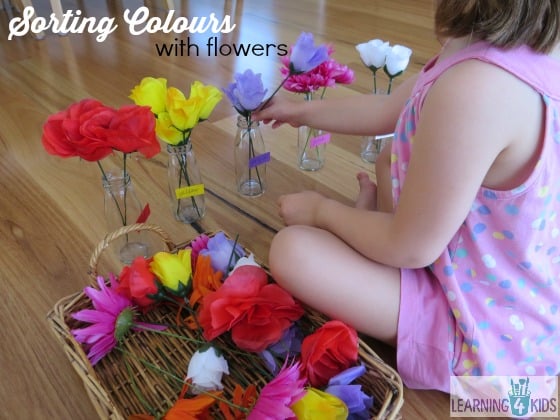 We have lots of colour activities here on Learning 4 Kids and some of them involve sorting colours. Sorting Coloured Flowers is just another way fun, interactive and motivating way to reinforce and extend learning about colours.
I cut out coloured paper that matched the colours of the flowers and labelled the jars for sorting the different colours.
Take a look at our Sorting Colours with Pompoms and Cardboard Rolls <HERE>
Let's Learn – Making Patterns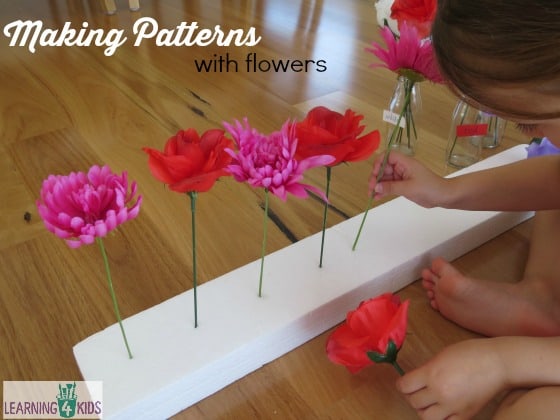 Integrating patterns activities into your child's day helps them to be aware of patterns in their surroundings. Children benefit greatly from sorting and grouping objects and patterning is the natural next step.
As Miss 4 was playing with the coloured flowers, we pretended, sorted colours and I thought it was a great opportunity to create patterns. It was so much fun and can become a bit of a game to play! Children love to recognise, create, copy and extend patterns.
Why teach patterns?
Teaching patterns to children is the early skills which is recognised under the mathematical term Algebra. Algebra is about seeing relationships and as children recognise and create patterns they begin to see and understand how things work together.
Let's Learn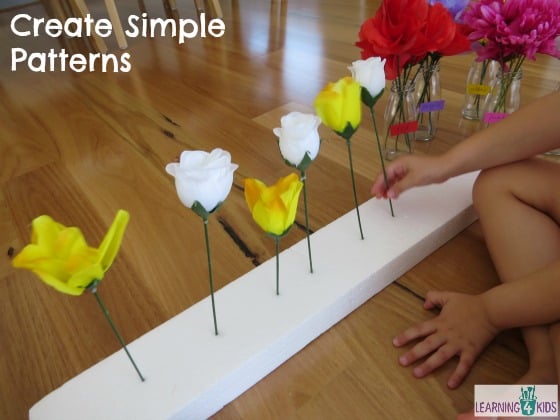 Learning Opportunities
Self-correcting and problem solving
Fine Motor Development
Hand-Eye Coordination and Control
Predicting – what is coming next?
Concentration
Language skills: naming labelling and pronunciation.
Literacy: Connecting the written word with the colour.
Mathematics – recognise, copy and create simple two part patterns
Explore ideas, theories using imagination and dramatic play
Find more PRETEND play activities & ideas <CLICK HERE>
Find more COLOUR play activities & ideas <CLICK HERE>