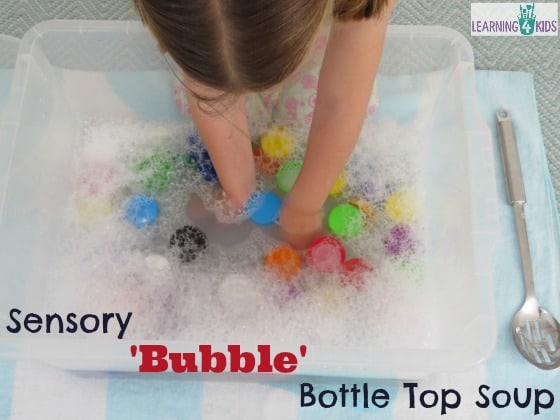 Recently we shared here on Learning 4 Kids a Bottle Top Soup Game and Miss 4 absolutely loved it. We extended the sensory play opportunity and by adding liquid soap to make our Sensory Bottle Top 'Bubble' Soup.
Children will love creating bubbles with a whisk and searching for the bottle tops as they disappear amongst the bubble foam.
What you will need?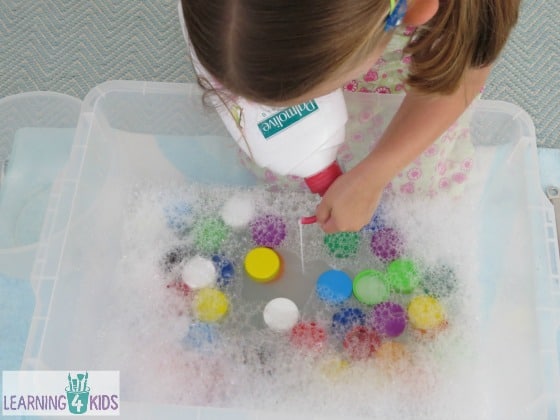 You will need a large tub ¼ filled with water, approx. 40 bottle tops, a ladle, whisk plastic container, towel and shower gel (we used sensitive skin).
Let's Play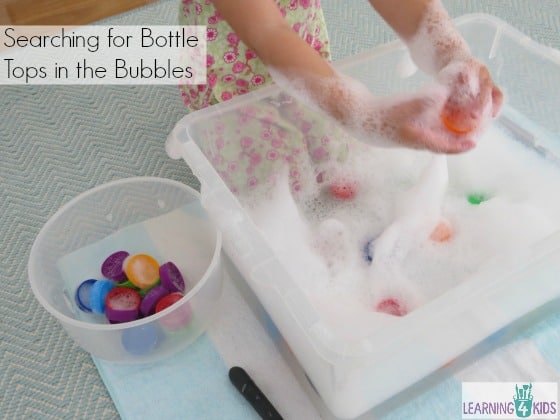 Some Ideas:
Make bubbles by swishing the water around with your hands.
Make bubbles using the whisk. Which one makes the most bubbles?
Hide the bottle tops in the bubble and play search for the 'red' bottle tops. Continue with other colours.
Try scooping out the hiding bottle tops in the bubbles.
Balance the bottle tops on the edge of the container and fill them with bubbles.
Let's play some more: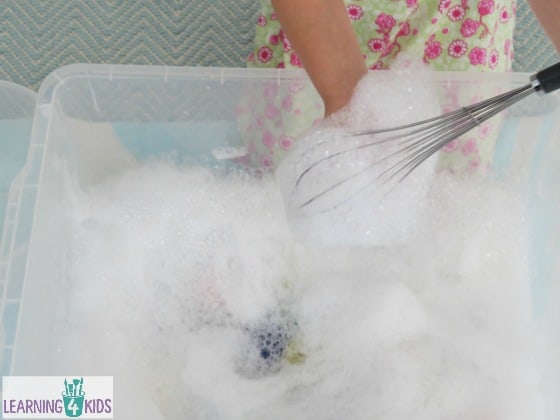 Swishing and swirling the whisk around in the water making lots of bubbles until all the bottles are hidden.
Let's Learn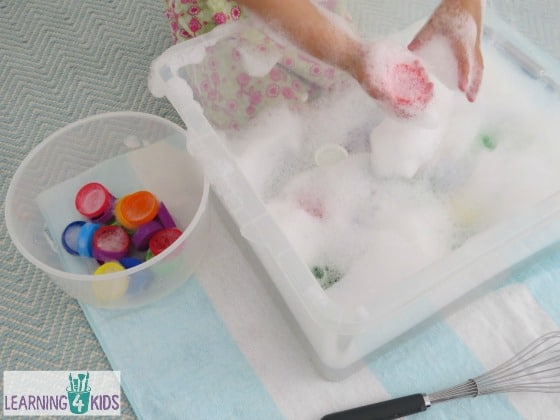 Learning Opportunities
Building up their fine motor skills and coordination
Problem solving – finding strategies to overcome challenges.
Encourages imagination and creativity
Developing an understanding and awareness of cause and effect
Language development- experimenting with language and trying new words.
Self-esteem: sensory play offers kids the opportunity for self-expression because there is no right answer and children feel safe to change or experiment with what they are doing.
Social skills: taking turns, communication and following directions.
For more BOTTLE TOP activities & play ideas <CLICK HERE>
For more SENSORY activities & play ideas <CLICK HERE>