4 Maths Activities for Getting Ready for School
This is a sponsored post by ABC Reading Eggs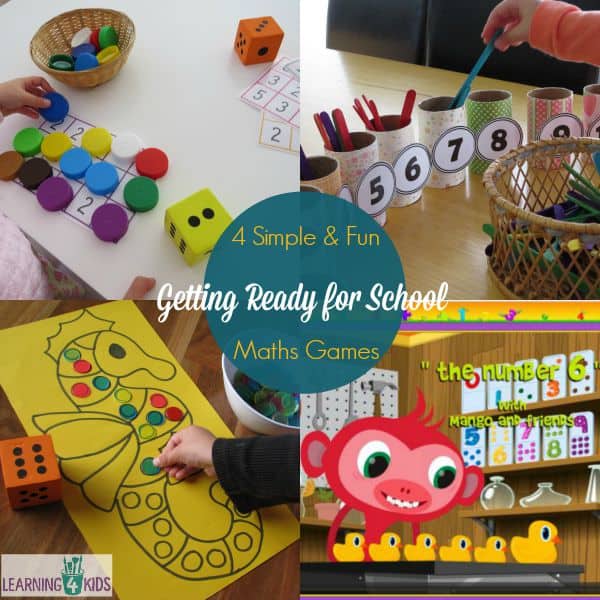 Giving children a solid foundation in early maths literacy is important to their future academic success. Engaging in dynamic, hands-on games and projects can assist children with the transition into school, setting them up with the skills and confidence they need.
Most children, even without guidance from adults, are naturally interested in maths as it exists in the world around them. They love to ask questions and play games that involve the many aspects of maths concepts.
I have provided 4 simple maths games and activities that you can play with your child at home to support their learning and understanding of basic maths concepts. I have also mentioned a super fun online learning program, ABC Mathseeds, which is packed full of enjoyable child-focused maths activities.
Early maths exposure will give your child the confidence they need to succeed in school.
Number Dice Bingo Game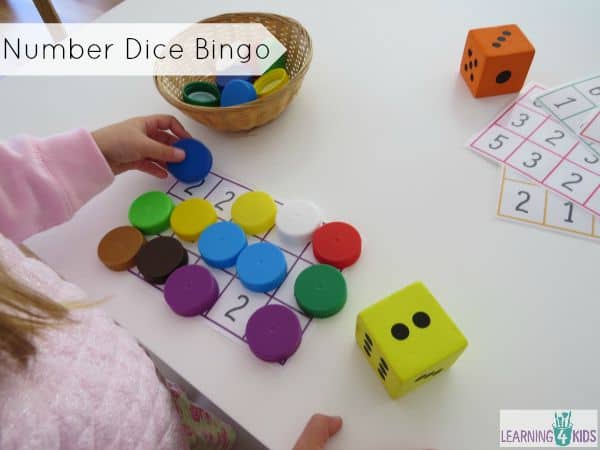 Number Dice Bingo is a printable game that is played much like Bingo but played with dice and numbers. It is a fun game for encouraging early maths skills such as subitising*, counting and number recognition numbers 1-6.
To play the Number Dice Bingo Game, you throw one dice and cover the corresponding number on the number boards that is shown on the dice face. 1 dot: cover number 1, 2 dots: cover number 2 and so on. This game can be played as a whole class, small groups, in pairs or individually.
*Subitising refers to immediately knowing how many items lie within a visual scene for a small number of items. It is to have a rapid and confident judgement to know at a glance and without counting to identify the number of items in a group. For example, when a dice is thrown the observer at a glance, immediately and accurately, knows how many dots lie on the face of the dice without counting.
ABC Mathseeds Online Learning Program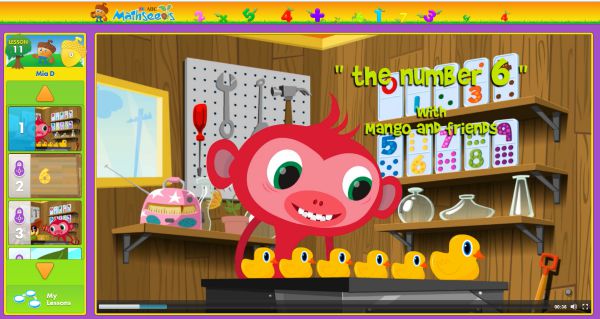 ABC Mathseeds is a comprehensive online mathematics program for children aged 3-6. It offers a huge range of carefully structured lessons and activities that build mathematical skills over a broad range of number, shape and measurement topics. The Mathseeds program is packed full of enjoyable child-focused activities that makes learning a rewarding and meaningful experience. It teaches fundamental concepts in a fun, motivating and engaging way, whilst rewarding children for their efforts. The program features a wide variety of lessons and activities that have been created by educational experts. Each lesson is carefully structured to build early mathematical skills.
All of my children have used the ABC Mathseeds Online Learning Program and we have found it to be an incredibly worthwhile program to participate in. The carefully structured interactive maths lessons, games and songs allow children to learn at their own pace. It is also so much fun and motivating as it is aimed at the child's interests. My children just wanted to keep going back to play more.
To see how ABC Mathseeds and ABC Reading Eggs works, please <CLICK HERE> for 4 weeks FREE access!
Numbers and Counting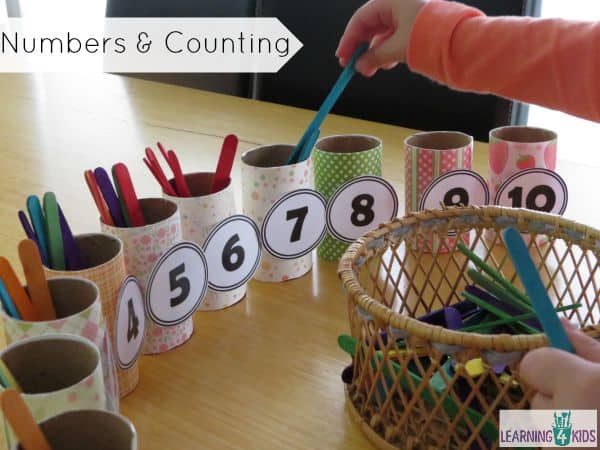 Numbers and Counting Activity is a fun way for children to play and learn with numbers. Whatever the level ability, it is a great opportunity for children to practice counting out loud, recognise and name numbers and also develop an understanding of the value of numbers and 'how many'.
The activity involves children counting out the value for each number and placing 'how many' pop sticks into the cardboard roll with that number. Such as Number 1 = 1 pop stick, Number 2= 2 pop sticks and so on.
Roll and Count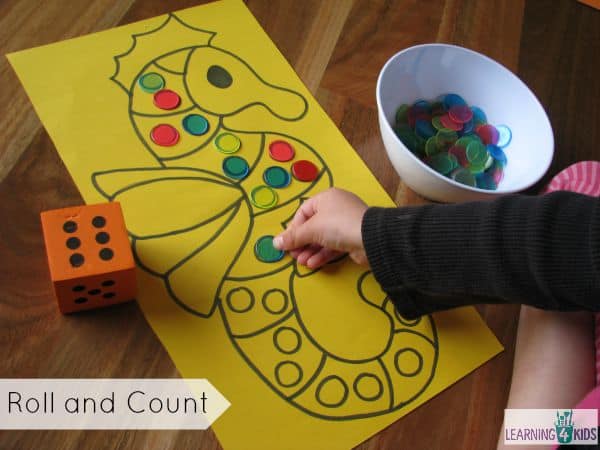 Roll and Count is another game that provides children with the opportunity to subitise, count out loud, create number collections and, if they are ready, the concept of addition.
To play, children roll the dice and cover the circles on the picture with tokens to match the number shown until all circles are covered. This game can be played as a whole class, small groups, in pairs or individually.
The aim of this activity is to develop the skill of subitising by creating an environment (visual scene) to recognise the number associated with a particular pattern on the dice. Then to re-create that particular pattern in a different form using tokens and placing them onto the clusters of circles on the paper.
4 Weeks Free Access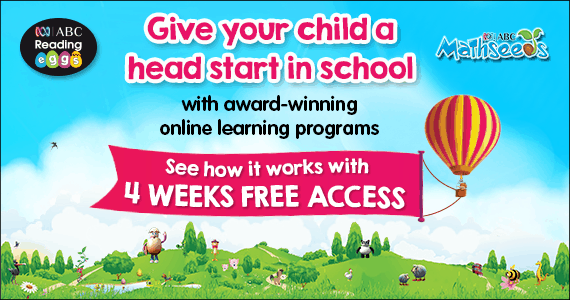 Give your child a head start in school with 4 weeks free access to both ABC Reading Eggs and Mathseeds.
Designed for ages 3-7, the programs feature hundreds of structured lessons and guided activities to help your child develop the skills and confidence they need to succeed in school.
Each lesson is matched to your child's ability and celebrates their progress with exciting rewards to collect along the way. Enjoy each milestone together as you track your child's progress with detailed reports.
Watch your child learn phonics, sight words, counting, shapes and much more, all while having fun with interactive activities and games.
To see how ABC Mathseeds and ABC Reading Eggs works, please <CLICK HERE> for 4 weeks FREE access!
LIKE THIS POST
Come join the many playtimes here on Learning4kids, please enter your email address in the subscription box to receive updates right to your inbox!