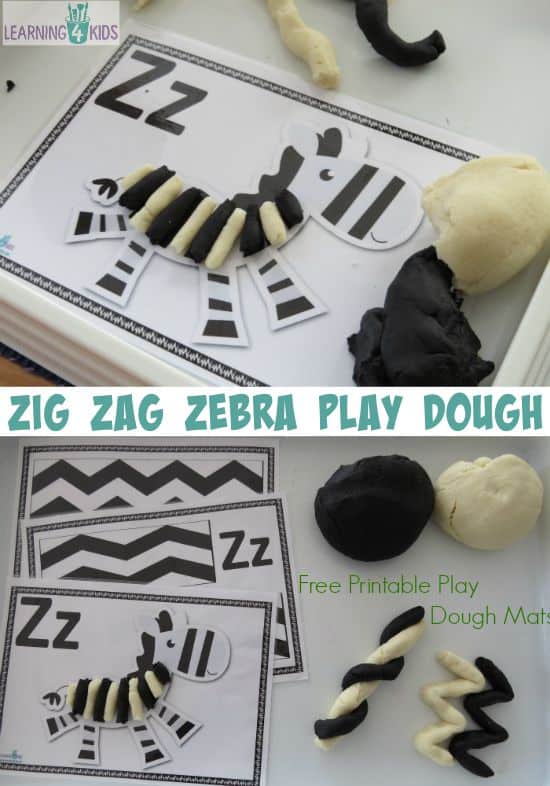 The Zig Zag Zebra Play Dough Activity with free printable play dough mats was inspired by the book Zed the Zebra by An Vrombaut. Reading this story to children is a wonderful way to introduce children the letter 'Z' and words that begin with this letter sound.
The activity involves creating zig zags, stripes and the letter z using black and white play dough and play dough mats.
The Zig Zag Zebra Play Dough Activity is a great follow on activity to extend the learning and understanding about the story and talk about the letter 'Z'. It creates an opportunity to develop conversations, a story re-tell and develop fine motor skills.
What you will need?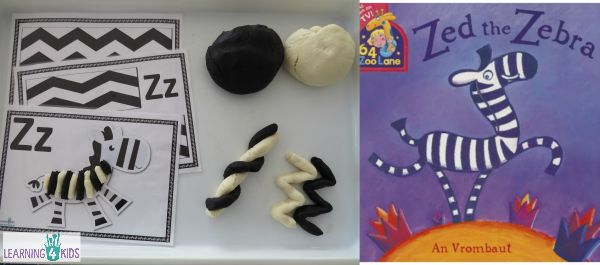 You will need, the book Zed the Zebra by An Vrombaut, rolling pins, play dough scissors and play dough wheels.
You will also need black and white play dough and our printable Zig Zag Zebra Play Dough Mats. I used our Space Play Dough Recipe (no glitter) to create the black play dough and to make the white play dough, I did not add any food colouring to the same recipe.
Click here to download and print our 3 Zig Zag Zebra Play Dough Mats
Let's Play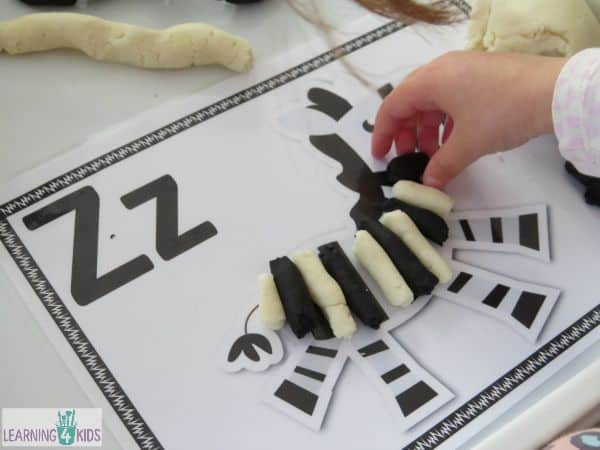 Some Ideas:
Create black and white zig zags, letter Z's and zebra strips using the Zig Zag Zebra Printable Play Dough Mats.
Count how many letter z's you can see on the play dough mat.
Can you follow the letter and zig zag lines using your pointing finger?
Talk about other words that begin with the letter z.
Go on a letter Z hunt! See if you can spot any letter z's in a book, magazine, signs and any other environmental print.
Watch and listen to songs about the letter Z on YouTube.
Let's Learn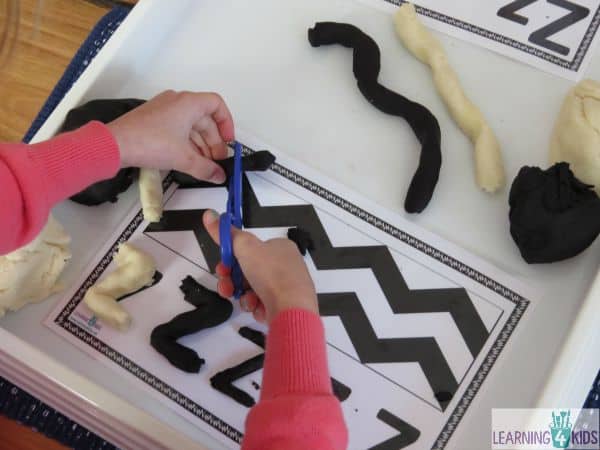 This activity is also a great opportunity for children to practise their scissor skills. Play dough makes a great tool for cutting up and strengthening those fine motor muscles in the hands and wrist.
Learning Opportunities
Creativity & Imagination
Fine Motor Development
Hand-Eye Coordination and Control
Concentration
Measurement and maths concepts: experimenting with size, space and area.
Phonological awareness (onset-rime) – hearing and understanding that words are made up of individual sounds and other word patterns.
Letter recognition
Problem Solving – overcoming challenges.
Click here for more PLAY DOUGH activities & play ideas