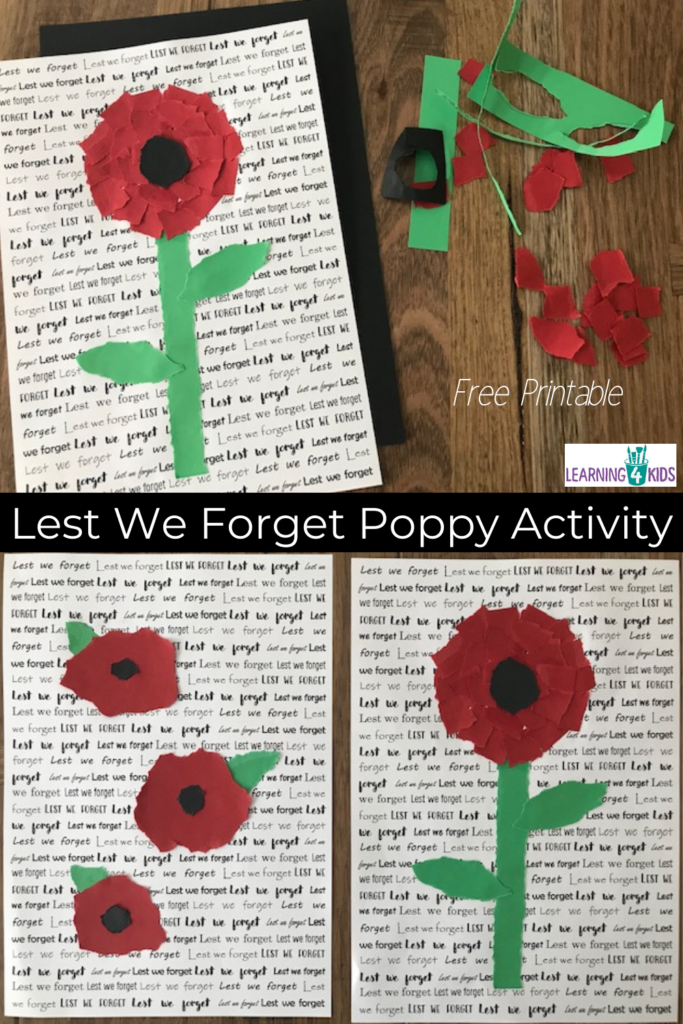 ANZAC Day Poppy Activity- creating beautiful red craft poppies on a background of 'Lest We Forget' is a great activity for young students to support and enhance classroom teaching and learning around the topic of ANZAC Day.  
It provides an opportunity to begin to build young children's understandings of the significance of some of the symbols of poppies and the phrase 'Lest we Forget' and how they relate to the commemoration of ANZAC Day.
Poppy flowers grew in the Belgian fields during and after the war. The phrase 'Lest We Forget' is a symbol of commemoration in Australia to honour the past sacrifices of those who had served, lost their lives and to never forget.
ANZAC Day provides us with the opportunity to talk to our students about the importance of the ANZACS (Australian and New Zealand Army Corps) and the significant roles service men and women of our nations have now and had during the war.
Scroll down for the free printable 'Lest We Forget' background template!!
What you will need?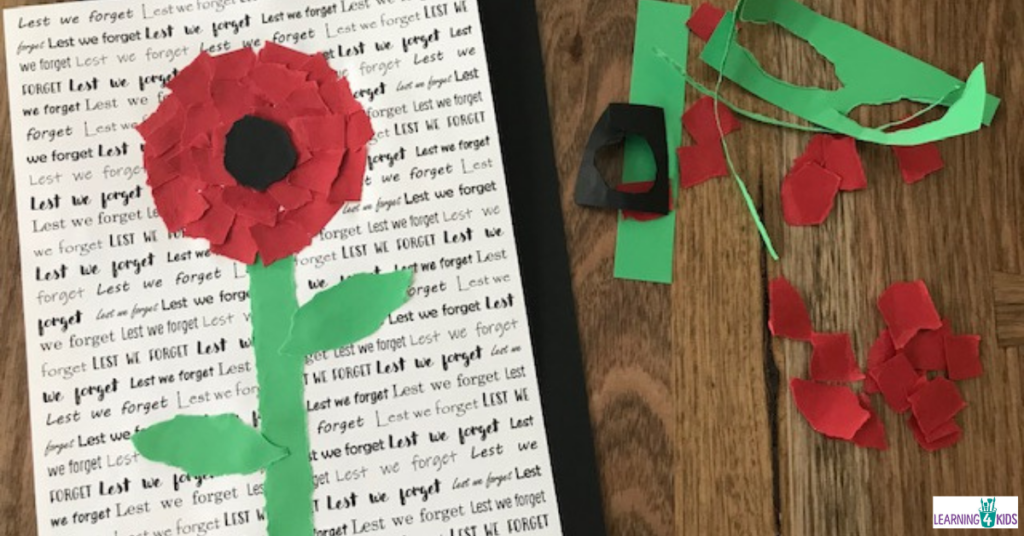 To complete this activity you will need red, black and green paper. A glue stick, pencil, scissors and the printable Lest We Forget Template.
Print the 'Lest We Forget' printable template. You may like to glue it onto a sheet of black card/paper for display.
Tear the red paper into small pieces (about 1cm-2cms). Arrange them to form a circle shape, overlapping to create the petals effect. Glue once happy with the arrangement.
Using a pencil, draw a circle on the black paper to form the centre of the poppy, draw leaves and a stem on the green paper.
Tear along the pencil lines for the black circle and green stem and leaves.
Arrange on the 'Lest We Forget' paper and glue into place.
Some students may wish to make several poppies and arrange them around the paper.
Other Great Resources
An Introduction to ANZAC Day for Early Childhood Information and other resources.
Play School ANZAC Day Special ABC Kids: 'What do you remember' song, video and other useful resources.
Department of Veterans' Affairs – Here they come-A day to remember: A video developed for lower primary students.
Let's Learn and Play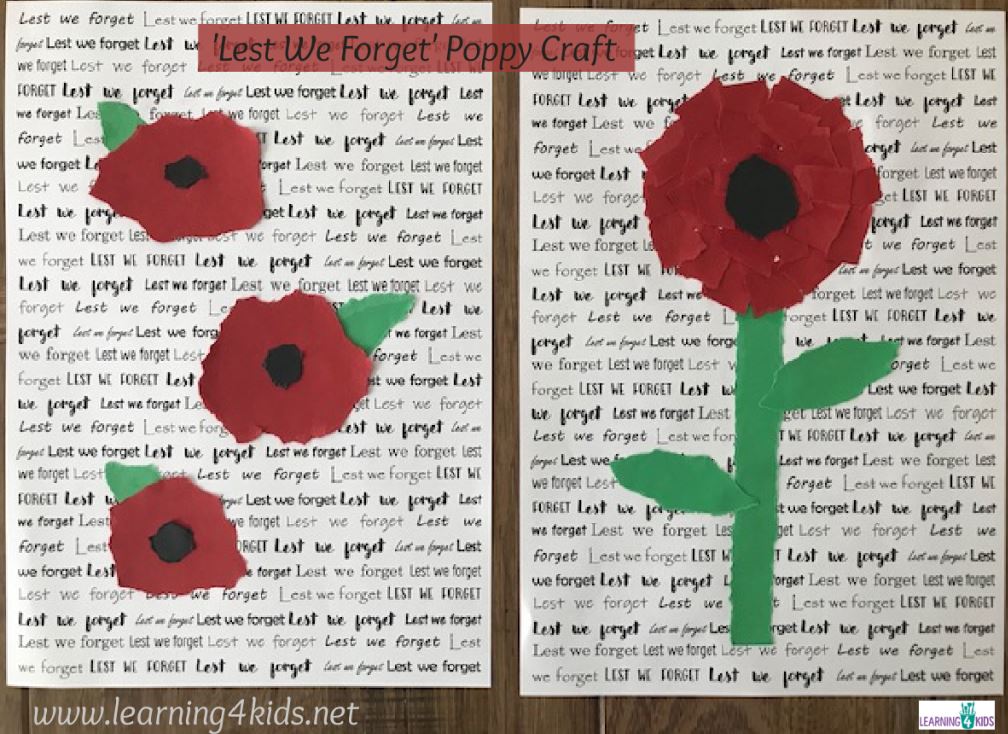 Reading students age-appropriates picture books around the topic and concepts of ANZAC Day is a great way to prompt discussions and questions. Explaining to your students the reasons behind the traditions and services is an important part of the day.
Picture books are a powerful way of introducing and explaining ANZAC Day to children.
Before reading an ANZAC Day picture book, explore any prior knowledge they may have. Ask students about what they know about Anzac Day. What does it mean to them and the significance they think it has to Australia?
During reading, stop and reflect on the events taking part along the way and imagine with your students how the characters may be feeling. Are there any symbols of ANZAC Day?
After reading, identify the important message that the author has presented in the book. Then complete a follow up activity to engage students that connects the students with the author's purpose or a personal experience they have had. For example, following the picture book ANZAC Biscuits by Phil Cummings, student may make their own ANZAC Biscuits.
Looking for ANZAC Day Picture Books?
'ANZAC Ted' by Belinda Landsberry
'ANZAC Biscuits' by Phi l Cummings
'Lest We Forget' by Kerry Brown
'ANZAC Day Parade' by Glenda Kane (affiliate links)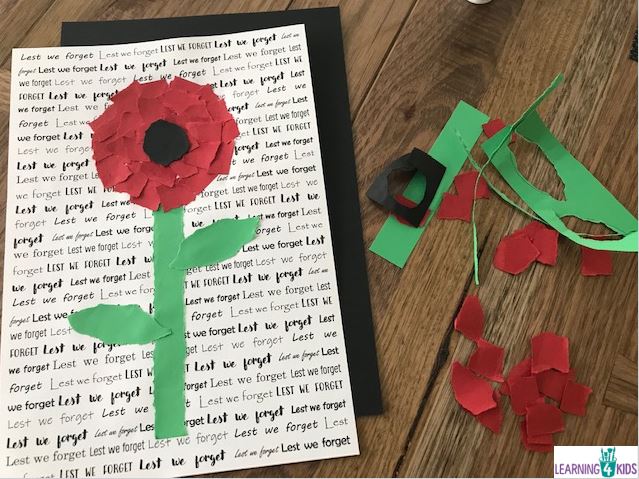 Learning Opportunities
Time, Continuity and Change: past and present
Culture and Identity: through conversations and discussions students develop an awareness of culture and identity.
Understand the significance of ANZAC symbols such as poppy flowers and 'Lest We Forget'.
Spatial awareness – experimenting with size and space
Problem solving and overcome challenges
Fine motor: Tearing Paper
Sense of pride and achievement.
Building self-esteem, sense of satisfaction.
Language development – describing process.
Communicating art ideas and making connections with our world.
Click here to download and print: ANZAC Day Lest We Forget Printable Template
Other Activity Ideas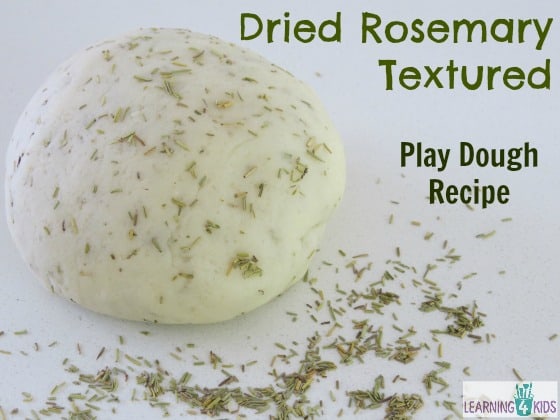 Another symbol of ANZAC Day is Rosemary. Rosemary is also traditionally worn on Anzac Day, due to its significance for Australians as it is found growing wild on the Gallipoli peninsula.
Take a look here: Dried Rosemary Textured Play Dough
Visit Our Learning 4 Kids Shop
Checkout other Printable Products available in the Learning 4 Kids Shop