Minty Candy Cane Scented Play Dough Recipe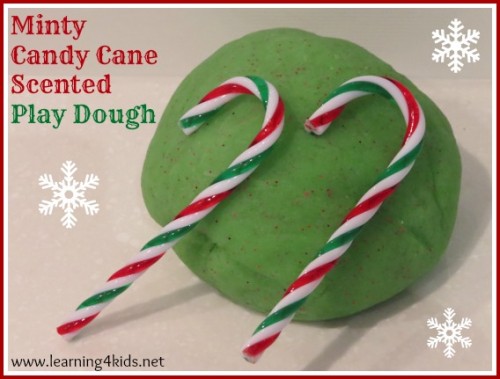 Minty Candy Cane Scented Play Dough Recipe is wonderful play dough for the kids to play with this Christmas.  It has a blend of peppermint essence to mimic that of a candy cane which we all love at this time of the year.  It is also coloured green and speckled with red glitter for a Christmassy colour theme.
What you will need?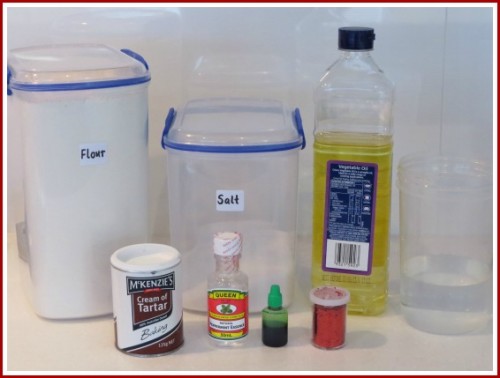 1 Cup Plain Flour
1 Tablespoon Oil
200ml Water
50ml Peppermint Essence
½ Cup Salt
2 Teaspoons Cream of Tartar
Green Food Colouring
Tablespoon Red Glitter
How to make it?
Pour all dry ingredients, flour, salt, glitter and cream of tartar together in a saucepan.
Add oil, food colouring, peppermint essence and water to dry ingredients.
I use a whisk before heating as I find this helps remove lumps and blends the ingredients well.
Cook over medium heat constantly stirring until it becomes a thick blob.
Then turn out onto a clean surface and knead into a smooth blob.
Allow the play dough to cool before playing with it.
Store in a plastic zip lock bag or air tight container.
Tip: If the play dough turns out stick, sprinkle a small amount of plain flour onto the bench and knead until smooth and combined.
Click here to download and print this recipe –  Printable Minty Candy Cane Scented Play Dough Recipe
Click here for Activities using this Minty Candy Cane Scented Play Dough: Minty Candy Cane Scented Play Dough Ornaments  
LIKE THIS POST
Come join the many playtimes here on Learning4kids, please enter your email address in the subscription box to receive updates right to your inbox!
5 Responses to "Minty Candy Cane Scented Play Dough Recipe"