A Kit Kat Santa is a super cute and easy gift idea for the kids to make for their teachers, friends or family.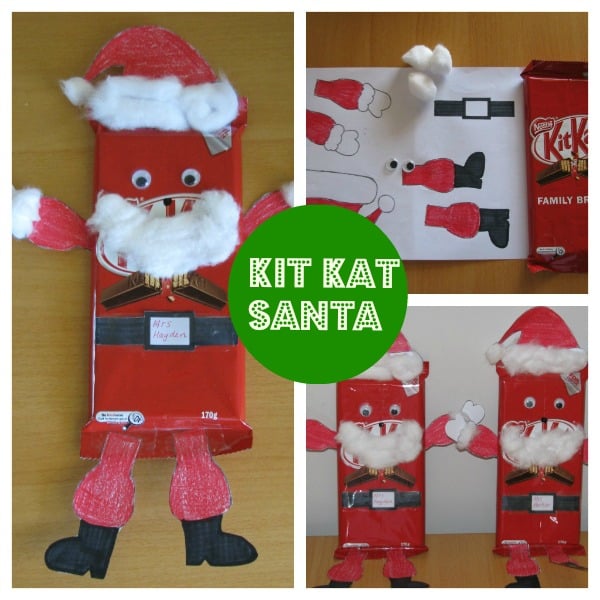 I have always valued and liked the idea of giving a gift that is homemade and that the kids are involved in. Miss 5 was lucky enough to have 4 gorgeous teachers this year (2 teachers and 2 TAs) which meant 4 thank you gifts.
This is what we came up with – A Kit Kat Santa.
The Kit Kat package is the perfect colour for a Santa's suit; we just added a few more things to make it more like Santa Claus.
If we had more time I would love to have made mini Kit Kat Santas for my daughter's classmates too, maybe next year.
What you will need?
You will need a large 170g Kit Kat block, cotton wool, wiggly eyes, sticky tape, glue, coloured pencils/crayons and the free printable of Santa's limbs, hat and belt.
Click here to download and print: Printable Kit Kat Santa
Let's Create
Making a Kit Kat Santa is pretty straight forward: sticky tape the Santa hat and feet onto pressed ends of the packet. We also coloured in Santa's body parts before cutting and sticky taping.
Let's Make
Using the sticky tape again for the belt across the tummy or centre of the chocolate bar and turn over the stick on the arms.
Let's Play

With all the sticky tape done, it is onto gluing the cotton wool balls and wiggly eyes. We thinned out our cotton wool balls by stretching it with our fingers. This gave the cotton wool a less bulky look and more fluffy.
Let's Learn
Miss 5 was so proud of the gifts she made and couldn't wait to give them to her teachers.
More Christmas Activities <CLICK HERE>
Visit our Learning 4 Kids Online Shop
The Ultimate Christmas Printable Activity Pack – 100 pages and over 20 activity ideas