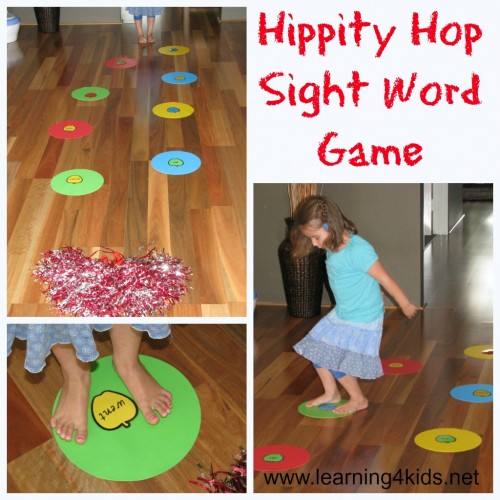 I believe there is a place for a little rote learning and flash cards but I truly believe that most of the learning happens when you are having fun! Miss 4 has been showing a huge interest in reading and writing at the moment and is enjoying learning a small list of sight words I have given her to practice along with her reader.
Hippity Hop Sight Word Game was set up as a way to keep Miss 4 motivated and help making learning her sight words fun.
What you will need?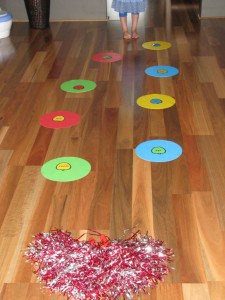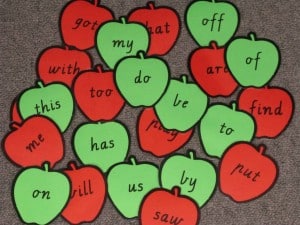 You will need dots or something similar such as pillows, sight word cards; I have used our free printable apple sight word cards and some pompoms. I love these rubber dots from a twister game we have and we use them regularly in many of our games and activities. It is also great for birthday party games such as musical dots instead of musical chairs. I never have enough chairs! Here I have set up our dots with some sight words placed on top and the pompoms at the end.
We have free printable sight word cards here on learning for kids that you can download and use for this activity. Click on the links below.
Let's Play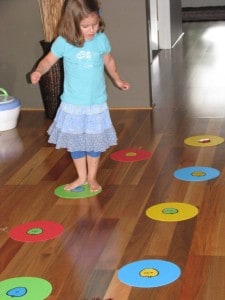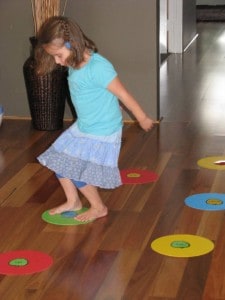 I explained to Miss 4 that the dots were stepping stones across a river and a huge smile came to her face. I then continued to tell her that she needed to get to the other side by jumping onto each dot and saying the sight word before jumping onto the next. I asked her "what happens if you get stuck on a word?" Leaving the opportunity for her to help lead the game and Miss 4 then answered that it means she has fallen into the river and will have to swim back to the start! Love the imagination!! I assisted Miss 4 when she got stuck on a sight word offering strategies to decode and problem solve.
Some decoding strategies to try:
Look at the first sound and last sound in the word (some sight words cannot be sounded out).
Look for smaller words within the sight word, such as 'that' also has 'hat' and 'at' in it.
Look for letter patterns such as 'th' in the sight word 'the'.
Is there something interesting about the word, such as 'was' sounds like it has a 'o' and a 'z' in it but it doesn't and it also make the word 'saw' when written backwards.
Say the word in a sentence.
Let's Learn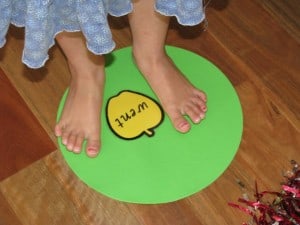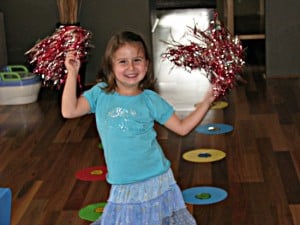 When Miss 4 reached the end of the river she picked up the pompoms and gave them a great shake. It may seem like a basic reward but Miss 4 absolutely loved it! As she improved and got quicker at saying each sight word, we jumbled the sight words up and moved them around.
Learning Opportunities
Interactive and hands on learning; picking up the words, looking at them and hopping from word to word.
Problem solving – using strategies to decode the sight word. Such as looking for letter patterns or smaller words within the sight word.
Memory – Recall, recognise and become familiar with some sight words.
Develop early reading skills.
More Sight Word Activities: