Letter Sounds Cut and Paste Printable Activity Bundle is a hands-on interactive activity that supports children in their journey of learning to read. It provides children with the opportunity to practice the segmentation and blending of simple decodable words, phonemic awareness skills and support phoneme-grapheme mapping.
The Letter Sounds Cut, Sort and Paste is a printable bundle that follows the progression of the Letters and Sounds Systematic Phonics Program and covers Phase 2 and Phase 3 sounds (see below progression in Set 1-12). It follows the suggested order for teaching letters and sounds and provides a selection of suitable words made up of these letters as they are learned.
Once the letter squares are cut out, they become a letter tile for manipulating and creating words. Children will sound out the word on their word list, locate the letter tile that makes that sound and blend (glue) the letter tiles side-by-side to create the word (blend). Children may draw a picture to match the word and write a sentence using the word (depending on ability).
No prep or laminating required, just print!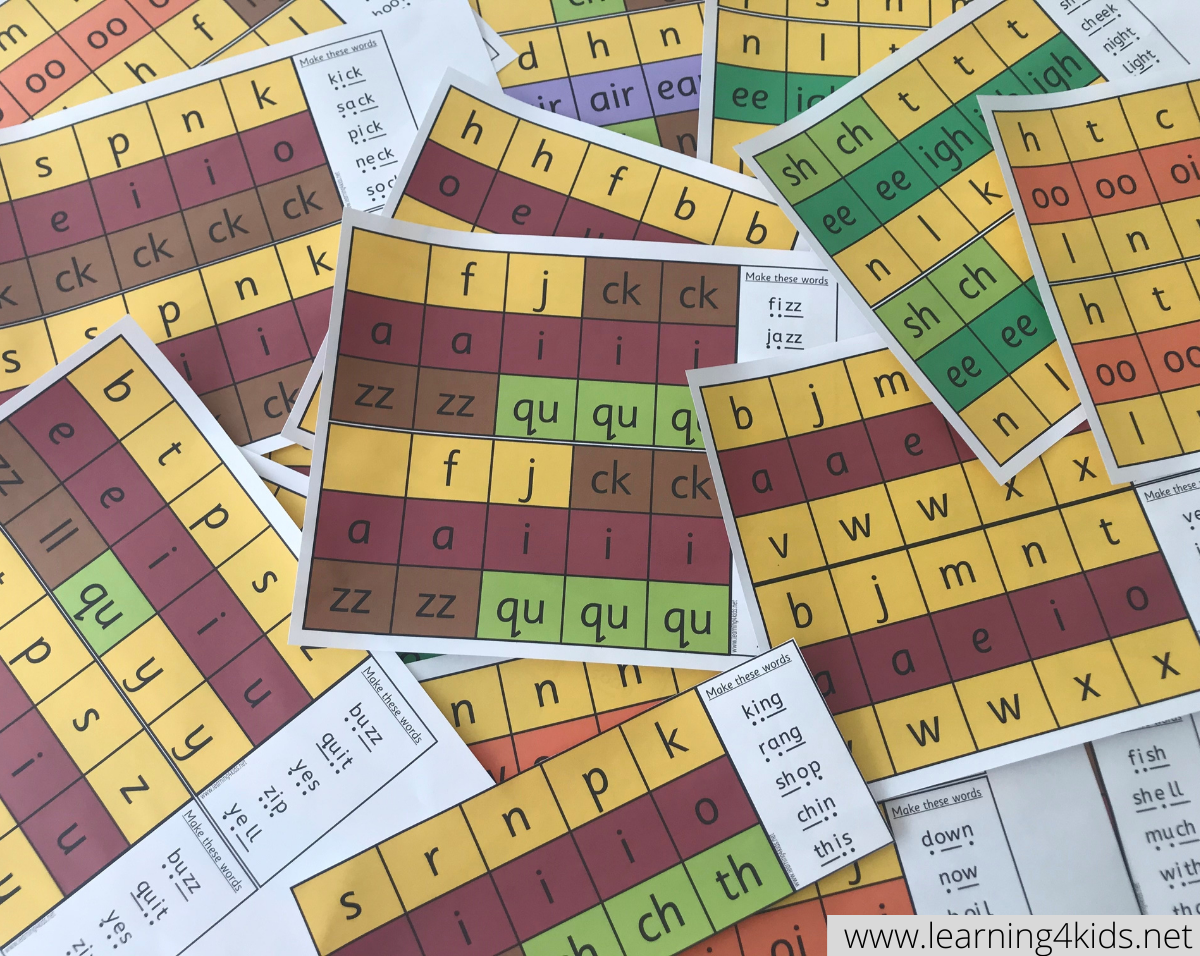 Letters and Sounds Systematic Phonics Phase 2 and Phase 3 Bundle
Great for consolidating new and previously learnt letters and sounds.
Applying letters and sounds knowledge to create CVC words (and sentences).
Explicit learning of letter sounds and letter names. (Sounds to be taught first)
Practice oral blending, segmenting, reading and spelling words with new and previously taught letters and sounds.
Manipulating letters tiles, orally sound out and blend to create words.
Phonemic segmentation ability, letter sound correspondence
Phoneme -grapheme mapping (orthographic mapping)
Coordination: Hands-on manipulative tool
Fine motor development: cutting, sorting and gluing.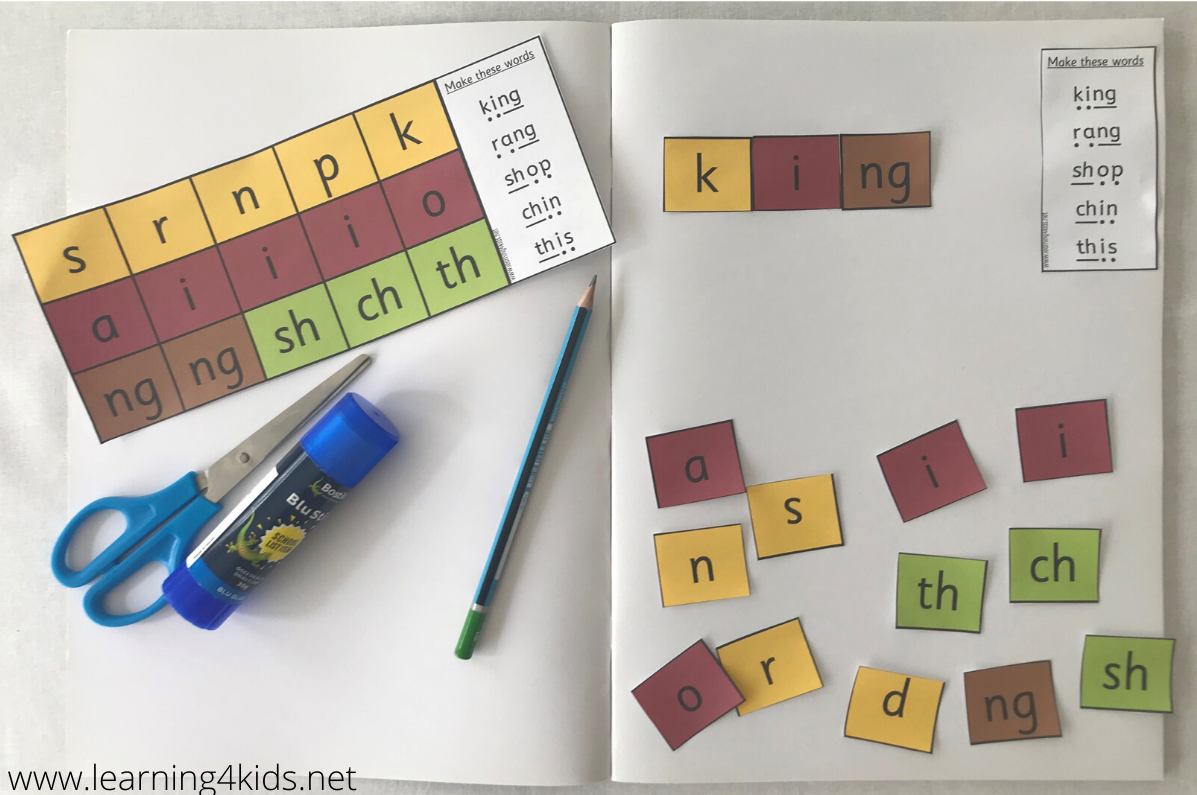 The letter tiles are colour coded: vowels (red), consonants (yellow), digraphs (light green), double consonants (brown), vowel phonemes that make one main sound (dark green), controlled r vowel sounds (purple) and vowel phonemes that make two sounds (orange).
The Printable Letter Sound Cut and Sort Bundle templates also comes with a black and white option for printing. The letter tiles are left white, and children can colour in the letter tiles.
To save on paper, I have placed 2 copies on 1 sheet of paper. When you print, cut the paper in half and provide 1 template per student. (one sheet for 2 students)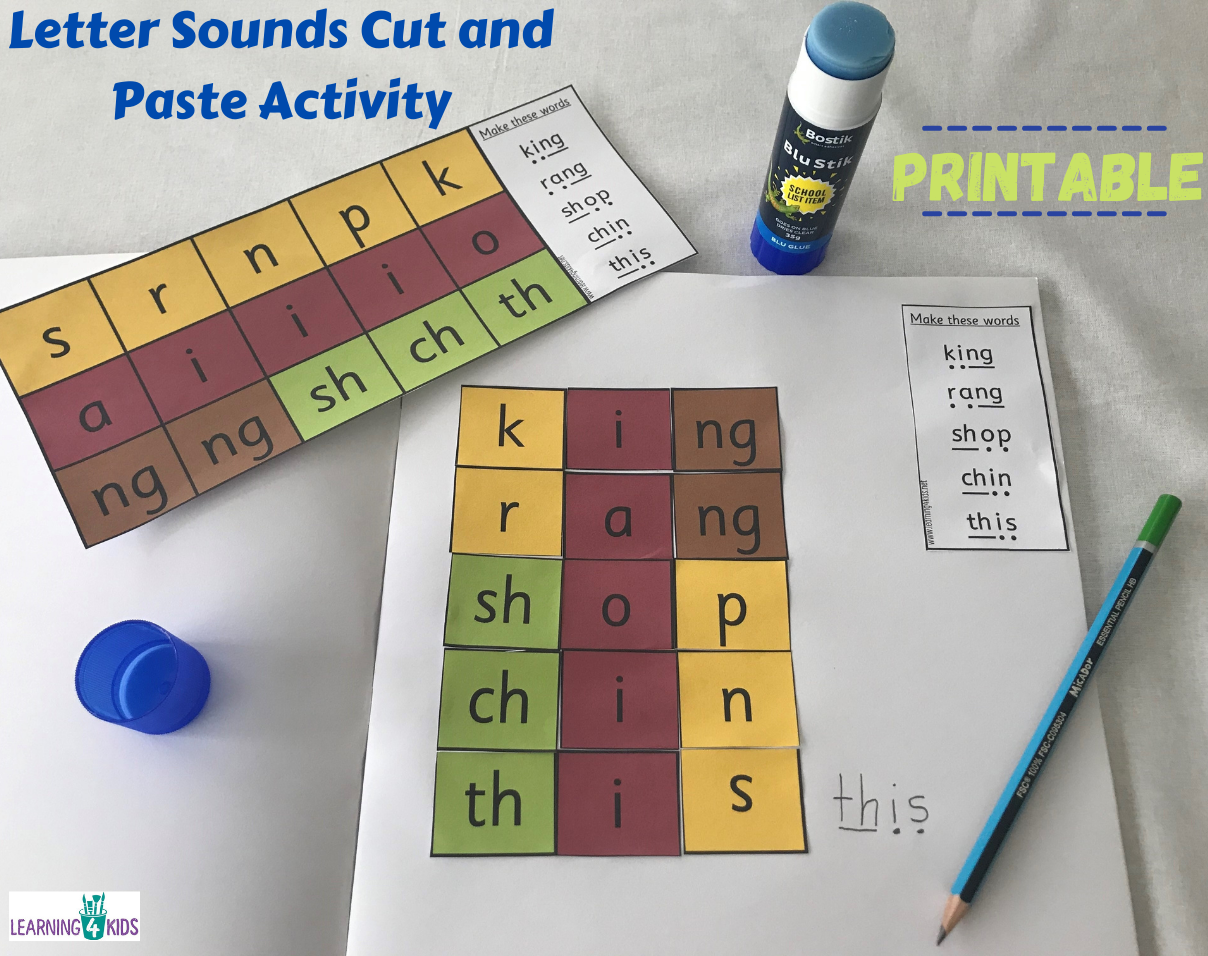 On completion of payment, you will receive a receipt email from Learning 4 Kids with the link to download the printable document.
You will receive 23 documents of the Printable Letter Sounds Cut and Sort Bundle (Phase 2 and Phase 3), including instructions and photos.
The printable download includes 23 documents:
Set 1: s a t p
Set 2: i n m d
Set 3: g o c k
Set 4: ck e u r
Set 4a: ck
Set 5: h b f,ff l,ll ss
Set 5a: ff ll ss
Set 6: j v w x
Set 7: y z,zz qu
Set 7a: zz qu
Set 8: ch sh th ng
Set 8a: ch sh th
Set 9: ai ee igh oa
Set 9a: ai oa
Set 9b: ee igh
Set 10: oi ow oo(long) oo (short)
Set 10a: long and short oo
Set 10b: oi ow
Set 11: ar air ear
Set 11a: air
Set 12: er ur or ure
Set 12a: or ur
Instructions
More information about this product:
I have written a post on how I have used this printable. Take a look here: Letter Sounds Cut, Sort and Paste Activity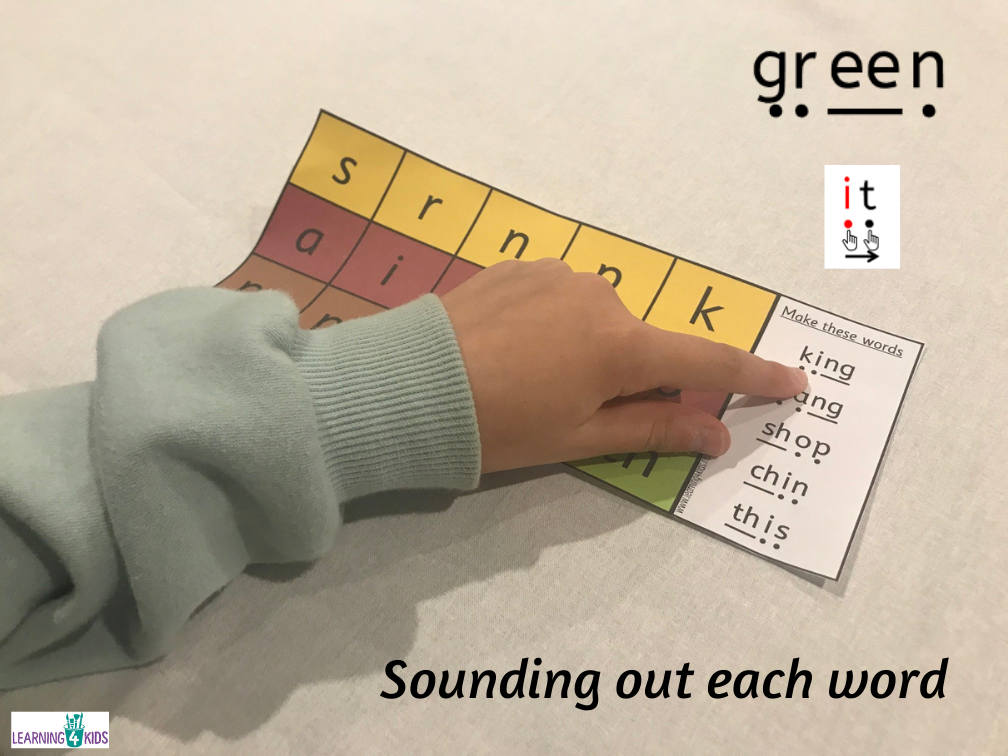 Click here to view all our Downloadable Products
All downloads are Copyright protected to Learning4Kids 2021. Not to be distributed, transferred, or shared in any form. For personal use only.