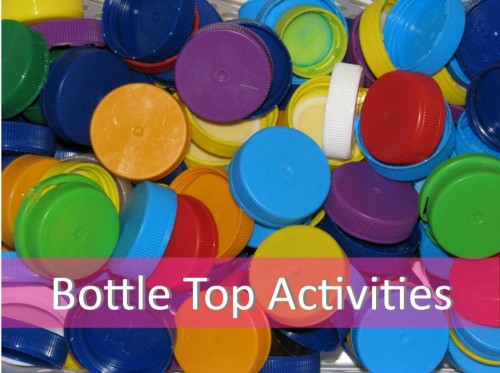 We love our bright colourful bottle tops here on learning4kids. There are tons of fun learning activities you can do with them, some of which we have already shared and others that are saved in the drafts folder.
I thought I would collate some of these activities that have already been shared and bring them together into one neat post.
If you haven't started recycling those bottle tops yet….here are ten reasons to start!!
SENSORY PLAY – BOTTLE TOPS & BUBBLES
Watch the creativity and imagination unfold as kids play in the bath using water, bubbles and bottle tops. This is a super fun and simple unstructured sensory play activity for kids. Read more…..
SENSORY PLAY – BOTTLE TOPS & RAINBOW RICE
Another fun sensory play activity for kids but this time using bottle tops and rainbow rice (or plain rice). This is an open-ended activity providing an invitation to play and inspire creativity and the imagination in an unstructured way. Read more…..
PLAY DOUGH PLAY – BOTTLE TOPS & STRAWS
Bottle tops + straws + play dough = fun, learning and creativity!
Watch and see the interesting and creative creations the kids come up with by using these simple props. We have made pancake stakes, cream biscuits and made 3d constructions using these bottle tops. Read more…..
PAINT PLAY – BOTTLE TOP NUMBER STAMPS
Make you own Homemade Number Stamps using bottle tops and foam number shapes. This is a sure way to make learning your numbers FUN for kids and create endless number paintings. Read more……
CREATIVE PLAY – MINI CUPCAKES & BABY CHICKS
Bottle tops are also great for making crafty creations. You can make Mini Cupcakes and little chicks or ducklings to use for imaginative play or sing-a-long to nursery rhymes such as 5 Little Ducks or 10 Currant Buns (Cupcakes). Read more…..
LEARNING PLAY – BOTTLE TOPS & SORTING COLOURS
Bottle tops are bright and colourful and come in a range of colours (& shapes) which makes them great for learning colours. This activity involves sorting the coloured bottle tops into groups according colour using the paper plates as a guide. Read more…..
IMAGINATIVE PLAY – BOTTLE TOP BREAKFAST CEREAL & FOOD
Bottle Tops have brought so many wonderful and creative ideas to my kids play times. They are a wonderful prop to promote imaginative play. Using the bottle tops for pretend food and a breakfast cereal are just two of many things kids can create with them. Read more…..
PRINTABLE – BOTTLE TOP MONEY
Playing with pretend money is a great way to introduce and learn about concepts relating to money and value. Make your own pretend toy money using bottle tops and printing off the free printable available. Read more….
NUMERACY PLAY – MEASURMENT & NUMBER WITH BOTTLE TOPS 
Bottle tops can be used as a concrete problem solving tool when learning basic number sentences. They are a wonderful size to grip and move around. The bottle tops can also be used as a fun tool to measure with. Have your child measure how long their foot is and compare it to the length of a toy.
LITERACY PLAY – STAND UP ALPHABET
The Toilet Roll Alphabet is one of my favourite activities here on learning4kids! Once you have made your own set, you can use them for a range of literacy activities. The bottle tops fit perfectly to the ends of the toilet rolls, helping to make them stand upright. To assist you with making your own set, there is a free printable to download and print. Read more….
ALPHABET MATCH
Alphabet match is a fun hands-on activity for kids to help recognise and learn their alphabet letters. It is also a great opportunity to introduce upper case and lower case letters and match them in a fun puzzle like activity. Read more…..
For more bottle top activities <CLICK HERE>