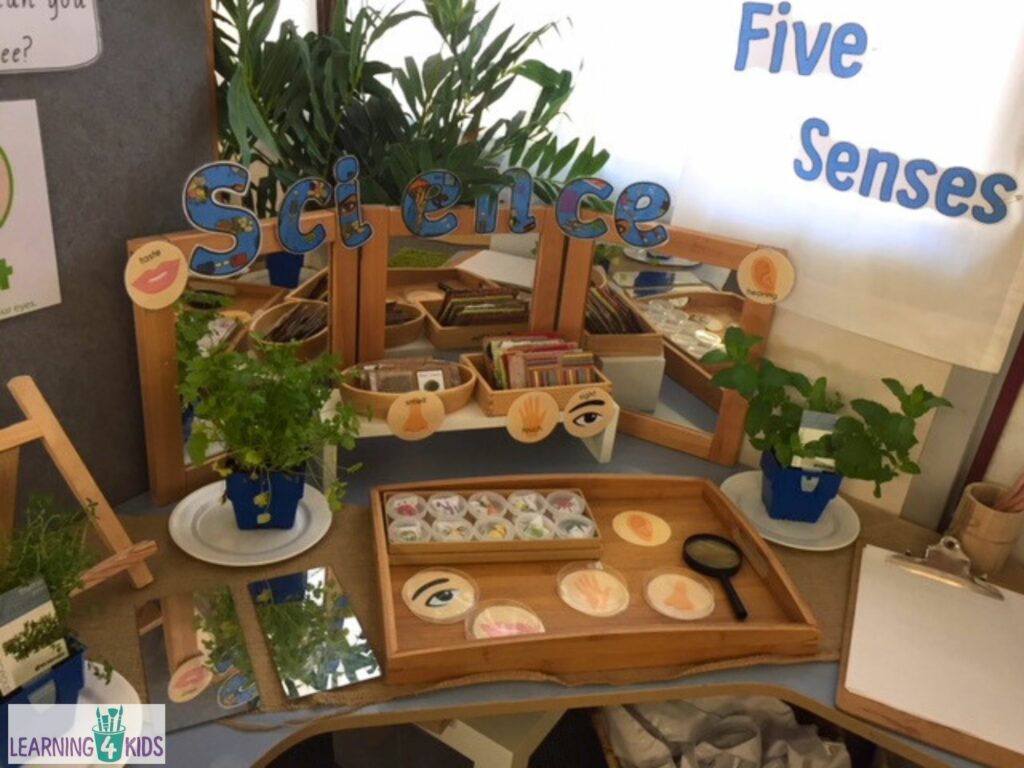 Children explore their world around them using their five senses, hearing, sight, smell, taste, and…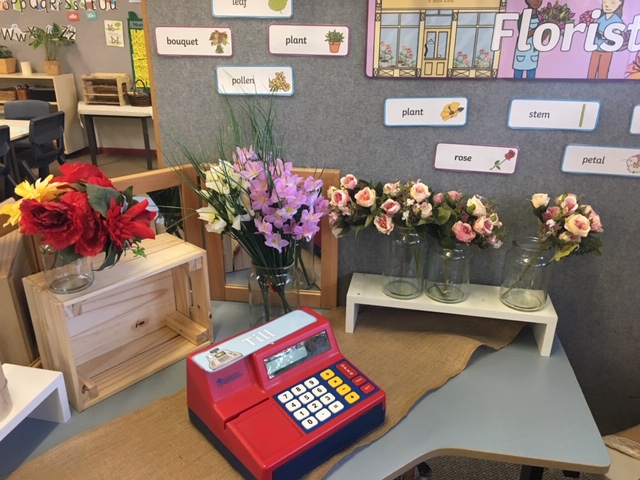 A Pretend Play Flower Shop is an opportunity for children to take on the role…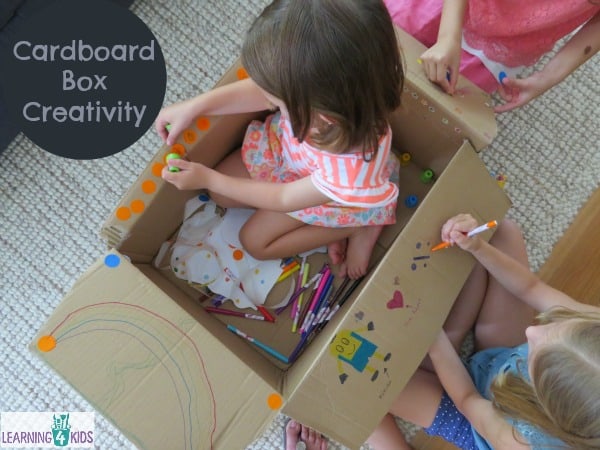 Cardboard boxes would have to be my most favourite 'toy' for children to play with…
Kids like to pretend! They like to pretend to be doctors, vets, check out operators but they most like to pretend to be a grown up!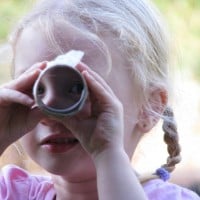 What is Imaginative Play and How to Encourage it? We as adults can often under value imaginative play. Play is a child's way of engaging and making sense of the world. Role play may appear to be a very simple activity, yet within it, young children learn practical life skills such as dressing themselves, how to cooperate and share with others. Read more…..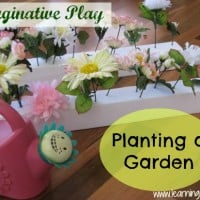 Imaginative Play – Planting a Garden : My girls spent hours planting, re-planting, weeding, sprinkling seeds and watering their imaginative play garden. Read more….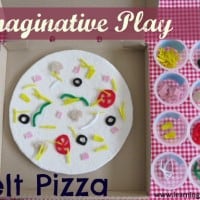 Imaginative Play Felt Pizza: Create an opportunity for your child to take on the role as a pizza chef and play creatively as they pretend make different pizzas using felt pizza toppings and other props. Read more…..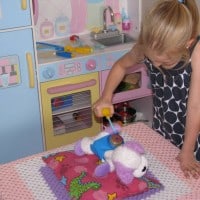 Imaginative Play Vet Hospital: Imaginative play would have to be one of my most favourite kinds of play. Today I am sharing with you our imaginative play Vet Hospital and some simple ideas for setting one up in your home to encourage this play. Read more…..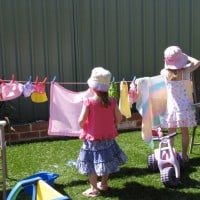 Imaginative Play Wet Washing: Imaginative play washing line is so simple to put together but yet so effective for kids to pretend, engage and make sense of their world. Practising and experimenting with the various skills they will take into adulthood. Read more…..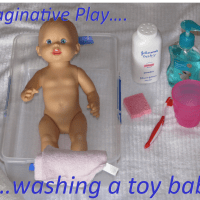 Washing a Toy Baby: Watching Mum and Dad washing a baby sibling is an example of an experience that children copy and re-enact. Watching and learning from this experience then practising, imitating and experimenting this through imaginary play. Read more…..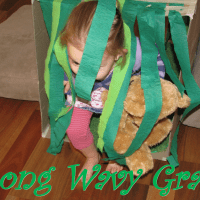 We're Going On a Teddy Bear Hunt: We have a gorgeous book which comes with a CD that tells the story of the adventure of going on a bear hunt. My kids have played this CD over many times as I watch them pretend to walk through long, wavy grass and run away from a bear. So I thought I would bring this story to life some more by creating the different scenes in the book. Read more…..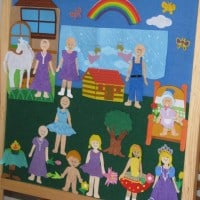 Imaginary World of Felt: Felt is a sensory toy, brightly coloured, hands on playing, creative and great for storytelling. It brings so much imagination and learning to play times. Read more…..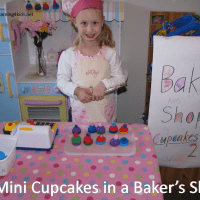 Imaginative Play Baker's Shop: Imaginative play bakers shop was inspired by our mini cupcakes which we made previously. They make a brilliant prop to encourage the imaginary world in a bakers shop. Read more…..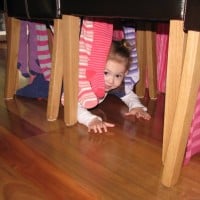 Kid Car Wash Tunnel: I truly believe that the simplest things bring the most fun! We have been making a homemade Car Wash Tunnel for the kids using simple items you will find around the house. This is such a fantastic activity to do with toddlers, older babies and pre-schoolers to help build up gross motor skills and have lots of fun inside when it is raining outside. Read more…..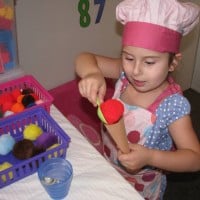 Imaginative Play Ice Cream Shop: The fun and joy of exploring the imaginary world of an ice cream shop.
Today I am sharing some ideas for setting up an imaginative play ice cream shop. My girls had so much fun with this (and Dad) and took part in adding their own ideas of what they thought an Ice Cream Shop should have. Read more…..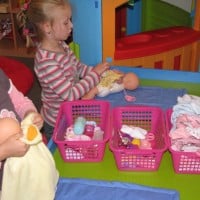 Imaginative Play Baby Care Corner: Encourage imaginative play by setting up a Babies Care Corner. This would be a fabulous imaginative play area to set up for families who are expecting or have a new baby and for children who have a younger sibling. Read more…..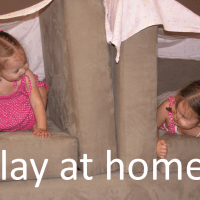 Imaginative Places to Play at Home: There are so many wonderful places in the home where children can play imaginatively, creatively and get active indoors. Kids will create imaginary worlds to explore and play using the most inexpensive and simple things you can find right at home. Here are a few ideas for you to try Read more…..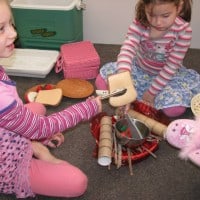 Indoor Camping: It's raining, it's pouring…..and we have been stuck inside a fair bit lately with the weather.
To entertain the kids and give them something to do we set up an indoor camping trip to beat the boredom and promote imaginative play. Here are a few ideas for setting up your own Indoor Campsite. Read more…..