List of Alphabet Activities

Alphabet Activities and Play Ideas
Thank you for visiting Learning 4 Kids.  We have recently moved this page.  Please CLICK HERE to view our most recent Alphabet Activities.
Alphabet Activities – 5 Letter Aa Activities:  Lots of fun and creative ideas to learn about the letter Aa.  Play with paint, make apple with paper plates, free pintables and so much more.  Read more…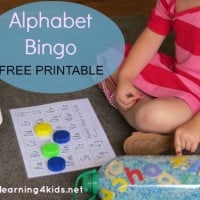 Alphabet Bingo in a Bottle:  Alphabet Bingo is a simple, fun and engaging hands-on literacy game children can play to help them learn and recognise letters.  Learning the letter sound first and then the letter name are important for reading and writing development.  Read more…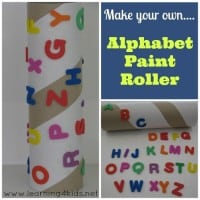 Alphabet Paint Roller: Make your own Alphabet Paint Roller by sticking foam letters onto a large cardboard roll.  Children can then place the Alphabet Paint Roller onto a tray of paint, roll and print the letters onto to white paper to transfer the letter shapes.  Read more…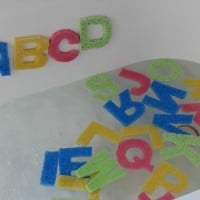 Homemade Alphabet Sponge Letters: So much fun for the bath…….and learning your alphabet too! A great tactile and hands-on activity for kids to play with while taking a bath. When wet, the sponges stick or suction slightly to the sides of the bath and tiles, making it a great canvas for creating endless ideas. Read more…..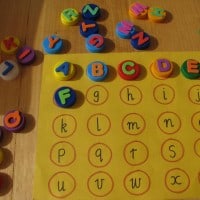 Alphabet Match:  Alphabet match is a fun hands-on activity for kids to help recognise and learn their alphabet letters. It is also a great opportunity to introduce upper case and lower case letters and match them in a fun puzzle like activity. Read more…..
Learning Letter Sound Aa:  Here is a simple, fun and engaging hands-on activity to promote the learning of the letter Aa.  Read more….
Stand Up Alphabet:  The Stand Up Alphabet is one of my favourite activities here on learning4kids! Once you have made your own set, you can use them for a range of literacy activities  Read more…..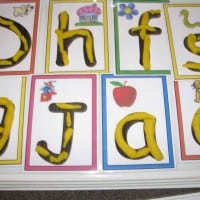 Alphabet Play Dough: We had so much fun playing with our Alphabet Play Dough! It is a fun activity to help kids learn their alphabet letters and build up their fine motor skills at the same time. This activity involves using play dough to create letters in the alphabet, using the FREE Printable Alphabet Play Dough Mats as a guide. Read more…..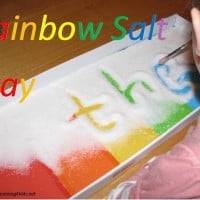 A Rainbow Salt Tray:  A great and fun activity to practice writing alphabet letters.  Why would you need crayons, textas, pencils and paper to draw when you can have more fun with a Rainbow Salt Tray? Read more here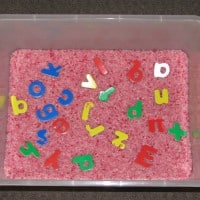 Sensory Alphabet Hunt: Making learning your alphabet fun by searching for alphabet letters in a sensory tub with strawberry scented and pink coloured rice. This sensory play activity is a great game to motivate kids to learn their alphabet. Read more…..
Alphabet Hide & Seek:  My kids get very excited when we play this game. The challenge and anticipation of searching for something brings so much fun to learning your alphabet letters!  The Hide and Seek Letter Hunt involves hiding the letter pairs around the house and your child goes around finding them.  Free printable.  Read more…..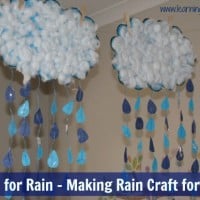 "R' is for Rain & Making Rain Craft:  Making our rain craft was so much fun and a great way to encourage language development.  The idea started with Miss 2, who absolutely loves to sing a rain song at the moment.  Read more….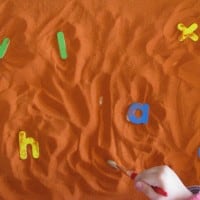 Alphabet Archaeologist:   Taking on the role of an archaeologist looking for artifacts and bones in the sand or in this case searching for alphabet letters. It is a great activity to promote the learning of letter names and the sounds that they make.  Read more…..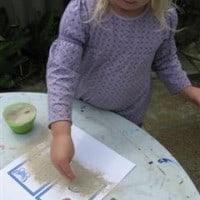 Sand Paper Alphabet:  What a wonderful way to explore the alphabet!  Using the sense of touch to feel over the sandy shape of the letters.  Read more…..
Name Collage:  This activity was originally used to create a collage of my daughters name.  The same could be done for all the letters of the alphabet by gluing pompoms or other craft materials over the top of alphabet letters.  Read more….
Sign up for Learning 4 Kids Newsletter
ADVERTISE ON OUR WEBSITE?
Learning 4 Kids offers sponsored and advertisement opportunities.
CLICK HERE >
more information.
Or if you are interested please fill in the form below;